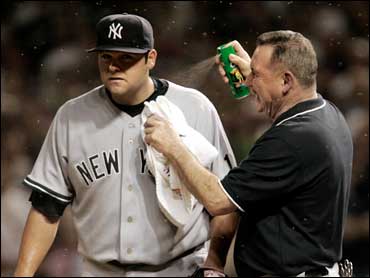 The Bugs Who Ate The Yankees
In all his years as New York's catcher, Jorge Posada has made thousands of trips to the mound.
This was his first holding a can of bug repellant.
Posada's fogging of Yankees closer Mariano Rivera was one of many bizarre sights during an AL playoff game against the Cleveland Indians that turned when millions of insects infested Jacobs Field.
"They just came out of nowhere," Posada said.
They helped beat the Yankees.
Tiny flying insects called "midges" bombarded the Bronx Bombers at the worst possible time, covering and rattling rookie reliever Joba Chamberlain, whose two wild pitches in the eighth inning sent the Indians to a 2-1 win in 11 innings.
"It's like somebody let them go," Yankees shortstop Derek Jeter said. "Just when you think you've seen it all - that's home-field advantage."
Midges 1, Yankees 0.
Where was the Sultan of Swat when they needed him?
Travis Hafner hit a bases-loaded, RBI single with two outs in the 11th to score Kenny Lofton as the Indians, who trailed 1-0 before the flying pests invaded in the eighth inning, took a 2-0 series lead with a victory their fans will never forget.
Unreal. Surreal. Hitchcockian. October baseball has rarely witnessed something like this.
At times, it was like watching a low-budget, late-night horror flick: "The Bugs Who Ate The Yankees."
And for some strange reason they feasted on Chamberlain, the beefy right-hander who helplessly stood on the rubber struggling to see Posada's target as the tiny pests buzzed around his head. As some of them stuck to his muscular, sweaty neck and back, Chamberlain came unhinged.
"They were everywhere," Posada said, "and they were the worst at the mound."
Three innings following Chamberlain's wildness, the Indians won it and swarmed Hafner like their little helpers did to the Yanks.
"They bugged me," Chamberlain said. "But you've got to deal with it."
(AP)

Umpire crew chief Bruce Froemming said he never considered stopping the game, which will surely go down as one of the strangest in postseason history.

"It was just a little irritation," he said. "We've had bugs before. I've seen bugs and mosquitoes since I started umpiring. It might not be a perfect scenario. Within about 45 minutes, basically they were gone.

"There was just about a 10-minute period where everybody was lathering up," he said.

By the end of the night, the Indians were celebrating and heading to New York looking for a sweep.

"I don't feel safe at all, though," first baseman Ryan Garko said. "I mean, it's the Yankees."

Lofton, a gnat-like nuisance to the Yankees - one of his many former teams - so far in this series, walked on four pitches to lead off the 11th against Luis Vizcaino. Franklin Gutierrez failed twice to get down a sacrifice before hitting a single.

Casey Blake moved the runners up with a bunt before the Yankees walked Grady Sizemore to load the bases. Rookie Asdrubal Cabrera missed his chance at being a hero by popping up right in front of the plate, but Hafner, who has struggled all season, delivered.

Cleveland's designated hitter lined a single on a 3-2 pitch to right-center - making the Indians just 2-for-18 with runners in scoring position - and was mobbed by his teammates as an exhausted crowd of 44,732 towel-waving fans celebrated a win they'll talk about for years to come.

One day after the Indians slugged their way to a 12-3 win, Fausto Carmona and the Yankees' Andy Pettitte put pitching back into the series.

New York finished with just three hits, all off Carmona during his nine spectacular innings. Rafael Perez went two innings for the win.

Game 3 will be Sunday at Yankee Stadium, with Cleveland's Jake Westbrook facing Roger Clemens.

Until the first pitch, everyone will talking about the bugs.

Ron Harrison, an entomologist who works for Orkin Inc., an Atlanta-based pest control company, said the annoying bugs were a type of midge, an insect related to mosquitoes.

During warm fall weather, midges often breed on the outskirts of lakes.

"My feeling is that there has been some breeding around Lake Erie, and air currents are pushing them onto land in mass numbers," Harrison said. "They aren't really biters - more of a nuisance."

Chamberlain, the wildly popular 22-year-old, came in for Pettitte in the seventh with runners at first and second. He struck out pinch-hitter Gutierrez and got Blake on a soft fly to right to keep the Yankees up 1-0.

That's when everyone started buggin' out.

Chamberlain needed to be sprayed before the eighth as the pesky critters descended upon the Jake. Alex Rodriguez, Jeter and the rest of the Yankees infielders fanned their gloves and waved their caps to ward them off.

Nothing worked.

Chamberlain walked Grady Sizemore to open the eighth and threw a wild pitch before asking for another dose of spray. Plate umpire Laz Diaz, who also was under attack, consented and watched as Chamberlain held out his arms as if he was going through an airport security scan as a trainer sprayed him down.

Cabrera sacrificed before Hafner lined out to first. Then, on a 1-0 pitch to Victor Martinez, Chamberlain uncorked another wild pitch that went all the way to the backstop before caroming directly to catcher Jorge Posada.

With Sizemore barreling down the line, Posada quickly shoveled the ball to a charging Chamberlain, who was upended at the plate by the Indians leadoff man, a former high school football star.

Seconds later, with Chamberlain spitting out the critters like they were sunflower seeds, the giant scoreboard flashed: Bug off Yankees!

"It's a shame that had to happen in such a pressure-packed situation," Pettitte said. "I'm not trying to make an excuse for him, but it affected him."

The pests have visited before, usually earlier in the summer.

They're scientific name is Chironomus plumosus (Linnaeus) or Chironomus attenuatus Walker.

The Yankees - and their hardcore fans - will forever call them something much less polite.

New York's no-nonsense supporters probably aren't too thrilled with Rodriguez, either.

A-Rod went 0-for-4 with three strikeouts and is now 4-for-47 with zero RBIs in his last 14 playoffs games. This was supposed to be a different October for the superstar, and now he's going home with a chance to make it one.

"I know what I'm doing," he said. "I've just got to fix it."
Thanks for reading CBS NEWS.
Create your free account or log in
for more features.