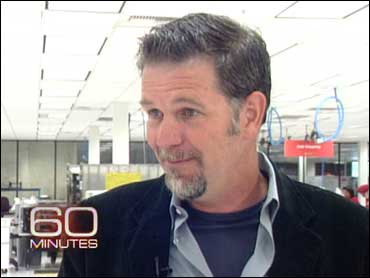 The way Americans watch movies has changed dramatically in the last few years because of the man who thought up, and started up a company called Netflix. Now more and more of us rent movies by mail.
As correspondent Lesley Stahl reports, Netflix today rakes in about $50 million a month and other companies, like Blockbuster, are trying to get in on the action. Netflix was started by a math teacher-turned-software tycoon. He asks his subscribers to pay a flat monthly fee – most people take the $18-package – and then order the DVDs they want over the Internet. It's an idea that makes a lot of people say: "Why didn't I think of that?"
And when you hear how the CEO Reed Hastings thought it up, you'll really shoot yourself, because you've probably been in the same boat he was in.
---

Asked how he came up with the idea for his company, Hastings says, "I was hoping you wouldn't ask that, because it's a little embarrassing! I'd rented a VHS and I had misplaced it and it was six weeks late. So it was a $40 late fee. I remember 'cause I didn't want to tell my wife. Because you know I knew what she would say."

What would she say?

"Just like, you know, an eye roll. An eye roll that could kill! And I thought, 'Oh, great! Now I'm thinking about lying to my wife about a late fee and the sanctity of my marriage for this thing!' I mean it was just crazy. And I was on the way to the gym and I realized – 'Whoa! Video stores could operate like a gym, with a flat membership fee.' And it was like 'I wonder why no one's done that before!'" Hastings explains.

For Hastings, it was the eureka moment.

Most movies were still on VHS nine years ago, and VHS tapes were too bulky and too expensive for the mail. Then a friend told him about a new technology called the DVD and he wondered if those might be a viable option.

"I ran down to Tower and bought a bunch and mailed them to myself and then I waited," Hastings recalls.

He wanted to see if they would get destroyed in the mail. "And I opened them up. And they were fine. And I thought, 'Oh my God. This is gonna work! This is gonna work!' Hastings explains.

And so far, it has: more than five million Americans are getting their movies in skinny red envelopes, by snail mail, and keeping them as long as they want, with no late fees.

Hastings took Stahl to their main warehouse, which is in Silicon Valley. It houses a staggering 26 million DVDs, row after row of big ticket blockbusters, box office bombs, TV shows and thousands of other videos you've never heard of; the company does not carry pornography in its inventory.

There are more than 65,000 different titles. If it's ever been put on DVD, chances are it's in the warehouse.

"There's 40 of these warehouses around the country, so that nearly every customer gets next-day delivery," Hastings explains.

Here's how it works: the warehouse opens at 4 a.m. When the post office delivers the DVDs, Netflix renters send them back after watching them.

"We get 100,000 returns and we open them one by one," Hastings says.

Every DVD is examined for scratches before the ones on order are repacked and shipped out again by late afternoon. Nationally, Netflix moves more than 1.5 million DVDs a day, making Reed Hastings one of the post office's top ten customers for first-class mail.

While 60 Minutes was at the warehouse, one of the employees was stuffing envelopes, at a rate of 1,000 per hour. And so she and all the other workers - associates they call them – break every 90 minutes for mandatory exercises to ward off carpel tunnel syndrome.

Netflix uses the same sorting machines as the post office, which run through 17,000 envelopes an hour, grouping them by zip code; this pre-sorting gets them a postal discount.

Special Netflix software keeps the DVDs in almost constant circulation. Most returns are sent right out again, without going back to the shelves.

Hastings' first job was as a math teacher in Swaziland for the Peace Corps. After graduate school, he started his first company, called Pure Software.

"You said that you were not a good CEO and you needed to turn that over to somebody else," Stahl remarks,

"I definitely struggled as CEO," he acknowledges. "Now, we became one of the 50 largest software companies on the planet, but I definitely struggled. And then it was acquired."

The company was bought for a pile of money, reportedly three quarters of a billion dollars.

"And that gave me the money to be able to start Netflix with," Hastings explains.

Netflix earned $688 million in revenues last year.

The Web site features a user-generated ratings feature, which is part of their recommendation system. If you were to rent "On The Waterfront" and give it five stars, Netflix software will search for what other "On The Waterfront" renters have rated highly, figure out from other movies you've rated whether it's Brando you like, films in black and white or mob flicks.

This system recommends other movie choices to the user. Hastings thinks the recommendations have transformed the movie business by giving new life to thousands of forgotten or overlooked films, like "Hotel Rwanda."

"Did very little theatrical business. But our members like it a lot. They rated it very highly. So our Web site promotes it to more and more people and now 'Hotel Rwanda's' the number five all-time rented film at Netflix, which is above 'Wedding Crashers,' which is a great mainstream film," Hastings explains.

For customers Bob and Bobbi Henkel, it's those art house movies – the back-catalogue films that sold them on Netflix.

The couple doesn't share the same taste in movies, though. Bob likes action films, while Bobbi likes stories "that have depth, character." They get about five DVDs every week.

"Your problem with Netflix is Bob?" Stahl asks Bobbi.

"Yes, yes totally!" she replies.

Well, not totally. They live in northern Maine and their DVDs never get here the next day. And when they've tried to complain, they've had a difficult time locating a customer service phone number.

Stahl asked Hastings what customers like the Henkels should do to get through by phone.

"I'll show you that here," he started.

It took forever. "Ah…how do I contact customer service?" he wondered.

And even the CEO couldn't find a phone number. "Okay, it's all by e-mail," he said.

Hastings has to worry about things like this because of competition. Blockbuster is nipping at his heels with its own DVD-by-mail service.

But there's an even bigger threat that could make all DVD rental obsolete, says media reporter Scott Hettrick: downloading and getting a movie straight off the Web.

Hettrick says downloaded movies are a "very real threat" to the future of Netflix. "If people can get things electronically, maybe they don't need a physical disc anymore," he says.

But Netflix itself will be a movie downloader, says Hastings, who claims he'll be able to beat the big Dot-Coms, like Apple, that have announced they're getting into the game.

"More successful than Apple, with the iPod and all of that?" Stahl asks.

"More successful than Apple, Yahoo, and Amazon. Absolutely!" Hastings vows. "Because those companies, they focus on a lot of things, you know, books and music. We think that we can be the winning firm by focusing on movies."

"Somewhere between 20 and 25 percent of investors have gone short on your stock. They're betting that downloading will eat you for lunch. So I think the message you're giving me isn't out there," Stahl remarks.

"Oh, the message, I think, that we intend to be the leading company is out there," Hastings says. "What people wonder about is: how will we do? No one really knows."

Asked if he thinks that Netflix has a chance to maintain its lead in that market, Scott Hettrick says, "When you start converting into downloads, that's a very different kind of business that anybody can play at. Not just Apple and iTunes. Google video, Yahoo video, MySpace, all the studios. Now, having said that, they will still be able to be players. They just won't be able to be as dominant in the category as they are now."

Even small companies are getting into downloading. Bruce Eisen is the president of CinemaNow, which is already up and running.

Eisen says it usually takes about an hour to download a full movie.

"But right now, for most people who would go to your site to download a movie, they would have to watch it for the most part, on their computer?" Stahl asks.

"Right," Eisen says. "You hit the nail on the head. Using it is easy. Connecting it to the TV where most people do want to watch it isn't easy yet."

Unlike most of us, Eisen has the Internet hooked up to his TV. New equipment to do that will probably be widely available in the next year or two. And yet Hastings thinks it'll be another five to ten years before downloading hits big. So his plan now is to try and quadruple his DVD customers; he just added two new warehouses in Maine and Alaska

There's a new ad campaign, and this summer, Netflix staged a traveling road show, with screenings of famous movies in the places they were set: like "Field of Dreams," on that baseball diamond in Iowa and "Jaws," on Martha's Vineyard.

Up to now, Hastings has been a big fish in a small pond. But with the downloading wave coming, his confidence about the company comes with nagging questions about himself.

"I think for sure in my first company I had a lot of self doubt. And I have some now. But it's manageable now, where it was troubling before," he tells Stahl.

Asked if he feels that he has mastered whatever it was that he was struggling with before, Hastings says, "Being a CEO is a lifetime of learning. So I would never say the word 'master.' But I'm continuing to really enjoy the learning of it."
---

Apple plans to boost its new downloading business by introducing iTV within six months. It's a box that will connect the Internet and TV. Reed Hastings told 60 Minutes he'll unveil plans for his own download service in January. And Netflix has posted a customer service number on its Web site.
Produced By Josh Yager
Thanks for reading CBS NEWS.
Create your free account or log in
for more features.