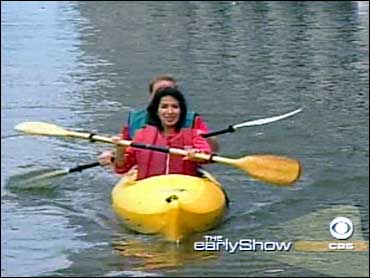 The Best Of The Windy City
The Early Show has kicked off its "The Best Of America" series, featuring summer travel destinations and adventures available in each locale.
For the first segment, National Correspondent Hattie Kauffman explored some unusual ways to experience the Windy City, from up in the air to out on the water.
If adventure whets your appetite, try urban kayaking! You'll see Chicago's famous skyline from a whole new vantage point.
River guide Charlie Portis offers a glimpse into the city's history, back to the days of Al Capone.
To a group of tourists he says, "Al was very interested in bootlegging. In fact, he ran a speakeasy right out of the cupola of the building right in front of us, that really beautiful Baroque building from the 1920s."
Al was not a balance-of-power kind of guy; he went around and ruthlessly got rid of all the other gangsters.
Portis even believes some gangsters drowned in the river. "This is Chicago, after all," he says.
But when Portis talks about ghosts in the river, he means not gangsters but cruise passengers who died in a tragic accident in 1915.
"This, as we've said, is the most haunted place on the river," Portis asserts, pointing to the river's edge where The Eastland, an excursion steamer, was still partially tied when it rolled over and sank, killing more than 800 people.
At this point on the river, Portis says, you can sometimes hear ghosts banging on the hull of your boat.
Tales of ghosts, gangsters and architectural history make this tour unique. But if paddling isn't your thing, you can still enjoy the same views from any number of Chicago's riverboats.
If you're not afraid to get wet, a new "Trainer For A Day" program begins this week at Chicago's Shedd Aquarium. For about $300, you can go behind the scenes to learn what it takes to care for the animals.
Just one of the joys is preparing breakfast for the seals, whales and dolphins. No two animals have quite the same diet.
You must be over 12 years old to participate.
Crossing a plank over a screaming whale Ken Ramirez, vice president of Marine Mammal Training explains, "Beluga are called canaries of the sea because they make thousands of different sounds."
If you'd prefer an airborne adventure, just 45 miles northwest of Chicago is the Windycity Balloonport, Inc. You can see Chicago from 3,000 feet in the air and travel the 35-45 miles in one fell swoop.
Frank Jones, Windycity Balloonport pilot, notes, "I've been doing this for 27 years. My youngest passenger was 3 months old, my oldest, 100."
Inflating a balloon in the Windy City is no easy task. But if you're willing to take a ride on the wild side, you'll see Chicago like never before.
You can find out more about these Chicago area sites by visiting the following Web sites:

Kayaking On The Chicago River - Wateriders or call: (312) 956-9287
"Trainer for a Day" Program - John G. Shedd Aquarium: 1200 South Lake Drive, Chicago, Ill 60605
Hot Air Balloon Adventures - We Do Fly Windycity Balloonport, Inc. Call: (877)933-6359
And every Friday all summer long, The Early Show will be featuring "The Best Of America," exploring places a little off the beaten path and highlighting great family getaways.
Thanks for reading CBS NEWS.
Create your free account or log in
for more features.