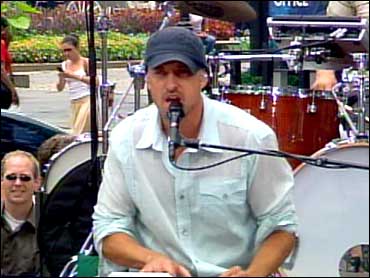 The 'Bad' Success Of Daniel Powter
"Bad Day" is an ironic title for a song that has brought a lot of good days to singer-songwriter Daniel Powter. It's an instant pop classic that spent five weeks at the top of the charts and was the most-played song in Europe last year.
Not only that, but Powter's self-titled album already has sold more than 2 million copies and the numbers just keep growing. He's in the midst of his first-ever U.S. tour but he stopped by The Early Show to perform "Bad Day," of course, and also his new single, "Free Loop," as well as "Song 6" and "Jimmy Gets High."
Powter says "Bad Day" was the last song he wrote for the album, and he says it's the aggressive music, especially the drums, that sets it apart from the pack. He adds, "Really, anyone could have written this song. But I'm glad I did."
Powter, who hails from Canada, recorded the album in his apartment.
He started on his path by taking years of violin lessons, with his mother often accompanying him on piano, an instrument that he took up when he was a teenager. He went on to sing with his high school bands and, by the second show, he knew he had found his future.
The Early Show co-anchor Rene Syler told him she had heard that "Bad Day" was the most downloaded song on the Internet.
"Somebody told me something like that." Powter replied. "That's very cool. Very humbling and extremely special for me. I wrote the song and made the song for my friends, and now I feel like I've got millions of friends. It feels great."
Powter came to his own sound partly because he was dyslexic.
"I used to have to record (music) in order to participate because I couldn't read it," Powter told Syler. "I actually didn't know whether I wanted to do this, because I've wanted to primarily be a songwriter. I didn't know necessarily whether I wanted to perform. Then I get here (to The Early Show plaza) to get to see the whites of people's eyes and I know now that's what I want to do."
For more about Powter, go to his Web site.
Thanks for reading CBS NEWS.
Create your free account or log in
for more features.