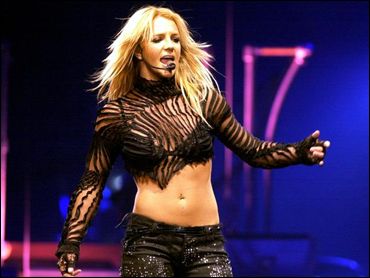 Since Britney Spears arrived on the music scene three years ago, pop music has molded its teen queens according to three Bs - blondness, beauty and bustiers.
But a new crop of female singer-songwriters is challenging the notion that you have to bare your navel and cavort in tight clothes to be sexy and successful in pop music. Over the last year, Michelle Branch, Vanessa Carlton and Avril Lavigne have been dominating the charts by putting more of the focus on their music.
Call them the Anti-Britneys.
"I'm just saying I don't want to sell sex," says Lavigne, a 17-year-old from Ontario, Canada, whose debut disc, "Let's Go," has gone gold in a month's time. "I feel that's sort of lame and low. I've got so much more to say."
Fans are listening. In recent weeks, her first video, "Complicated," bested Spears' latest video, "Boys," on MTV's teen-frenzied "Total Request Live." Carlton, a 21-year-old piano-playing singer, has also been a mainstay on the show, along with the 19-year-old guitarist Branch, who sparked the trend when her disc, "The Spirit Room," was released last August. It has sold more than 1 million copies.
"I think that a lot of people were really over-saturated with exactly the opposite of what we are," says Branch. "There were people dancing around who didn't write their own music, and really that's been kind of the marketplace for the last five years."
Tom Calderone, senior vice president of music and talent programming at MTV and MTV2, says of pop's new teen queens: "It has given the audience an opportunity to realize that not every pop star has to show their belly button, not every pop star has to be a waif, and pop stars can pick up instruments."
After Spears showed she could sell millions singing fluffy pop grooves with a Barbie image, there were plenty of others who followed: Christina Aguilera, Jessica Simpson, Mandy Moore, Willa Ford. Most of the teen groups, male and female, fit a similar mold
- emphasizing style as much as song.
(The music of some other successful, female singer-songwriters - namely Alicia Keys, India.Arie and Nelly Furtado - was not geared to the teen-age audience.)
Then came the inevitable backlash. Teen pop's once white-hot sales have fallen off, and while Spears' latest album, "Britney," is still a top-seller with 3.8 million copies sold, it did not do as well as her previous discs.
In fact, R&B singer turned pop-rock princess Pink has sold nearly as many copies as Spears with her second disc, "M!ssundaztood." Released last fall, it has sold 3 million copies, and she has made a point in her music and interviews of how un-Britney-like she is, with her wild attitude and punk hairstyle.
"A lot of girls who grew up on Britney ... they are a little bit older now, and they are into something different," says Sia Michel, editor in chief at Spin magazine. "It's sort of turning around from this idea when teen-age fun was all about fun and frothiness."
Lavigne says today's fans want to hear music that's "more meaningful; there's more to it than just pretty songs that are all rhymey."
Her songs and those of Branch and Carlton are mostly about the same things that Spears or 'N Sync touch on - love and heartbreak. And Spears has taken to songwriting herself of late - she co-wrote a few on her latest disc.
"It just feels like me," she said in an interview earlier this year. "I feel basically more in control, and I think it shows in my music. I'm just trying to do the kind of music I like. ... You get bored singing the same kind of stuff."
But the songs of Branch, Carlton and Lavigne tend to be more introspective and lyrically sophisticated, delving into everyday teen angst a little deeper. Most are written or co-written by the singers.
The music and the singers' independent image harken back to Fiona Apple, Jewel, Alanis Morissette and Paula Cole - female singer-songwriters who were the hottest thing in pop a few years ago, before teen pop took over.
"I think that sound is coming back," says Spin's Michel. "If you look at the charts right now, there's tons of these girls who are doing really well."
Tamara Bedricky of Rochester, Mich., hopes to become another. She recently was a finalist in Pantene's Pro-Voice competition in Central Park, which looks for young women singer-songwriters. Bedricky, 22, watched Branch perform there.
"She's been a huge influence on me," she said.
"There's been a lot more natural singer-songwriters coming around. For me, it's kind of refreshing to see that, because I myself am one of those people."
Trying to buck the feel-good pop trend hasn't been easy, the artists say. Carlton recalls meeting resistance when she approached some record labels.
"They would have fear of God because it was so alternative in comparison with what was selling then," she says.
Even after she signed with A&M Records, she says, she didn't get much attention - until Keys, the 21-year-old R&B songstress, became last year's sensation and won five Grammys.
"Guys (at the label) were like, kicking themselves," she says. "And suddenly then, I became a priority."
Lavigne, who also plays guitar, says there were times when she was working on her album that people at Arista wanted her to sing other people's pop ballads instead of her own songs, filled with attitude and angst.
"There was nothing wrong with them, but it wasn't me," she says.
Then there were the times she was at a photo shoot and someone would suggest she wear something tighter.
She, Carlton and Branch are apt to wear jeans rather than miniskirts, and go without heavy makeup and plunging necklines.
"That's tired, that marketing of girls in a way to make the audiences and the young people out there kind of drool with envy," says Carlton. "I can wear clothing on every part of my body and feel just as sexy as if I was wearing a bra and panties."
Branch, usually shown in a T-shirt and jeans, says she's not averse to dressing sexy, but "I write music, and that's why I'm here. ... I never want the way I look or what I'm wearing to be the focus."
A group of girls hanging out in New York's Times Square recently approved of the attitude. The new teen queens are "so earthy," said 15-year-old Megan Brown.
Of Lavigne, she said, "She's got spunk, she dresses good and her songs are pretty."
Most said they listen to Spears sporadically.
"Some of her music's OK," said 16-year-old Anna, who didn't want to give her last name. "But some of her music is a little too young, or - "
"Stupid," one girl offered, as they all burst out laughing.
By Nekesa Mumbi Moody
Thanks for reading CBS NEWS.
Create your free account or log in
for more features.