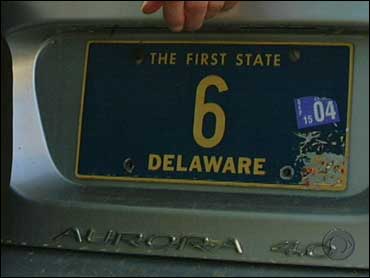 The $675,000 License Plate
When Charles Murphy passed away late last year, he left behind his home and his Chrysler. But the most valuable possession of all was the license plate on the car.
"There's every possibility that today, his plate will sell for more than his home will," Butch Emmert of Emmert Auctions in Rehoboth, Del., told CBS News correspondent Steve Hartman.
Delaware, it seems, has a cult fascination with low-digit license plates - a fascination that translates into lots of dollars… but very little sense.
"There is no better investment in the United States today," Emmert says. When asked he says, "I know it'll outperform the stock market."
It all started over a century ago, when Delaware first started issuing plates - in numerical order. The wealthy people who got their cars first go the lowest numbers - and a status symbol was born.
Today, plate number "1" is reserved for the governor, "2" is for the lieutenant governor and "3" for the secretary of state. All the rest can be bought and sold on the open market. Plates with three and four digits often sell for thousands of dollars. A two digit plate can sell for tens of thousands.
"It's more important in Delaware to have a low number than to drive a Rolls Royce," says Emmert.
The Fuscos are a family of commercial real estate brokers who have been collecting plates for 20 years.
"It all started back when my grandfather purchased number '9,'" says Frank Fusco. "That's when the hype began."
Fusco says his grandfather paid nearly $200,000 for that tag back in 1994. They now own 17 plates valued at over $3 million.
At a special auction for the number "6," the Fuscos are contenders, along with investment groups and Tim Ayres, a wealthy publisher. Ayres already owns number "11" and is betting on the bankability of number "6."
"I think it would be a good investment, I really do," says Ayres.
In the end, plate number "11" goes to the Fuscos for a staggering $675,000.
Only in Delaware - where the right plate not only gives you license to drive - but to print money as well.
Thanks for reading CBS NEWS.
Create your free account or log in
for more features.