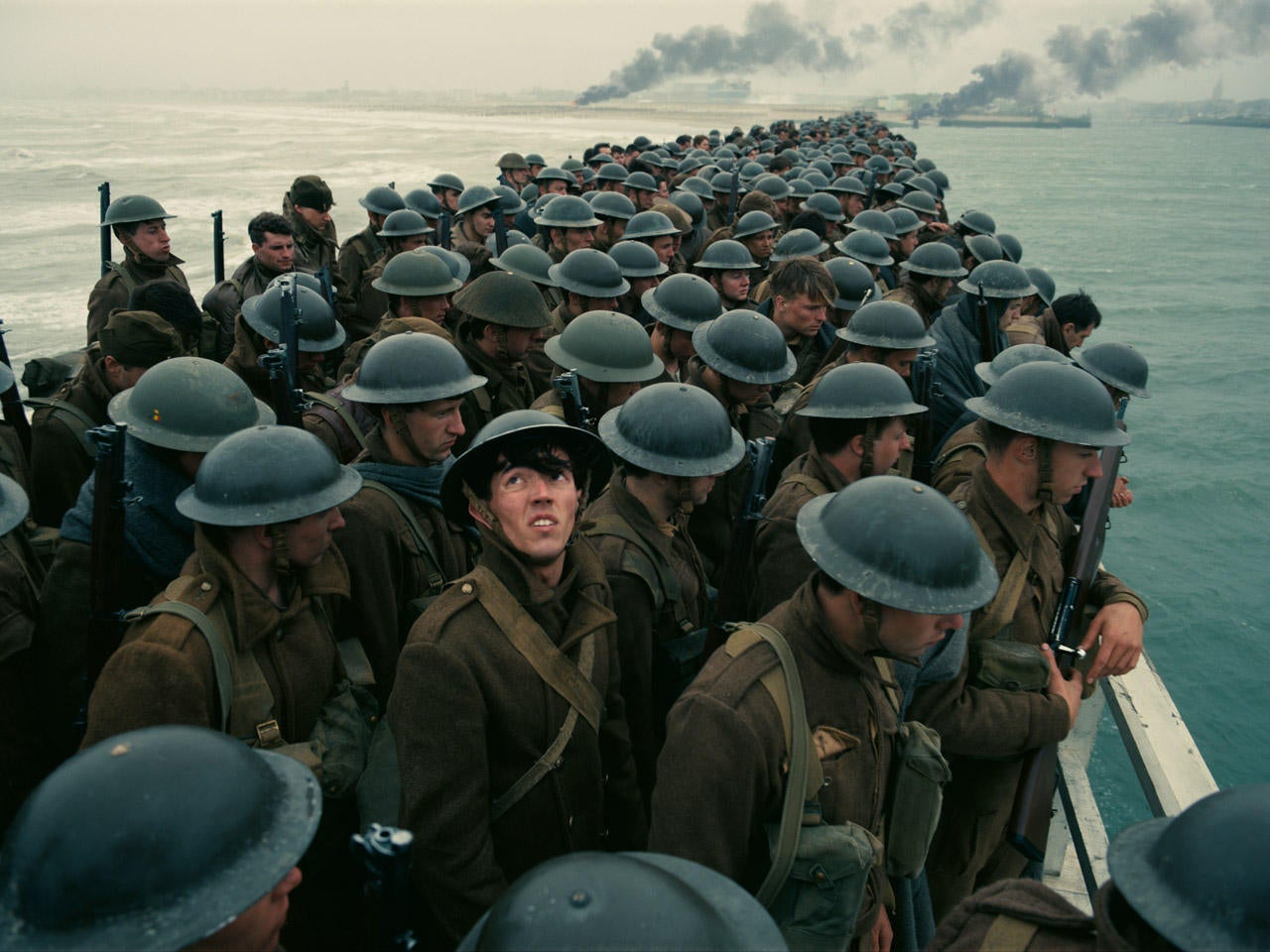 The 10 best films of 2017
In a year filled with discomfiting news, it's surprising perhaps that many of 2017's best films were documentaries -- movies that tried to better frame and understand current events, politics, social history or family traumas. Coming to grips with reality was the theme of the year, inside and outside of the moviehouse.
But fiction films -- even crowd-pleasing blockbusters -- also presented stories and characters that were discomfiting (even "Star Wars: The Last Jedi" gave us darker shades of Luke Skywalker), which didn't make them less welcome.
What resonated as the best movies of 2017 was filmmaking that took leaps of faith in technique, narrative and characterization, challenging audience assumptions while giving us things we hadn't seen before. So what if it were darker? Sadder? Disturbing? Bring it on!
The 10 Best Films of 2017 (in alphabetical order):
Set during the early 1990s, the French film "BPM (Beats Per Minute)" uses a predominantly documentary style to depict a new model of in-your-face activism that purposefully thrust the suffering of gays, drug addicts, prostitutes, hemophiliacs and others affected during the early years of the AIDS crisis into the public spotlight.
Inspired by the American group Act Up, Act Up Paris was formed in 1989 to engage with the public, shame government officials, and call pharmaceutical companies to task for what was deemed to be a cruel withholding of scientific information and potentially life-saving medication. Directed and co-written by Robin Campillo (who was a member of Act Up Paris) "BPM" captures the passion of the group's membership, a kaleidoscope of citizens who vehemently argue about political stands, media engagement, and how to counter homophobia and the general public's ignorance about the disease.
With assured direction, nimble editing and evocative, artistic photographic touches, Campillo's film is a vital document of an activist's passion, a disease's cruelty, and an indomitable desire for action and acceptance, even in the midst of denial or complacency.
Director Luca Guadagnino's "Call Me By Your Name" is a story of memory, featuring a sensitive young American summering in Italy making tentative forays into the world of romantic entanglements, and learning how all-consuming they can be. While coming-of-age films are a well-worn genre, usually portraying a nostalgic look back at first love or first heartbreak, this story is free of opposing forces (disapproving parents, a rival for affection, or a community or authority figures seeking to reinforce social norms) that the lovers must overcome, or fail to. Left to their own devices, in the bubble of freedom that a summer vacation affords, would they take the chances they might later regret not taking? Consequently, "Call Me By Your Name" is left to rise or fall upon their own discretion, or lack thereof.
Timothée Chalamet's performance as Elio is remarkably attuned to a teenager's awkwardness and corresponding sense of certainty. Armie Hammer is terrific as the much older object of attraction who seems just slightly out of reach, but who is also self-aware enough to appreciate the power he has over an impressionable youth -- a delicate balancing act for Hammer, as his character is just millimeters from being a letch.
Bill Morrison's documentary "Dawson City: Frozen Time" recounts the discovery in the frozen tundra of the Yukon a cache of highly-flammable nitrate film reels dating back to the birth of the movies. The films suffered water damage and other degradation, so the frames are fraught with stains, tears, dirt and chemical decomposition. Projected anew, the imagery pulsates as if by the energy of a flickering heart.
But the movie is more than a clip reel. By using period photographs (including glass negatives which were saved by conservators from being converted into greenhouse windows), a history of Dawson City -- a gold rush town whose fortunes ebbed and flowed -- is conjured, full of dreamy visions and ironic nostalgia. Morrison uses the DNA of cinema's origin (an ephemeral commodity meant for diversion) and turns it into a timeless treasure, mined (like gold) from the forbidding landscape.
The images of a time outside of time are matched by the haunting score created by composer Alex Somers and sound designer John Somers. It is music that mirrors the disintegration and degradation of nitrate frames depicting vanished landscapes and people long dead -- ghostly music without the horror.
Christopher Nolan has often played with time in his narratives, from the backwards storyline of "Memento" to the warped perceptions of time in "Inception" and "Interstellar." "Dunkirk" uses three timelines to tell parallel stories of Britain's 1940 evacuation of Allied troops trapped on the French coast and under attack by Germans from the land, sea and air.
With an expansive Imax frame, taut editing, and a tense score, Nolan creates an immersive experience that puts the audience right in the thick of battle, from an aerial dogfight involving RAF Spitfires, to soldiers trapped inside a sinking ship, to bombs raining down on a beach from which there is no cover.
Renowned filmmaker Agnès Varda is best known for such classics as "Cléo from 5 to 7," "One Sings, the Other Doesn't" and "Vagabond," and the documentaries "Far from Vietnam" and "The Gleaners and I." Her latest non-fiction film, "Faces Places," is a whimsical road movie featuring herself and photographer JR, as they travel to small towns in France to photograph residents and paste over-sized prints of their portraits on the sides of buildings.
The pair's journey surveys dwindling facets of life in the French countryside -- changes in agriculture, small-town industry, a homogenization of culture, ghost towns brought (briefly) back to life -- while also engaging in a Mutt-and-Jeff dynamic as comical buddies. It's a celebration of cinema and photography, French baguettes, laborers, ruins, and the temerity of an 89-year-old woman to do whatever the heck she wants.
Jordan Peele's smashing directorial debut "Get Out" blends satire and horror in a tale of race relations gone very bad. Chris (Daniel Kaluuya), visiting the parents of his white girlfriend, expects some tangents of racism to bubble to the surface, despite their seeming warmth towards him and profuse admiration of President Obama. But he can't put his finger on the weird behavior of the black servants, nor of the black husband of one white socialite.
A terrifying session with his girlfriend's mother, Missy (Catherine Keener), a hypnotherapist who offers to treat Chris' smoking addiction, leads him to suspect that something is definitely not right in this bastion of wealthy liberals -- and certainly not once the scalpels come out.
One of the most imaginative films in years, "Get Out" is an expert tug-of-war between humor and terror.
Just as "Dawson City: Frozen Time" and "Faces Places" stretched the parameters of documentary storytelling, and "BPM" appropriated documentary techniques to recapture a specific place and time in telling a fictionalized history, "I, Tonya" presents the events of the sensational Tonya Harding-Nancy Kerrigan ice skating competition as a mock documentary that constantly winks and nods to its own artificial self.
Directed by Craig Gillespie ("Lars and the Real Girl"), the film unabashedly encompasses the F-you attitude of its central figure in telling the life story of Tonya (Margot Robbie), a girl who aspires to the top of a sport that blatantly disdains girls from the wrong side of the tracks. Sure, she married dumb (Jeff Gillooly, the sad-sack, abusive husband), and hired an untrustworthy schemer as her bodyguard (Shawn Eckhardt, who presents himself as an expert in international counterintelligence). But boy, she can skate -- thanks to the pushing of a mother (played impeccably by Alison Janney) drained of every ounce of maternal instinct.
The real-life story was perfect for the "Hard Copy"/tabloid media, but its drama is here shaped like the Japanese classic "Rashomon" -- different viewpoints on the same events, emotions and motivations in a scandal that, for a brief moment, enthralled the world. (Note: The following clip features language no mother should speak to her child.)
In Greta Gerwig's comedy "Lady Bird," Saoirse Ronan plays Christine McPherson, who gives herself the name Lady Bird, if only to tick off her controlling mother, Marion (played both furiously and warmly by Laurie Metcalf). A senior at a Catholic girls' school in Sacramento in pre-smartphones 2002, Lady Bird is eager to get to college, preferably one very far from California, despite less-than-stellar grades and meager family finances.
What makes the film so much more winning than similar tales of teen angst is the depth of the writing by Gerwig. Her characters here face not just issues of romance, heartbreak, stressed friendships and sibling rivalry, but also class and wealth (as lived on both sides of the railroad tracks), job loss, and -- in the case of Lady Bird's impulsiveness, outsized ambitions and awkwardness -- putting square pegs in round holes.
Thanks to the script and to the performances by Ronan and Metcalf, the mother-daughter clashes have much more resonance than one would expect, as we can empathize with both figures in the duel (and with the father, played by Tracy Letts, who manages to keep out of the line of fire).
Adapted from David Grann's bestseller, "The Lost City of Z" tells an epic story of obsession, as Col. Percival Fawcett (played by Charlie Hunnam), a British officer with greater ambitions than his social rank allows, seeks advancement via the cause of science and exploration. The fact that proof of an ancient civilization might rankle the staff-bearers of the British Empire doesn't dissuade Fawcett from venturing in search of glory, at considerable cost to himself, his family, and the poor sods who are cajoled or coerced into joining his expeditions.
Costarring Robert Pattinson (who also gave a smashing performance in the crime drama "Good Time") and Sienna Miller, the film, written and directed by James Gray, is sumptuous, dark, mysterious, and filled with moments of uncanny beauty, as when the background in a scene of a fortuneteller's reading of Fawcett's future dissolves into the jungle that has captured his heart.
Written and directed by Rian Johnson (whose 2012 time-travel film "Looper" was an exceptional take on responsibility, revenge and self-sacrifice), "Star Wars: The Last Jedi" continues in the classical style of the previous "Star Wars" films, mixing bravado, humor, mysticism, action and exotic visuals with a core story of people trying to find their place in history. Johnson has outdone his predecessor, J.J. Abrams, and even the prequels' director, George Lucas himself, in making a breathless adventure that awes without getting caught up in its own pomp. This is fan fiction of the best kind.
It is great to finally see Mark Hamill as Luke Skywalker (his appearance at the end of "The Force Awakens" merely teased a two-year wait for Episode XIII) gingerly stepping into the role of Jedi master with trepidation, fear and, finally, a cheeky panache.
Daisy Ridley, Adam Driver, and newcomers Kelly Marie Tran and Laura Dern all bring great color to their roles, but it's Carrie Fisher's Leia Organa who we'll miss most two years from now, when Episode IX debuts. Can't wait!
Thanks for reading CBS NEWS.
Create your free account or log in
for more features.