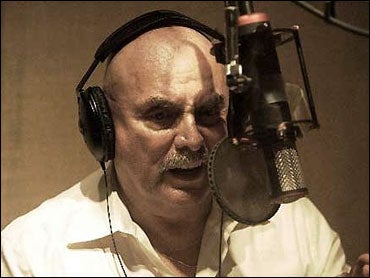 "That Announcer Guy" Dies
You may not know Don LaFontaine's name, but you'd certainly know his voice if you heard it.

Don LaFontaine, known as the "King of Voiceovers" and famous for the line "in a world..." in movie trailers, died Monday at Cedars Sinai Medical Center in Los Angeles, according to several broadcast reports and his agent.

That agent, Vanessa Gilbert, told "Entertainment Tonight" he passed away following complications from a collapsed lung. The official cause of death hasn't been released.

LaFontaine went in front of the camera for once in a recent Geico Insurance commercial in which he parodied himself, playing "that announcer guy" and uttering that his famous "in a world" phrase.

He did the same on The Early Show a few years back, introducing a Dave Price weather segment.

LaFontaine, born in Duluth, Minn., recorded nearly 5,000 movie trailers and hundreds of thousands more commercials and other presentations.

He did most of his work from his home studio in L.A.., or rushing from one studio to another in limos. Over the years, LaFontaine made millions.

LaFontaine said he wasn't all that interested in getting credit for his work, and that the best
voice actors make people feel a certain way, and don't get in the way of the message they're trying to convey.

Aside from being the preeminent deep, dramatic voice in movie trailers, LaFontaine was a voice of "Entertainment Tonight" and "The Insider," as well as CBS, NBC, ABC, Fox and UPN, in addition to TNT, TBS and the Cartoon Network.

By conservative estimates, he voiced thousands of television and radio spots, including ads for Chevrolet, Pontiac, Ford, Budweiser, McDonalds, and Coke.

LaFontaine also served as the in-show announcer for the Screen Actors Guild and Academy Awards.

Based on signed contracts, he had the distinction of being perhaps the single busiest
actor in the history of SAG.

LaFontaine is survived by his wife -- singer/actress Nita Whitaker, and three children: Christine, Skye and Elyse.
Thanks for reading CBS NEWS.
Create your free account or log in
for more features.