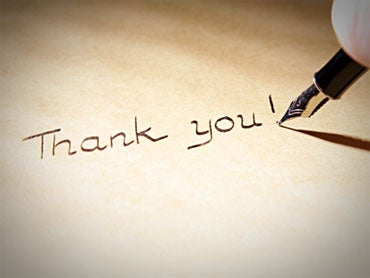 Thank You Notes Not Just for Holidays
In the age of e-mail, the handwritten thank you note is becoming a lost art.
Steve Hartman gets a lesson from a recognized expert -- at least, you'll recognize him -- in "Assignment America".
---

Twis now a month after Christmas and all through my house
Not a note has been written, does that make me a louse?
Must I really send thanks for all the candles and cheeses
Or that book from my in-laws about tracking animal feces?

(Scroll down to watch a video of this report)

Yes, at least according to my 1950 edition of Emily Post. But today, most of us don't live stationery lives. Thanks to our new paperless, manner-less society, the thank you note has been slowly going the way of the curtsy, and I say that's a good thing.

This is an issue "60 Minutes" Correspondent Byron Pitts and I have always been at odds over. He sends out thank you notes to the people he interviews, camera crews, you name it.

"There's something nice about the hand-written word, that people can feel it, can touch it, you know?" Pitts asked.

It's Boy Scouts like Pitts who make the rest of us look bad, but this guy says writing thank yous can actually make you feel good, really good.

"I did feel it changed my life," Los Angeles attorney John Kralik said.

It all started three years ago, Kralik said. His life was really going down the tubes, personally and professionally, when one day, while walking, he heard an inner voice telling him to start writing thank you notes.

"I wasn't that grateful of a person," said Kralik. "I wasn't noticing the good things that happened to me each day. I wasn't noticing the good people I was encountering every day."

People like his daughter's piano teacher or the woman who cuts his hair, even the woman at Starbucks, who he thanked just for making the effort to remember his name.

"'In a way that makes me feel like a person and not a number; thank you, John,'" the barista read from Kralik's note. "It just made me realize that what I do does count."

In total, John wrote 365 notes that year and now has written a book about how it supposedly changed his fortune.

"When you appreciate something, it comes again," said Kralik. "If I was thankful for clients paying their bills, they seemed to pay faster. If I was thankful for cases, they seemed to come more."

That made sense. So I decided to give it a try and asked Pitts for help. I mean, where do you even start?

"Maybe, 'I hope this note finds you well,'" Pitts said.

Turns out, you open with a broad greeting and close with a broad greeting. I did mail it, and it went over well.

"Steve, I got your note," my father-in-law said in a voicemail. "That was nice."

Although I should probably get my own stationery.

"I was a little curious because there was an ending Brian, Byron Pitts," my father-in-law said. "But, anyway, thanks."

For the record, apparently I'm not the only one at CBS who's been lax with the thank yous.

The New York Post recently published celebrity New Year's resolutions, and guess who said she needed to write more thank you notes?

"CBS Evening News" Anchor Katie Couric
Thanks for reading CBS NEWS.
Create your free account or log in
for more features.