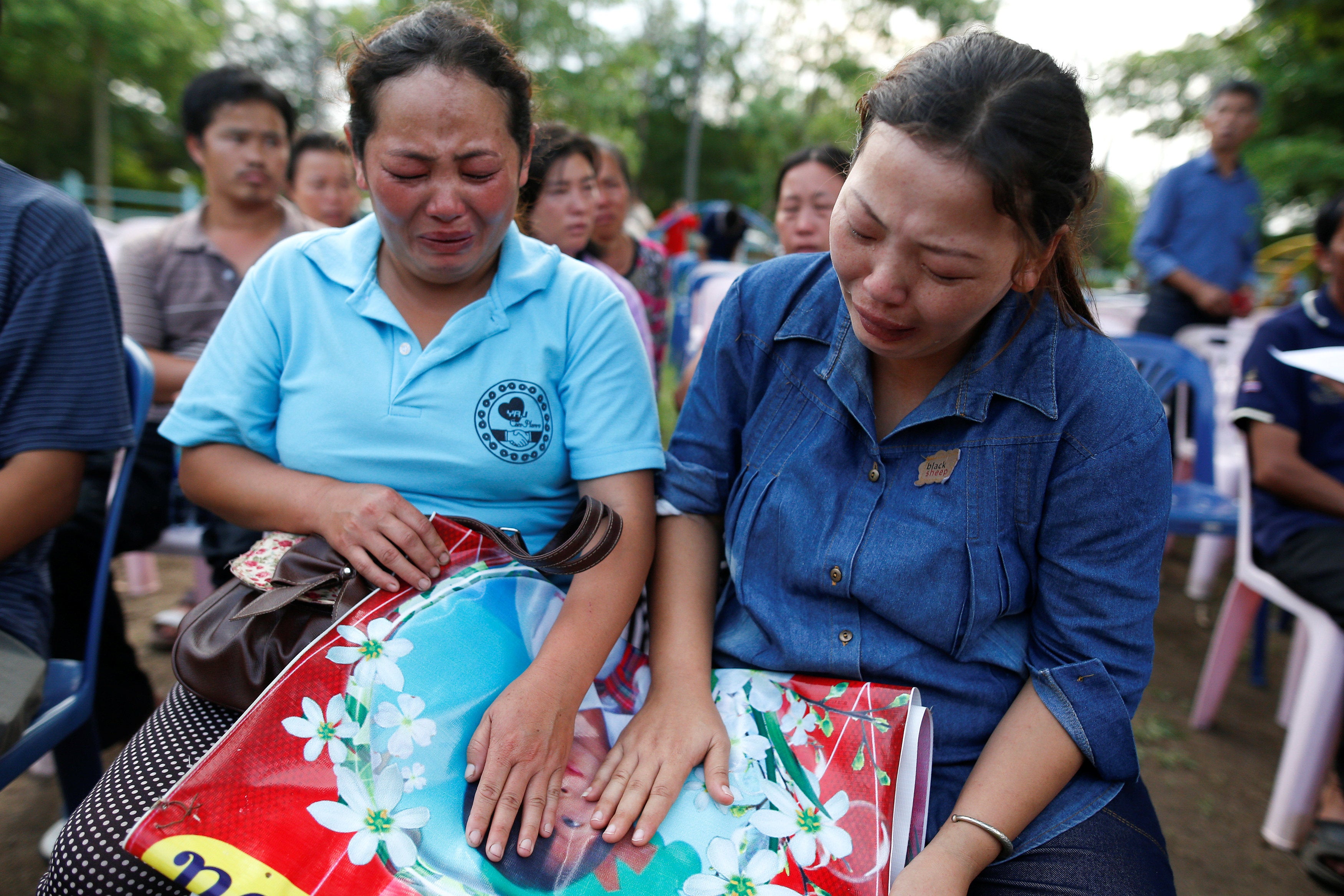 Thai girl killed by fire cried for parents until "voice was gone"
A nighttime fire at a dormitory of a Christian elementary school in northern Thailand that killed at least 17 girls may have been caused by a faulty light fixture below where they slept, a forensic investigator told the Reuters news agency as bereaved parents' anger grew.
Many of the girls in the dorm, between 5 and 12 years old, had been roused by a dorm-mate but went back to sleep, thinking it was a prank, officials and the girl who sounded the alarm said.
Five girls were injured in the Sunday night fire. Many survived by rappelling down from a second-floor window using sheets tied together to form a rope.
Malawian Saw-wa's 10-year-old daughter May made it out of the blaze, but died later in a hospital. Her 12-year-old sister survived.
"My eldest daughter said she heard May calling for mom and dad to help until her voice was gone," Malawian said Tuesday at a news conference.
"Never in my lifetime will I let my daughter out of my sight. The school must be held responsible for this. My daughter was my heart and soul," she said, according to Reuters.
The two-story wooden structure that caught fire housed 38 girls, most of them belonging to the area's ethnic minorities. Fifteen girls escaped without injuries.
The cause of the fire was not immediately known, but the forensic investigator told Reuters a light bulb apparently melted, sparking the blaze below the sleeping quarters.
But Thai police were not yet confirming any cause -- or culpability.
"We still need to gather evidence from the scene first on what caused this and whether this was due to negligence," Reuters quoted district police chief Prayad Singsin as saying.
Some of the students were still not asleep when the fire broke out and were able to raise the alarm, said Rewat Wassana, manager of the Pithakkaiat Witthaya School, to which the dorm is attached.
The kindergarten and primary school in Wiang Pa Pao district, just outside the city of Chiang Rai, has about 400 day students and boarders. It is about 500 miles north of Bangkok.
Rewat said the fire broke out in the dorm's lower level, which is used for activities. It is one of the two dorms on the 20-acre school grounds. The other dorm, which is located nearby and is for boys, was untouched, Rewat said.
"We have a teacher who sleeps with the girls in the dorm. She tried to help the students escape," Rewat told reporters at a news conference broadcast on local television.
An 11-year-old girl identified only as Suchada said that she had gotten up to go to the bathroom when she noticed the fire downstairs, and ran to tell her friends in various rooms. But some of them didn't believe her and closed the door on her to go back to sleep, she said.
"We remembered some lessons from Girl Scouts to tie cloth together to make a long rope and we climbed out of the window," the fifth-grade student said. "The teacher helped us. While the teacher was climbing down, the rope tore and she hurt her leg and waist."
A police official told The Associated Press by phone that besides the 18 dead, another five girls were injured, including two in serious condition. He said two of the bodies were so badly burned they were unidentifiable. The official did not wish to be identified because he was not authorized to speak to the media.
Firefighters took three hours to extinguish the fire, and pulled survivors and bodies from the second-story window of the wooden building.
Thanks for reading CBS NEWS.
Create your free account or log in
for more features.