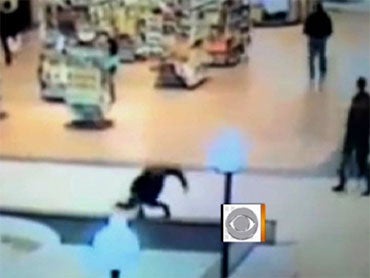 Texting while Walking, Woman Falls into Fountain
READING, Pa., We've all been warned about the dangers of texting and driving, but for one woman, it turned out that texting while walking wasn't a good idea.
Cathy Cruz Marrero was doing just that in the Berkshire Mall in Reading, Pa. when she suddenly tumbled headfirst into a water fountain, getting completely drenched.
It was caught by the mall's surveillance video system, then posted on YouTube, where it's been viewed almost 2 million times.
Cruz Marrero, 49, who works in the mall, has hired an attorney.
She wasn't hurt, "at least not physically," remarked "Early Show" co-anchor Chris Wragge.
But Cruz Marrero says what does hurt is "the humiliation (from the video having been put online). The humiliation. Ask my husband: I cried for days. … You don't know how many people are laughing at me."
Texting while walking, Cruz says, is "dangerous. … I could have been walking into a bus, a car, a ditch, anything. Texting and walking, take it from me, is dangerous. It really is."
She told the Reading Eagle, "I don't think security was professional because they didn't send anyone to check on me until 20 minutes later and I had already left."
On "The Early Show," Wragge and fellow co-anchors Erica Hill, Jeff Glor and Marysol Castro weighed in on the incident, which was shown repeatedly as they spoke:
Thanks for reading CBS NEWS.
Create your free account or log in
for more features.