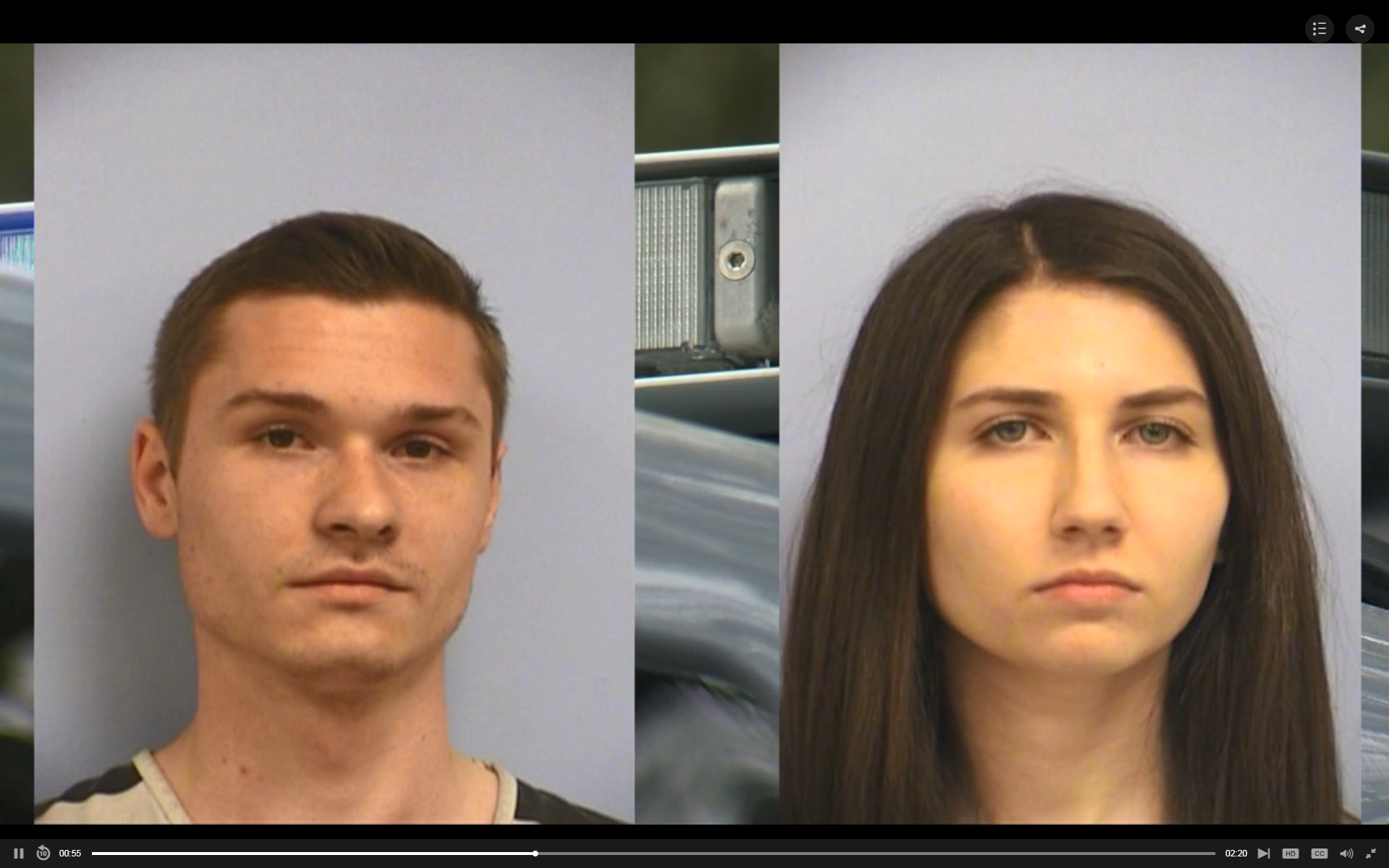 Texas teen, wife accused of hiring hitman to kill his jeweler father
AUSTIN, Texas — An Austin-area teen and his wife are charged with hiring someone to kill his father, a prominent jeweler who was gunned down in March during a home break-in, authorities said Wednesday. Nicolas Patrick Shaughnessy and Jaclyn Alexa Edison, who are 19 years old and live together in College Station, were arrested Tuesday on a count of criminal solicitation to commit capital murder, Travis County sheriff's officials said.
They remained in jail Wednesday, with Shaughnessy's bond set at a $3 million and Edison's at $1 million. Neither had an attorney listed in online jail records.
According to investigators, Shaughnessy's mother, Corey Shaughnessy, called 911 in the early morning hours of March 2 to report an intruder in the home where she lived with her husband, Theodore Shaughnessy. Deputies sent to the home found Theodore Shaughnessy dead of multiple gunshot wounds. A family dog was also killed. Authorities say the plot called for Corey Shaughnessy to be killed as well, but she was physically unharmed.
The shooter hasn't been caught, but sheriff's spokeswoman Kristen Dark said in a statement that detectives "are following new leads in the case." She declined to elaborate when later reached by phone.
Theodore Shaughnessy was the owner of Gallerie Jewelers in Austin. The company had posted on its Facebook page in late April that, "We are happy to announce that Nicolas, Ted's son, will be carrying on his legacy here at Gallerie."
An obituary for the elder Shaughnessy published in the Austin American-Statesman said he was "a proud father to his son, Nicolas."
In the months before the shooting, Nicolas Shaughnessy approached multiple people asking if they were willing to be paid to kill someone, investigators allege in an arrest affidavit. He estimated that he'd receive some $8 million from the life insurance policies for his parents, from the sale of their home and sale of the jewelry store.
Authorities say they found ammunition in the defendants' home that matched casings found at the crime scene.
CBS affiliate KEYE obtained court documents which detail much of the evidence against Nicolas and Jaclyn. According to the affidavit, the killer entered the home through Nicolas's unlocked bedroom window after Nicolas allegedly deactivated the residential alarm system remotely.
A neighbor in College Station told KEYE that Shaughnessy talked often of his family's wealth and that he wasn't really surprised when he heard what Shaughnessy is accused of orchestrating the alleged plot.
The station also reports that, according to a new affidavit, when investigators spoke with an employee at the apartment complex where Nicolas and Jaclyn live in College Station, the employee said Nicolas contacted her two weeks before by social media asking if she were looking to make extra cash. When she inquired what he meant, Nicolas allegedly responded "Illegal activities" and "Anything from strippers to murder."
The employee reportedly said Nicolas told her he would pay her "$20,000 a head" with a $15,000 incentive. The woman told investigators he followed up that statement with skeleton emojis, at which point she stopped responding to him.
According to the station, the affidavit states that detectives spoke to one of Nicolas' friends who Nicolas had claimed had used the window in his bedroom as an entrance and exit before. The friend said Nicolas has talked about faking his own death for the insurance money, and mentioned his and his parents' life insurance policies.
The friend also said Nicolas told him he would get over $1 million upon his parents' death, and that Shaughnessy has repeatedly called him since his father's death, asking him what the detectives knew and what he was telling them.
KEYE reports that investigators confirmed that Nicolas Shaughnessy was the sole beneficiary of a $2 million policy if his parents were dead.
Detectives obtained a search warrant for Nicolas' and Jaclyn's apartment in College Station where a marriage certificate was found, indicating they were married in July of 2017, and that the friend was the officiant. Investigators also found a box of brass Sig .380 caliber bullets--the same brand and caliber found in the body of Theodore Shaughnessy. There were six rounds missing from the box.
On a computer seized from the residence, investigators found a chat log between Nicolas and Jaclyn from February 23 and 24 discussing a payment of $50,000 for a "job."
Search warrants for the friend's cell phone and iPad turned up a conversation between him and Nicolas on January 30. Nicolas asked the friend if wanted to make $20,000. He later added the total would be $50,000, with "20 for each and 10 extra because 50 is a nice whole number."
During the search of the friend's iPad, investigators found a text conversation with Nicolas from August 2, 2017. Nicolas told the friend he needed more cash. The friend responded "u have questions or suggestions." Nicolas respoded "Plastic gloves Ski masks."
Investigators say the friend responded "no no no" and Nicolas answered back "Fine fine. Just walk in shoot a family steal all their s--t. No mask needed cuz they'll be dead." Police believe these comments are an allusion to the shooting death on March 2, 2018.
No one else has been charged in the case.
KEYE reports that Perry Minton and Rick Flores, attorneys for Nicolas Shaughnessy, released the following statement Wednesday afternoon:
"We have been working with the Shaughnessy family over the last several months as they mourn the loss of Ted. These allegations are not consistent in any way with the young man we have come to know. Nick has been living with his mother since this tragedy occurred. Ms. Shaughnessy stands firmly behind her son. We will review the evidence as it becomes available to us."
Thanks for reading CBS NEWS.
Create your free account or log in
for more features.