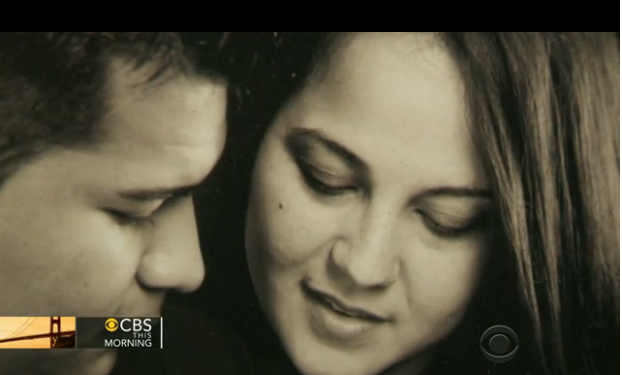 Texas life support battle pits state law against pregnant woman's earlier wishes
The battle between a family who claims a pregnant patient did not want to be on life support and a hospital that says they have to uphold the legal rights of the fetus may have to be decided in the courts, CBS News legal analyst Jack Ford said.

Marlise Munoz's family is urging a hospital to remove the brain dead adult woman off of a ventilator. However, John Peter Smith Hospital in Fort Worth is refusing to do so because the woman was 14 weeks pregnant at the time of her admission, citing a Texas state law that prevents them from stopping "life-sustaining treatment" to pregnant patients.

On Nov. 26, husband Erick Munoz found his pregnant wife Marlise unconscious on their living room floor, according to multiple reports. She may have experienced a dangerous blood clot called a pulmonary embolism.
She was declared brain dead by doctors shortly after arriving at John Peter Smith Hospital. Brain death means an irreversible loss of brain activity where the body cannot control any of its biological processes.

Munoz and his wife were both paramedics, and had discussed end-of-life medical decisions when it came to life support with their families. But, the Texas Health and Safety Code states "a person may not withdraw or withhold life-sustaining treatment under this subchapter from a pregnant patient" so the hospital says it cannot legally turn off the ventilator.

"She did not want to be on life support," her mom Lynne Machado told CBS News correspondent Manuel Bojorquez. "We knew what her wishes were as well as her husband's, so we were all on the same page."

The hospital would not comment specifically on the case, but said in a statement Monday it follows the law.

"JPS has a responsibility to be a good corporate citizen while providing compassionate, quality care for our patients," hospital spokeswoman J.R. Labbe, said in an emailed statement. "In all cases, JPS will follow the law as it applies to healthcare in the state of Texas. Every day, we have patients and families who must make difficult decisions. Our position remains the same; we follow the law."

The case is differs from the story of 13-year-old Jahi McMath, who was declared brain dead following a Dec. 9 tonsillectomy. In that case, doctors at Children's Hospital of Oakland wanted to remove life support because they were under no legal obligation to continue care following the brain death diagnosis. The family resisted through court challenges, and eventually reached an agreement with the hospital to discharge the girl so she could be transferred to a long-term care facility.

The hospital has maintained for weeks the girl is legally dead, and she should be removed from the ventilator.

Ford explained on CBS This Morning Monday that the Texas law prevents people in Munoz' case from employing the typical options when deciding life support. This includes having a "living will" that can detail a person's wishes regarding life support, a medical power of attorney document regarding who will be in charge of care of the patient, or family member discussions over do not resuscitate (DNR) options.

"Usually, unless someone is arguing, the hospital will follow (personal or family wishes)," explained Ford. "Here it's complicated because you have this statute in Texas, one of the states that says, 'We are going to recognize that another life is involved with this.'"

He expects this case to be challenged in court, as the hospital is a "rock in a hard place" due to this law. The family may argue the law is being misapplied to their case.

"Their argument is, 'We don't want that to happen, because she would not have wanted that to happen,'" explained Ford.
Munoz told the Associated Press Friday that he was more concerned about letting others know about his family's ordeal and possibly pushing for the law to change.

The AP reported last week that cases of this kind are rare, citing a 2010 study that found 30 cases of brain-dead pregnant women over a roughly 30-year span. Of 19 reported results, researchers found 12 in which a viable child was birthed and tracked for two years.

Even if there's a chance of the fetus' viability, Machado said the family has been trying to refocus people's attention that her daughter didn't want to be on a ventilator to begin with, and her decision should be respected.

"I know in my heart my daughter's gone, but to see her shell there, and being forced to be alive is hard to see her," Marlise's mom said. "We feel like we're caught in this limbo."



Thanks for reading CBS NEWS.
Create your free account or log in
for more features.