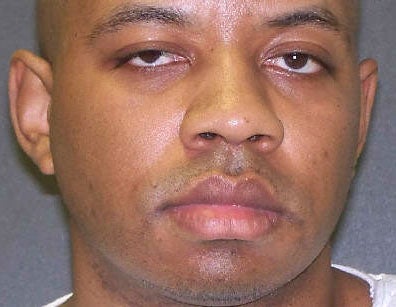 Texas executes former rapper for murder of recording studio owner
HUNTSVILLE, Texas - A former San Antonio rap musician was executed Wednesday for a knife attack and robbery more than 15 years ago that left a recording studio owner dead.
Ray Jasper, 33, was injected with a lethal dose of pentobarbital for the November 1998 stabbing death of David Alejandro.
Before being put to death, Jasper spoke quietly, asking his family to "take care of each other, stay strong and faithful to God." He also thanked his supporters and told his daughter that he loved her, adding that she "be strong, be positive, have a great life."
Jasper then asked that the "Lord God almighty in heaven Jesus Christ see my spirit."
As the drug started to take effect, he took a couple of deep breaths, then began snoring - each snore less noticeable until all movement stopped. He was pronounced dead at 6:31 p.m. CDT - 20 minutes after being given the lethal dose.
A printed statement from Jasper that was similar to what he said as his final words was handed out after the execution.
During his case, Jasper had acknowledged he slit Alejandro's throat to steal equipment from the San Antonio studio, but he insisted a partner was responsible for Alejandro's fatal stab wounds.
Alejandro's brother, Eddie Alejandro Jr., was listed as a witness to Jasper's execution but did not attend. A statement from him was released after Jasper's death.
"Justice is a dish best served by the state," Eddie Alejandro wrote in the statement. "This sociopath treated people like a baby treats a diaper with no regard for neither my family and friends, nor his family and friends.
"Years of happiness were wiped away in one night for me. He might as well have dug that cold knife in me, too, cause he murdered my heart that night."
None of Jasper's family members or friends witnessed the execution. He didn't select anyone to be present.
His lethal injection was the third in Texas this year. Another is set for next week before the state - the nation's most active when it comes to the death penalty - begins using a new batch of pentobarbital obtained through a different pharmacy. Prison officials have refused requests from The Associated Press to disclose which pharmacy is providing the drugs, arguing that information must be kept secret to protect the safety of its new supplier.
Lawyers for Jasper, who was black, argued unsuccessfully to the courts that a review of juror questionnaires that they say only became available recently showed a black potential juror at Jasper's San Antonio trial in 2000 was questioned and disqualified improperly because of race.
The U.S. Supreme Court rejected the argument about 30 minutes before Jasper was taken to the death chamber in Huntsville.
State attorneys argued the juror questionnaires long had been accessible and that race was not a factor in jury selection.
A Bexar County jury deliberated only 15 minutes before convicting Jasper of Alejandro's slaying. The panel then took less than two hours to decide he should be put to death.
The Netherlands-born Jasper, whose father was in the U.S. Air Force, was 18 at the time of the attack on Alejandro and had a criminal record beginning about age 15 when his family moved from California to San Antonio.
Jasper had previous dealings with the 33-year-old Alejandro, who was the lead singer of a San Antonio Christian-based music group in addition to running his recording studio.
Two other men were convicted in Alejandro's slaying along with Jasper. Doug Williams, now 35, was convicted and sentenced to life in prison. Steven Russell, 34, also is serving life after taking a plea deal.
Thanks for reading CBS NEWS.
Create your free account or log in
for more features.