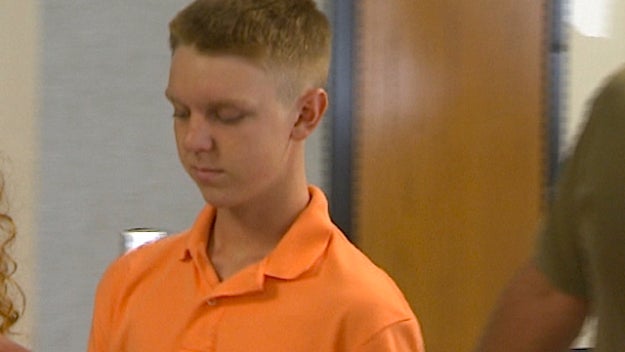 Texas DA aims to jail "affluenza" teen for assault
FORT WORTH, Texas - North Texas prosecutors are trying a second time to imprison a teen who was sentenced last week to 10 years' probation for killing four people while driving drunk.

Tarrant County District Attorney Joe Shannon has asked a juvenile judge to put 16-year-old Ethan Couch behind bars on two counts of intoxication assault charges that he says are still pending before the court, according to CBS Dallas.

"During his recent trial, the 16-year-old admitted his guilt in four cases of intoxication manslaughter and two cases of intoxication assault," Shannon reportedly said. "There has been no verdict formally entered in the two intoxication assault cases. Every case deserves a verdict."

In addition to the four pedestrians who were killed, two teens riding in the back of Couch's Ford F-350 pickup in the June wreck suffered critical injuries. According to testimony, one of them, Sergio Molina, is paralyzed and can only communicate by blinking. Seven passengers were riding in Couch's truck. In addition to Molina, Solimon Mohmand suffered numerous broken bones and internal injuries.





District Judge Jean Boyd gave Couch 10 years' probation last Tuesday after a sentencing hearing in which Couch's attorneys argued his wealthy parents coddled him into a sense of irresponsibility - an affliction one witness called "affluenza." Prosecutors had asked for a maximum prison sentence of 20 years.

Couch's blood-alcohol level was three times the legal limit and there were traces of Valium in his system when he lost control of his pickup, plowing into a group of people helping a woman whose car had stalled.

Defense attorneys had requested a lengthy probationary term at a costly rehabilitation facility in California, promising that Couch's parents would foot the bill. During sentencing, Boyd said he might not get the kind of intensive therapy in a state-run program that he could receive at the California facility.

If Couch violates the terms of his probation, he could be sent to prison for 10 years.

Under Texas juvenile law, the maximum allowable sentence in Couch's intoxication assault case would be three years in a Texas Juvenile Justice Department facility; he would be released no later than his 19th birthday.

The station reports that according to the Johnson County Sheriff's Office, the teen's father, Fred Couch, has been arrested for assault with bodily injury, evading arrest, and a DWI, and his mother, Tonya Couch, has been charged with reckless driving and theft.



Thanks for reading CBS NEWS.
Create your free account or log in
for more features.