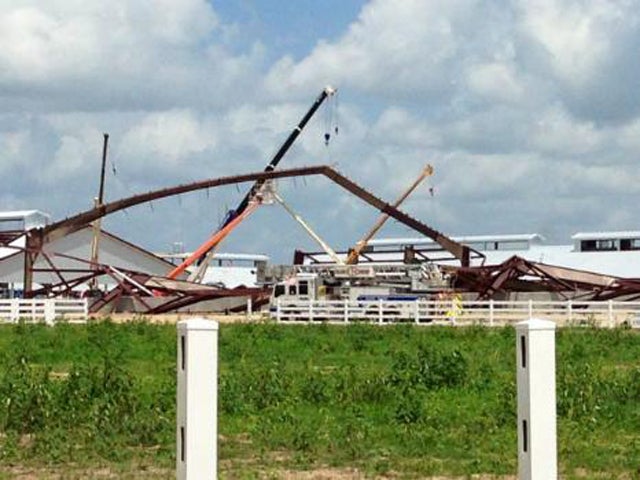 Texas A&M construction accident leaves 4 workers injured
Updated 11:49 PM ET
COLLEGE STATION, Texas Four workers were hurt, three critically, after a barn frame collapsed Saturday at an $80 million Texas A&M University equestrian complex that's under construction.
The collapse happened on university property about a mile from the main campus, Texas A&M spokesman Lane Stephenson said.
College Station and Bryan fire departments, campus police and Texas A&M emergency medical personnel all responded to the accident, which happened shortly before 11 a.m. Saturday. Bart Humphries, a College Station Fire Department spokesperson, stated that about 25 to 30 workers were at the scene around the time of the collapse, CBS College Station affiliate KBTX-TV reported.
The accident involved an approximately 300-foot barn, according to the College Station Fire Department. Twisted metal beams could be seen at the site, where ground was broken last fall.
The injured workers were transported to hospitals. Their names and further details on their conditions were not immediately released. Nobody else was hurt.
For a time, emergency responders had to halt the search for the four because of concerns about another collapse.
"After that time search and rescue efforts were suspended until the remainder of the structure that was still standing could be stabilized," according to a statement from the College Station Fire Department. "After the structure was secured a secondary search of the area was conducted to ensure that all patients had been located."
Texas A&M police officials were trying to determine what caused the collapse. University police did not immediately return messages Saturday afternoon.
A Gamma Construction representative did not immediately return a phone call to The Associated Press for comment Saturday.
Gamma Construction, on its website, described the A&M work as one of its 2013 projects.
The website said the equestrian complex "will enhance Texas A&M University's equine program and will consolidate not only academic programs, but clubs and associations to one premier location in order to teach, train, conduct research, exhibit and showcase events."
Conditions at the time were cloudy with temperatures in the mid-80s and winds gusting just above 10 mph, the National Weather Service said.
The first phase of the equestrian center was set for completion in 2014. The facility will include locker rooms, offices, a concessions building, a 50-stall barn, plus practice arenas and two covered competition arenas, according to the university.
Thanks for reading CBS NEWS.
Create your free account or log in
for more features.