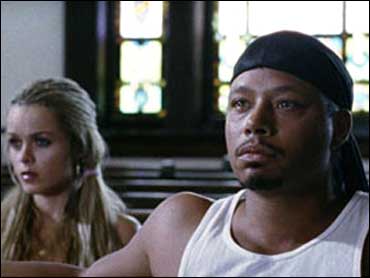 Terrence Howard's Big Break
Terrence Howard's face is, for now at least, more familiar than his name. In Hollywood, he's well respected for taking tiny parts and making them memorable, with many small but memorable parts in very successful films.
In "Mr. Holland's Opus," he was the high-school drummer who couldn't find the beat. In "Crash," he played the TV director who had a run-in with the cops. And in the Academy Award-winning movie "Ray," he played the nightclub owner who gave Ray Charles his first paying gig.
With the opening of "Hustle & Flow" last week, Howard steps out of the supporting cast and into the lead. At 36, he is ready for his close-up.
Look for Howard's interview on The Saturday Early Show .
"Hustle & Flow,", which won a $9 million distribution deal at the Sundance Film Festival, is getting impressive reviews.
Howard plays DJay, a Memphis pimp with a mid-life crisis and a career change on his mind. With the help of his friends, he's trying to launch a rap career. If they can attract the attention of successful rapper Skinny Black, they just might be the "next big thing."
So far, 2005 has been a banner year for Howard. He has appeared in seven movies: "Crash," "Hustle & Flow," "Four Brothers," "Get Rich or Die Trying," "Lackawanna Blues," "Their Eyes Were Watching God," and the outcast musical, "My Life in Idlewild."
The list doesn't end there. According to Essence Magazine, Spike Lee has chosen him to play Joe Louis in a biopic.
"Hustle & Flow" is earning Howard strong reviews, for a role he was reluctant to accept.John Singleton, who is best known for directing "Boyz in the Hood," produced "Hustle & Flow," and was convinced Howard was the right man to play the Memphis pimp.
Yet, Howard turned down the part not once, but twice. He says he only agreed to it after he was persuaded there was nothing in the film to glorify the street lifestyle.
As a teenager, Howard saw his share of big-city streets. He shuttled between Los Angeles, where his mother lived, and the tough side of Cleveland, where his father lived in the 1970s.
Howard remembers telling his childhood friends that he was going to be an actor, but in college, he majored in chemical engineering.
Aside from his talent, his eyes are what make an instant and lasting impression.
His co-star, Taraji Henson, says those olive-green eyes "just look right through you."
There's a story behind that gaze. In high school, Howard had an ear infection that went untreated for so long that he eventually became deaf in both ears. The hearing loss made him look deeply into people's eyes to find any clue he could pick up. He says his hearing returned after about a month, but staring into people's eyes is still a habit.
He doesn't lean on his good looks because, as a teenager, he learned how fleeting they could be. He was diagnosed with Bell's palsy, temporary paralysis of the facial muscles. It lasted for several months. With therapy, including a device that he improvised because his parents couldn't afford the treatments, his face returned to normal.
Much to the envy of his female fans, Howard is married once again to the same woman who divorced him in 1998. He had some growing up to do, he admits, and they now have three children.

Thanks for reading CBS NEWS.
Create your free account or log in
for more features.