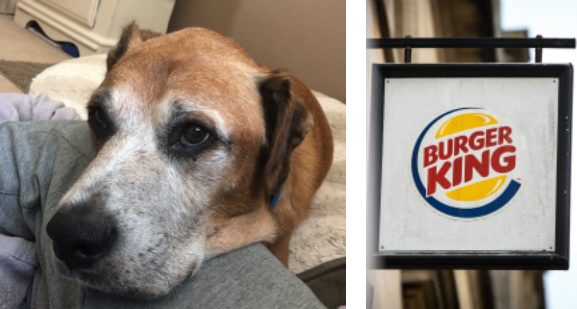 Terminally ill dog gets free cheeseburgers for life at Burger King
A family dog will live out the rest of his days with a happy stomach thanks to Burger King. One of the fast-food chain's restaurants in Toledo, Ohio, is treating 10-year-old Cody, a Boxer-Lab mix who has terminal cancer, to his favorite snack -- cheeseburgers -- for free.
In a heartfelt tweet, Alec Karcher explained his ordeal, revealing his family only learned about Cody's diagnosis recently and only has a few months to live.
"My family and I were heartbroken over the news, but we decided we wanted to try and make the last part of his life the best we could," he wrote. "Everyday since we found out, we've gotten him a plain cheeseburger to eat with his many medications to make it easier and more enjoyable for him."
Then on Sunday, when Karcher visited a Burger King on Alexis Road to get Cody's burger, an employee politely asked why he was getting a plain burger -- and he told her why. The Burger King employee left to speak with her manager, who said Cody could eat cheeseburgers for free at their location, according to Karcher.
"I can't explain how much that means to us, and my family and I are beyond appreciative," Karcher wrote, adding the employees at the location are "the best around."
Burger King's corporate Twitter account responded to Karcher's tweet, saying "the world needs more kindness and empathy."
"Thank you for giving us the chance to do this for Cody," the account replied.
Lynn Morris, Karcher's mother, told CBS affiliate WTOL-TV her family wants the rest of Cody's days to be as comfortable as possible.
"He's such a loyal dog," Morris said. "We call him 'our old gentleman' because of how he looks out for us. We wanted to thank him for being such a good boy."
She also expressed her gratitude to the Burger King workers for their act of kindness and wanted to remind people to always adopt their pets -- after all she took in Cody when he was just 8 weeks old.
"They turn out to be the best companions," she said.
Thanks for reading CBS NEWS.
Create your free account or log in
for more features.