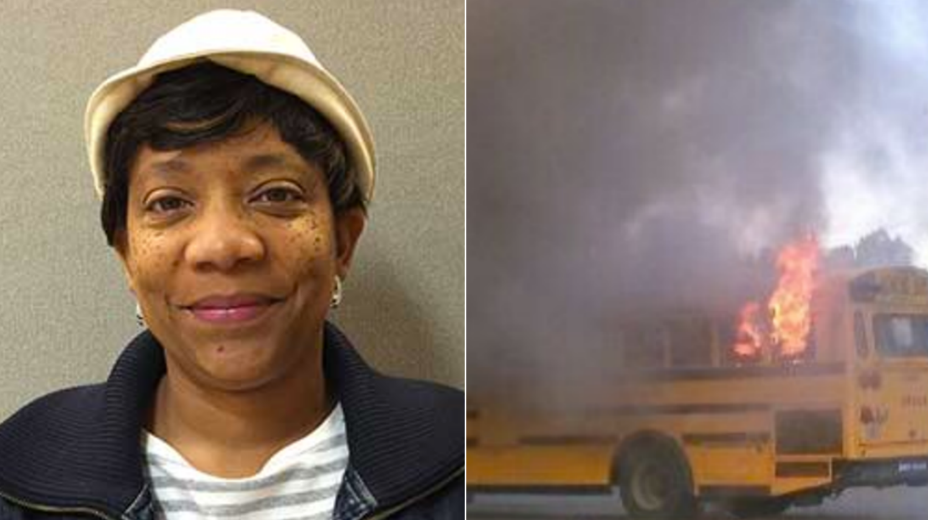 School bus driver hailed as "true hero" after bus bursts into flames
As soon as school bus driver Teresa Stroble heard two 9th graders yell about seeing smoke, she jumped into action.
The Duncan, South Carolina, school bus driver ushered all 56 students -- from Duncan Elementary, Beech Springs Intermediate and Byrnes High School -- off her bus, and radioed the transportation office to call 911 before the vehicle burst into flames Tuesday morning.
The "7-year veteran driver and teacher assistant for [Spartanburg School District 5] did exactly as she was trained and quickly and calmly evacuated all 56 students from the bus, and got them to a safe location," the school district said in an online statement several hours after the incident. "She is a true hero!"
Firefighters arrived on the scene minutes later to contain the fire.
"She did exactly what she was trained to do," Superintendent Scott Turner told CBS affiliate WSPA. "She was calm. She kept the students calm. She made sure they were safe. They were her first priority. She's our hero today."
Stroble was able to evacuate all of the students "in under a minute," he added on Twitter Tuesday afternoon. "So grateful for her quick action."
A local resident, who asked to remain anonymous, said he witnessed the school bus explosion and could feel the heat from the flames as he drove past the scene on West Main Street in Duncan.
"I was driving and saw a large black cloud ahead of me and as I got closer I saw the bus on fire in the car wash parking lot," he told CBS News. "As I continued to drive by the heat was so intense I could feel it from inside my truck."
The school district later notified all parents of students on the bus, reporting that there had been no injuries.
Officials from the South Carolina Department of Education were working with local fire officials to determine the cause of the blaze.
"As all of our school buses are owned by the state of South Carolina, the investigation into what caused the fire is ongoing, and will be completed by staff at the state level," the school district said.
Duncan Fire Chief Barry Frost told WSPA they are looking in the passenger area of the bus where there is heater mounted under a seat.
The school district thanked the firefighters, school officials and Stroble for their help.
"We are so thankful for the quick action of the Duncan Fire Department in putting the fire out, and all district administrators who responded and helped with what could have been a very tragic situation," the district said.
Thanks for reading CBS NEWS.
Create your free account or log in
for more features.