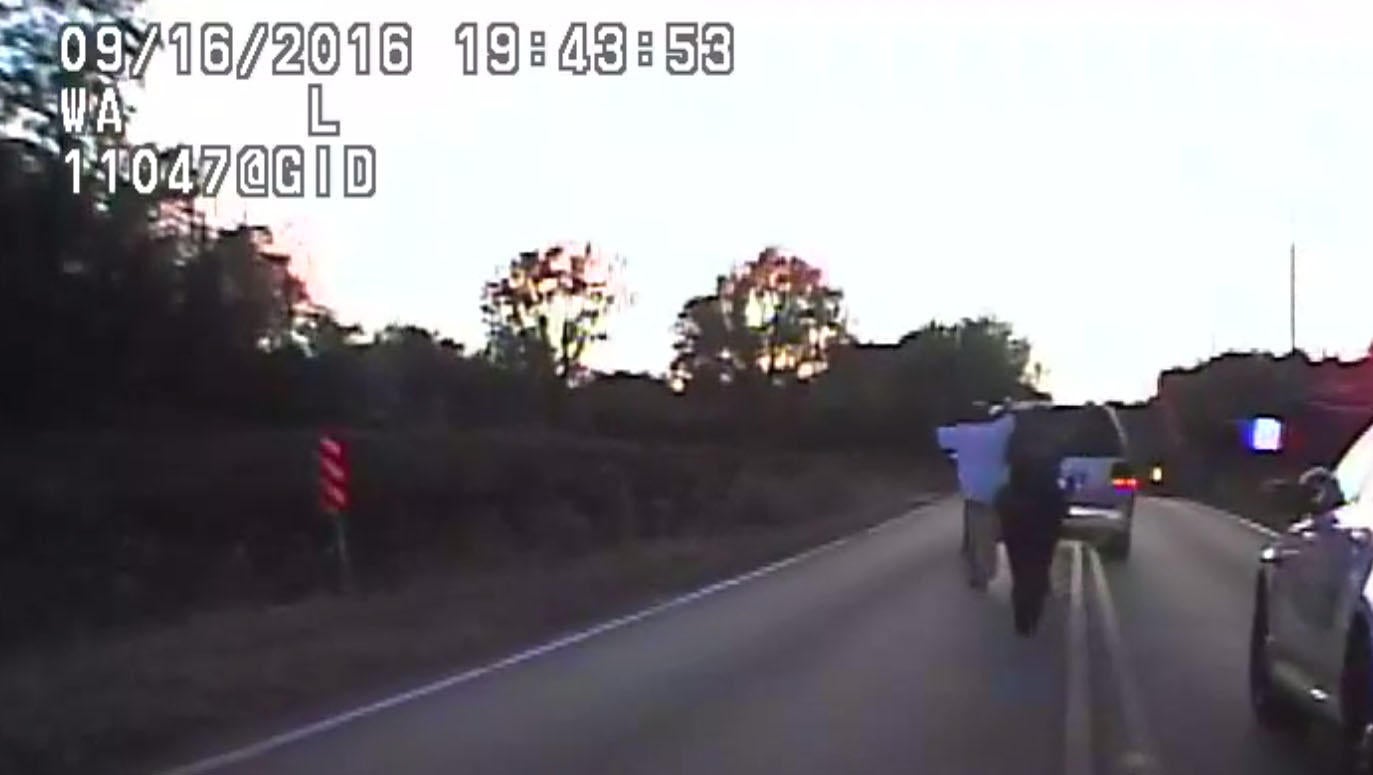 Man fatally shot by Tulsa police had no gun, chief says
TULSA, Okla. -- A black man fatally shot by a white Tulsa, Oklahoma, police officer responding to a stalled vehicle had no weapon on him or in his SUV, the city's police chief said Monday.
An investigation is underway into Friday's shooting death of 40-year-old Terence Crutcher, Tulsa Police Chief Chuck Jordan said, just before the department released dashcam footage of the shooting.
"We will achieve justice in this case," Jordan said.
Meanwhile, a federal prosecutor says the U.S. Department of Justice has opened a civil rights investigation into the shooting.
Authorities said the shooting occurred after an officer stopped to investigate a vehicle in the middle of a road. Police said Crutcher approached after officers arrived to assist. Police investigators said Crutcher refused several orders to show his hands and when he reached back into his car one officer deployed a Taser while another officer fired one shot, reports CBS affiliate KOTV.
The video shows Crutcher with his hands in the air as officers direct him to walk towards a vehicle, which is stopped in the middle of the road, and place his hands on it. At one point he's seen lowering one hand and he's surrounded by police officers, making it harder to see his actions from the police dashboard camera's angle. Police also released helicopter footage of the incident, but his movements are obscured by the car in that footage.
Crutcher can be seen dropping to the ground.
Someone on the police radio says, "I think he may have just been Tasered." One of the officers near Crutcher backs up slightly.
Then almost immediately, someone can be heard saying, "Shots fired." Crutcher's head then drops, leaving him lying motionless.
After that a voice can be heard on the police radio saying, "Shots fired. We have one suspect down."
Damario Solomon-Simmons, an attorney for Crutcher's family, said when they watched the video, they didn't see Crutcher reach into the car or attack officers.
"We saw that Terence did not have any weapon. Terence did not make any sudden movements. We saw that Terence was not being belligerent," said. Solomon-Simmons, said at a news conference separate from one police held.
Crutcher is seen in the video after he's shot lying in the street for more than two minutes before officials render aid.
"Terrence died on that street by himself, in his own blood, without any help," Solomon-Simmons said.
Solomon-Simmons called the video "extremely disturbing" and said family has no doubt it was an unjustified shooting. Crutcher's twin sister Tiffany said the shooting was incompetent and negligent, and she wants charges brought against the officer involved, reports CBS affiliate KOTV.
Tulsa Police Sgt. Shane Tuell confirmed that relatives were shown the recordings Sunday ahead of the public release.
"We wanted them to see it before it was released so they wouldn't be blindsided by it," Tuell said. "We wanted to be able to have that intimate time with them, with their attorney, to see if they had any questions or concerns.
"With something of this magnitude, we're trying an approach that we believe is necessary to further that transparency."
About a dozen protesters gathered outside the Tulsa County courthouse on Monday morning, waving signs that read, "This Stops Now" and "Not Going, Keep Protesting." They also chanted, "Hands up, don't shoot." One protester, Tulsa resident Mark Whited, said more needed to be done to "bridge the mistrusts" between communities.
Police say Tulsa officer Betty Shelby fired the fatal shot, while officer Tyler Turnbough used a stun gun on Crutcher. Both officers are white, MacKenzie said Monday.
In a statement, the U.S. Attorney for the Northern District of Oklahoma said a Justice Department probe would determine whether a federal civil rights violation occurred after a "comprehensive review" of the shooting.
"The Justice Department is committed to investigating allegations of excessive force by law enforcement officers and will devote the resources necessary to ensure that all allegations of serious civil rights violations are fully and complete investigated," the statement read.
Thanks for reading CBS NEWS.
Create your free account or log in
for more features.