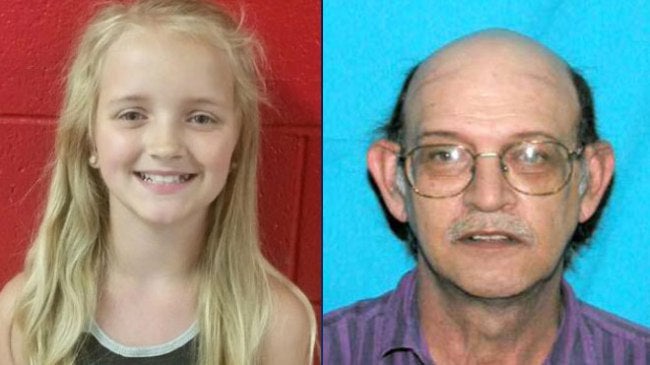 Behind the dramatic rescue of Tenn. girl allegedly abducted by uncle
Two men are being called heroes for their dramatic rescue of a Tennessee girl after she was allegedly abducted by her uncle. The men found 9-year-old Carlie Marie Trent Thursday in remote back country, more than a week after she disappeared. The area so remote, police needed four-wheel drive vehicles just to reach her, reports CBS News correspondent Omar Villafranca.
Carlie was rescued by two civilians, Donnie Lawson and Stuart Franklin, who were scouring the property for any traces of the pair. Lawson called police while Franklin pointed his gun at the suspect, 57-year-old Gary Simpson.
"There's a lot of abandoned cabins in the area and it's a lot of wilderness in here, so just wanted to be sure and check the area out," Franklin said.
Since last week, officials have been saturating the air waves and social media with images of Trent and Simpson, believing they were still in the area. Surveillance cameras captured Simpson and Trent at two different stores. Investigators say he bought camping supplies and various items for young girls.
Police feared she was in danger and issued an amber alert last Thursday to try to find her.
"We felt she was in danger, imminent danger, because our intelligence was telling us that," Tennessee Bureau of Investigation (TBI) director Mark Gwyn said.
Simpson is Carlie's uncle by marriage. He allegedly took her out of school last Wednesday after falsely telling school officials her father had been in a bad accident.
"He wanted her and he wanted her all to himself," Carlie's father, James Trent, said last week.
He said Simpson was "obsessed" with his daughter.
"I'm just wondering -- how is she going to be? Is she going to be as happy as she was? ... That's what I worry about -- just that she won't be the same," Trent said.
Simpson has been charged with especially aggravated kidnapping. He had just been added to the state's 10 most wanted list prior to his capture. The case generated intense interest in Tennessee. Investigators received 1,850 tips in seven days.
"You look at the photos and the videos of her and there's no way that doesn't touch your heart," said Margie Quin, TBI statewide amber alert coordinator. "I think the public was very invested in bringing Carlie home."
Police said Carlie appeared to be okay when she was rescued, but she was taken to Johnson City Medical Center to be properly evaluated.
The school district said Simpson was once Carlie's legal guardian and had parental authorization to pick her up from school. It said all procedures were properly followed when they allowed him to take her away.
Thanks for reading CBS NEWS.
Create your free account or log in
for more features.