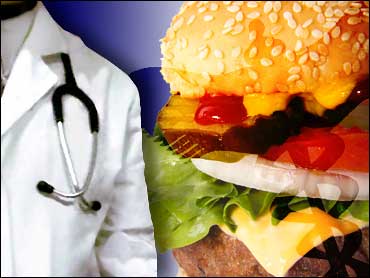 Ten Healthiest Fast Food Chains
This economy makes it tough to ignore fast food: It's inexpensive, and satisfying.
With people looking to save every penny, it's tough to say "no" to a meal for $6 that fills you up.
Trouble is, for decades now, fast food has been written off as ultimately unhealthy and fattening. So much of it is fried, processed, or both.
But in its March issue, Health magazine tells about the top ten healthiest fast food chains in the country.
It examines why they're healthy, what the healthiest meals are to eat there, and what to avoid. The chains were scored and ranked on such factors as the use of healthy fats and preparations, healthy sodium counts in entrees, availability of nutrition information, and the use of organic produce.
One big surprise: A traditional fast-food chain, McDonald's, cracked the top 10.
On The Early Show and on the show's Saturday Edition, Health's senior food and nutrition editor, Frances Largeman-Roth, discussed several of the top ten, and what you can order at those eateries to keep your meal as healthy as possible.
The Health magazine top ten:
1. Panera Bread Over 1,230 locations nationwide
This bakery-café-based eatery wowed our judges with a comprehensive menu of healthy choices for every meal. Half-size soups, salads, and sandwiches make it a cinch to control portion size. Also, most of the chicken is antibiotic- and hormone-free, a rarity for large chains. Panera also won top honors for its kid fare.
Try it: Delicious, nutrient-packed combos like half a Turkey Artichoke on focaccia bread with a bowl of black bean or garden vegetable soup.
Danger zone: Sticky buns and cheese Danishes are on display at the counter.
2. Jason's Deli 206 locations in the West, Midwest, Mid-Atlantic, South
This up-and-comer snagged second place largely because of its devotion to organic food: About one-fifth of all its ingredients are organic, from blue-corn tortilla chips and whole-wheat wraps to field greens and spinach. Jason's menu also highlights ultra-healthy sandwiches and provides the nutritional info.
Try it: Any sandwich on an organic whole-wheat wrap.
Danger zone: High-sodium counts on some sandwiches.
3. Au Bon Pain 280 locations nationwide
A pioneer in healthy fast food, Au Bon Pain serves up sandwiches, soups, salads, and hot entrées made with whole grains, veggies, and hormone-free, antibiotic-free chicken. New this year: Portions, a 14-item menu of nutritious small plates, all of which are less than 200 calories. Au Bon Pain also provides on-site nutritional information via computer kiosks, so before you even order you know each option's calories, fat, and sodium.
Try it: Low-calorie soups, from Jamaican Black Bean to Fire Roasted Exotic Grains and Vegetables.
Danger zone: The sodium counts can get high if you don't pay attention.
4. Noodles and Company 204 locations in West, Midwest, South
Noodles and Company isn't your typical greasy Asian food-court joint. In fact, it goes beyond Asian fare and cuts out the grease (only healthy soybean oil is used in sautéing). Lean proteins-hormone- and antibiotic-free chicken, beef, shrimp, and organic tofu-can be added, to your bowl and you can opt for a smaller sized portion.
Try it: The whole-grain linguine-usually hard to find when eating out.
Danger zone: The desserts.
5. Corner Bakery café 111 locations in West, Midwest, Mid-Atlantic, South
A fantastic and healthy breakfast menu sets this chain apart from all others. But Corner Bakery also has healthy salads, sandwiches, and soups made with whole grains, fresh, lean meats, and vegetables, as well as great portion-controlled combinations that make limiting calories easy.
Try it: Healthy oven-roasted chicken that comes with most pastas and salads.
Danger zone: You have to go to their Web site to get nutritional info.
6. Chipotle 800+ locations nationwide
Buffet-style Chipotle gives every customer complete control over her burrito, taco, or salad and you get to build it with fresh, local ingredients. In fact, Chipotle won high marks for its commitment to organics, hormone- and antibiotic-free meats, and produce sourced from local suppliers, which is revolutionary in a chain this big.
Try it: Burrito Bowls, which let you skip the tortilla-and the extra carbs.
Danger zone: Make sure you go light on cheese and sour cream.
7. Atlanta Bread 106 locations in 24 states (Southeast, West, and North)
This innovative bakery features whole-grain bread, fresh sandwiches (including paninis), and hearty, healthy soups and salads. It earned high marks for great sides, too, including fire-roasted black bean and corn salad.
Try it: The entrée salads like Salsa Fresca Salmon Salad
Danger zone: Pasta entrees at some locations are offered with bread … that's a whole lot of carbs!
8. McDonald's 14,000 locations nationwide
Among the big burger-based chains, McDonald's is leading the way in overhauling its menu to offer more heart and waist-friendly fare. Take the Happy Meals, which you can order with a side of apple dippers (with low-fat caramel) instead of fries and low-fat milk or fruit juice instead of soda. And if you have to have fries, McDonald's are made in a healthy canola-blend oil and come in at just 230 calories for a small. The Grilled Chicken Classic sandwich and wraps are healthy choices, too (just skip the mayo or sauce). And our whole panel commends McDonald's for spelling out the nutritional information right on the back of its tray liners.
Try it: The chain's 260- to 270-calorie Snack Wraps (choose grilled chicken) for protein without a lot of unwanted carbs.
Danger zone: Although McDonald's made our list, this is still the land of super-sizing and giant sodas. It's up to you to request a small.
9. Einstein Bros. Bagels 649 locations nationwide
We all know that bagels are pretty high-carb, but slathering cream cheese or butter on them is what really gets you into trouble. Einstein Bros. offers healthier alternatives like reduced-fat shmears, hummus, and peanut butter-a great way to add healthy fat to breakfast (or lunch). It also serves a Good Grains bagel that has an impressive 4 grams of fiber and any salad can be ordered in a half-size.
Try it: The high-fiber Veg Out on a sesame seed bagel.
Danger zone: "Overstuffed" size sandwiches are a calorie nightmare.
10. Taco Del Mar 270 locations in 22 states
Whole grains are easy to get here, with whole-wheat tortillas available as an alternative in burritos. The chain gets high marks for its new 320-calorie chicken burrito, available at most locations. Our judges were also impressed that Taco Del Mar banned lard from its beans and bakes its fish and taco shells instead of frying them.
Try it: The 460- to 555-calorie Mondito-size burrito, which fills you up but keeps fat and sodium in check.
Danger zone: The breakfasts. In particular, steer clear of the Mondo Breakfast Burritos, which are more than 1,000 calories.
---

To see the Health magazine piece on the healthiest fast food chains, click here.
Thanks for reading CBS NEWS.
Create your free account or log in
for more features.