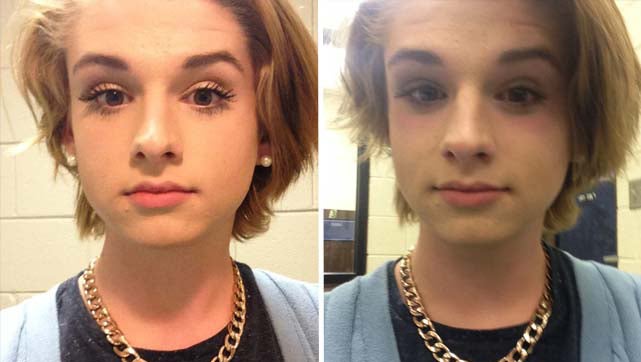 Teen sues South Carolina DMV over license photo
COLUMBIA, S.C. - A 16-year-old in South Carolina sued the state's Department of Motor Vehicles on Tuesday because the agency won't allow him to take a driver's license photo wearing makeup.
Chase Culpepper regularly wears makeup and either androgynous or women's clothing. During a news conference Tuesday at the Statehouse in Columbia, he told reporters that being ordered by officials to remove what they called a disguise was degrading.
"I left the DMV feeling humiliated," Culpepper said. "I want to be myself and have a driver's license photo that reflects that."
After passing his driving test in March, Culpepper went to get his license at a DMV office in Anderson, about 100 miles northwest of Columbia. That day, as is the case every day, Culpepper wore makeup and women's clothing.
But the agency wouldn't let Culpepper wear makeup for a photo because of a policy that bans license pictures when someone is purposefully altering his or her appearance. After several attempts, Culpepper says the makeup was removed to the satisfaction of DMV employees, and a license photo was ultimately taken.
Culpepper's mother filed the lawsuit in federal court on her son's behalf.
"(It was) very confusing, heart-breaking and heart-wrenching to see him degraded like that and attempts at humiliating him for wearing makeup," Teresa Culpepper told CBS affiliate WSPA .
In June, a New York group known as the Transgender Legal Defense and Education Fund wrote to DMV officials, asking that Culpepper be allowed to have a new photo taken that's more reflective of his daily attire. The agency refused, citing DMV policy saying that "at no time will an applicant be photographed when it appears that he or she is purposely altering his or her appearance so that the photo would misrepresent his or her identity."
The group assisted in Culpepper's lawsuit, writing in the complaint that the policy is unconstitutionally vague and should be discarded, and that he should be allowed to take a new photo.
The lawsuit is not seeking any money. "My main goal in this is just to be able to have my license photo retaken so that it accurately reflects who I am," Culpepper told WSPA.
The policy "lets DMV employees arbitrarily decide how men and women need to look without regard for the rights of the people that they are supposed to serve," Michael Silverman, the fund's executive director, said Tuesday. "Chase should be allowed to get a driver's license without being subjected to sex discrimination."
DMV officials did not immediately respond to a request for comment on the lawsuit. Silverman said he was not aware of another such case in the country involving a DMV's refusal to take a person's license photo based on makeup.
Thanks for reading CBS NEWS.
Create your free account or log in
for more features.