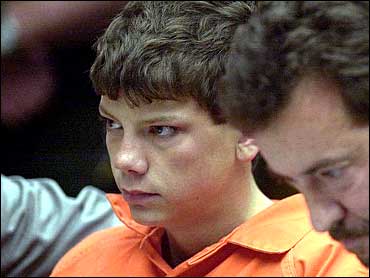 Teen School Shooter Pleads Guilty
A teenager pleaded guilty Thursday to two counts of first-degree murder and 13 counts of attempted murder for a shooting spree that left two dead at a suburban San Diego high school last year.
Charles "Andy" Williams, 16, entered the plea in during what had been scheduled as a readiness hearing. Prosecutors said they still hoped to put Williams away for life, though they did dismiss assault charges.
"Mr. Williams has no desire to cause anymore pain to the victims' families or his family," defense attorney Randy Mize told the judge as several relatives of the victims wept in the courtroom.
The six-minute spree of violence at Santana High School in Santee killed Bryan Zuckor, 14, and Randy Gordon, 17. Eleven other students, a teacher and a campus monitor were wounded.
Williams would have been tried as an adult, but prosecutors had said they would only seek life in prison. He still faces at least 50 years in prison at sentencing Aug. 15.
Prosecutor Kristin Anton said she will meet with victims before deciding what sentence to seek.
"It would be my hope that the defendant spends the rest of his life in prison for what he did," Anton told reporters.
"The events of today reinforced our confidence in the justice system," said Rufino Macagba, Zuckor's grandfather.
Williams was a 15-year-old freshman at the time of the shooting. He had just moved to Santee and had been in school for only a few months. Defense attorneys said he was the victim of frequent bullying by others at the school.
Jeff Williams, 41, the boy's father, claimed his son was repeatedly burned with the hot metal of cigarette lighters, suffered welts when he was beaten with a towel and was slammed against a tree twice.
Prosecutors contended they found no evidence to confirm the bullying claim.
Jeff Williams said his son had access to the key to his gun cabinet, but he wasn't concerned because the boy was taught to be responsible with guns.
The attack, which came nearly two years after the 1999 massacre of 15 people at Columbine High School in Colorado, was the first of two shootings in two weeks at schools in San Diego's eastern suburbs.
On March 22, 2001, two weeks after the Santana deaths, Jason Hoffman, a student with a history of mental illness, wounded five people at Granite Hills High School in El Cajon. He pleaded guilty to attempted murder and assault, then hanged himself in jail. He was 18.
In ruling that Williams would be tried as an adult, the court had rejected a challenge to a law that requires prosecutors to charge juveniles as adults for certain serious crimes. Prosecutors alleged that Williams was lying in wait for his victims, a circumstance that automatically lands cases in adult court.

Thanks for reading CBS NEWS.
Create your free account or log in
for more features.