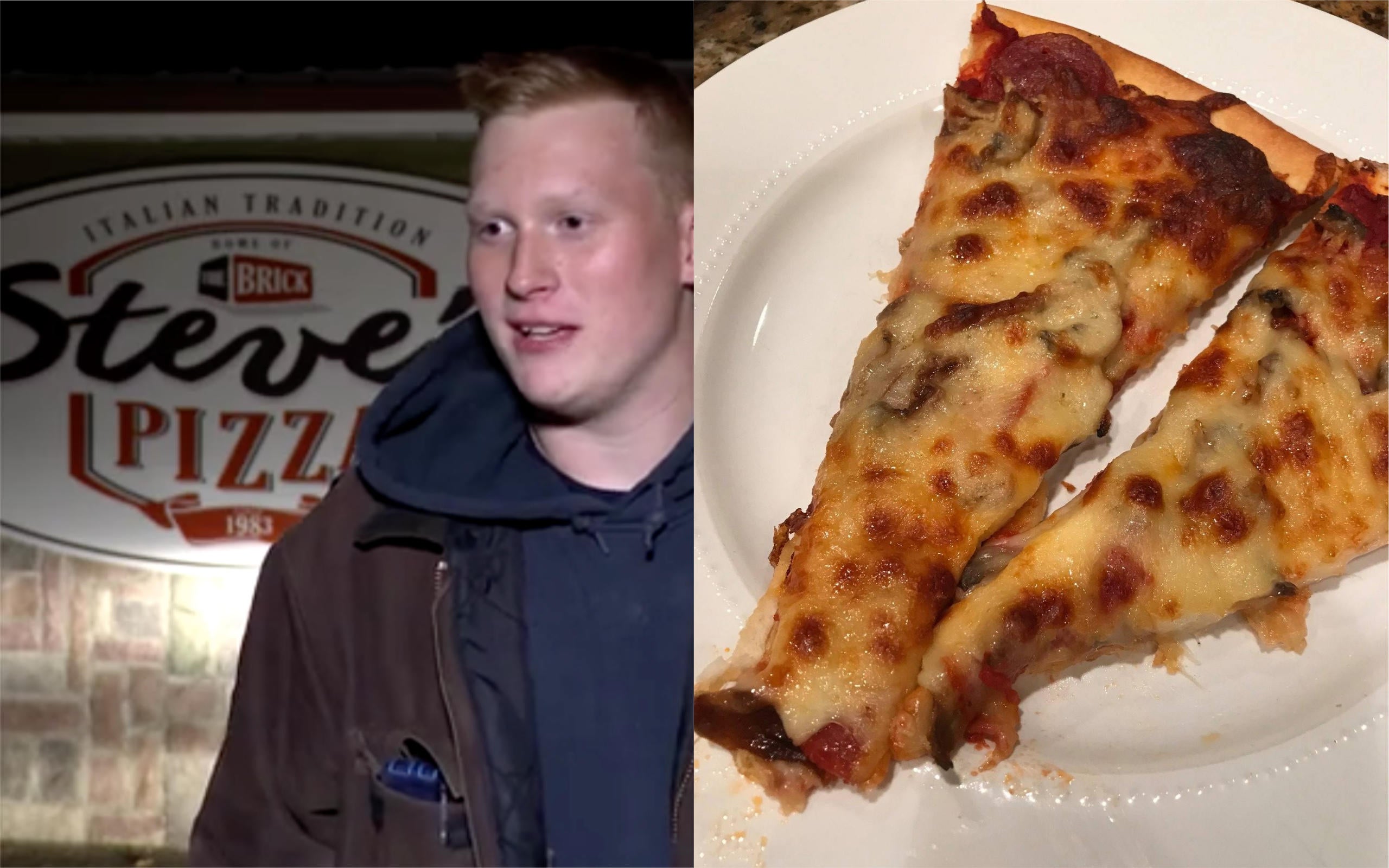 Teen drives seven hours round trip to deliver pizza to a dying man
A teen in Michigan made a pizza delivery he'll never forget, and his gesture is warming hearts across the nation. Eighteen-year-old Dalton Shaffer was working his shift at Steve's Pizza in Battle Creek, Michigan, Tuesday night when he got a call about an old customer.
The man on the phone said his son-in-law, Rick Morgan, who had moved to Indianapolis, was a big fan of Steve's Pizza and was battling cancer. They had planned a trip back to Michigan and a visit to Steve's, but Morgan's health took a turn for the worse and he was now in hospice care. The man wondered if the shop might be willing to send Morgan a text or a card.
"He was kind of telling me just a little bit about how they used to live in Battle Creek and they were just really big fans of Steve's Pizza," Shaffer told CBS affiliate WWMT-TV.
After hearing a fan of Steve's Pizza was unable to fulfill his dream of eating a slice again, Shaffer wanted to do more than send a card. He asked the father-in-law what kind of pizza Morgan wanted. Then, after he closed up shop for the night, Shaffer jumped in his car with two pizzas.
He drove three and a half hours from Michigan to the home in Indiana.
"The family came up, gave me a hug ... The expressions on their faces and everything, like, that was cool," Shaffer told the station.
Morgan's wife, Julie, had no clue Steve's Pizza was on its way. In a Facebook post, Julie described how overwhelmed she was when she woke up at 2:30 a.m. and saw Shaffer had driven such a long way to drop of her husband's favorite pizza.
"[Twenty-five] years ago we lived in Battle Creek, MI. We were young and money was tight but every pay day, Rich would pick up Steve's Pizza for dinner," Julie wrote. "I can't possibly describe how delicious this pizza is – but several moves and all these years later, it is still the gold standard and we've never found a better pizza yet."
The wife wrote she and her husband planned a birthday trip for her to Michigan, but that plan took a back seat when she had to take him to the hospital due to complications from his cancer. Morgan was in the ICU for five days when the family found out his battle with cancer would soon come to an end.
Julie wrote she had no clue her dad called Steve's Pizza and spoken to Shaffer. "I am beyond overwhelmed and humbled by this act of genuine kindness," the wife wrote.
Steve's Pizza doesn't even offer delivery, Julie wrote on Facebook.
The Morgans offered to put Shaffer up in a hotel, but he ended up driving back home to Michigan that same night.
"Dalton brought our family so much joy – and the best pizza in the world – at a really difficult time. While 'thank you' hardly seems adequate – from the bottom of my heart, thank you, Dalton from Steve's Pizza in Battle Creek, MI for making your epic middle of the night pizza delivery!" Julie wrote.
Thanks for reading CBS NEWS.
Create your free account or log in
for more features.