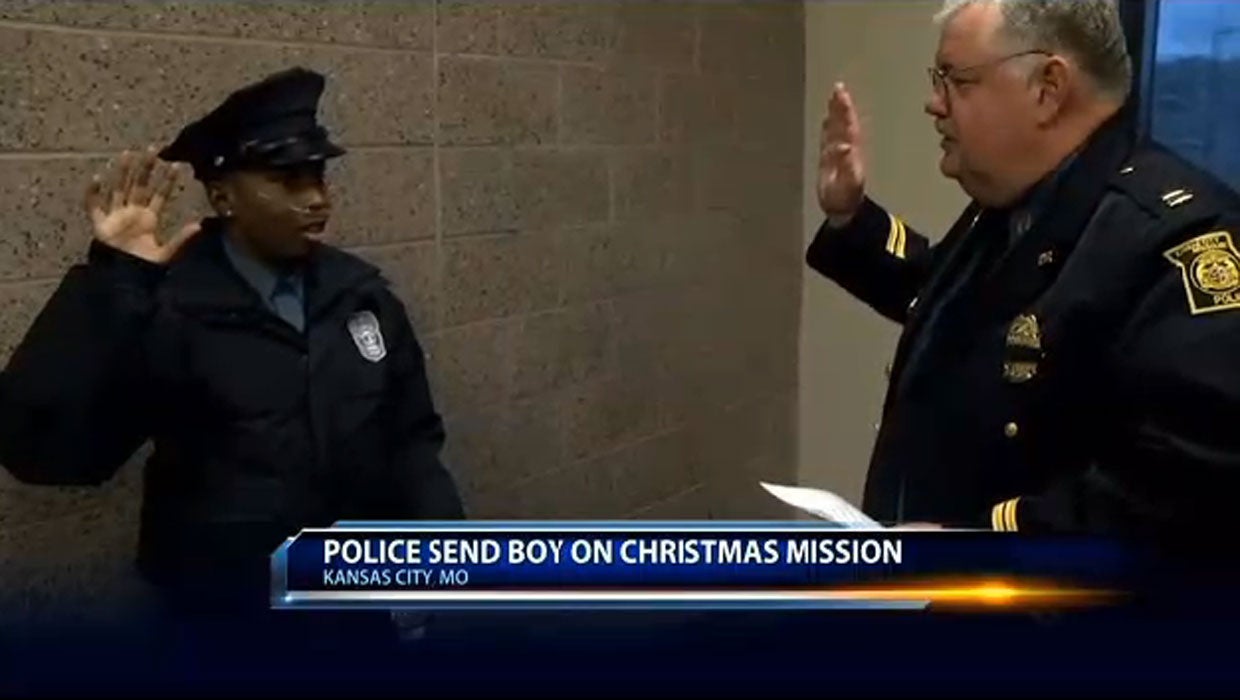 Teen becomes "cop," cracks case of "stolen" Christmas gifts
KANSAS CITY, Mo. -- Tayshawn Thompson has wanted to be a police officer since he was 4 years old.
Christmas Eve he got his wish, as the teenage wannabe cop was deputized -- thanks to a "co-conspiracy" involving the Kansas City (Mo.) Police Dept. and a local hospital.
According to CBS affiliate KCTV, Thompson, now 15, is battling sickle cell anemia and has been in and out of Children's Mercy Hospital since he was a baby, with complications from seizures and strokes.
"He's been in and out of the hospital all of his life, but the last two years have been especially rough," his mother, Maquita Douglas, said.
On Wednesday, Thompson took an "oath of office," was given a police badge, and asked to solve the case of missing Christmas presents at the hospital.
They weren't really missing... but Tayshawn wasn't told that.
"I'm going to be big and strong like a policeman and now it's coming true," Tayshawn said.
Helping out the hospital was the perfect heist for him to crack.
"If it wasn't for the hospital and it wasn't for God, I wouldn't be here," the teen said.
When the case was "solved," and all the presents had been recovered, Tayshawn was celebrated as a hero, complete with a chopper flyover.
"My favorite part was riding in the real police car and helping the kids," he said.
Thanks for reading CBS NEWS.
Create your free account or log in
for more features.