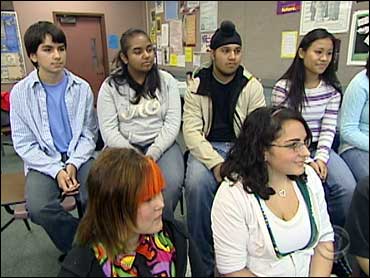 Teaching Not Preaching In CA Bible Belt
Modesto is known as the bible belt of California. It has deep conservative roots in farmland and a vocal Evangelical community.
But increasingly, some less familiar notes are echoing through California's Central Valley, CBS News correspondent John Blackstone reports.
Like many other places, Modesto is becoming more religiously diverse.
But unlike any other place, religion is a required course in high school here.
"We can't preach, but we can teach," teacher Yvonne Taylor said.
Using "Teach Don't Preach" as her motto, Taylor guides the world religions course at Johansen High.
"And now we're going to be looking at Judaism, Christianity, and Islam," Taylor said to her class.
Most schools studiously avoid religion. In fact, Modesto is the only public school district in America where students have to study all major religions to graduate.
"The United States is one of the most religious countries on Earth. And yet Americans know almost nothing about religion," said Stephen Prothero, author of a new book, "Religious Literacy."
Prothero believes Modesto should be a model for the country, because America is paying a price for knowing so little about the world's religions.
"Religious illiteracy imperils our Democracy at home and it puts to a huge test our ability to conduct foreign policy overseas," Prothero said. "What's going on now in Iraq and in Iran and in Burma - these are religious people acting for religious reasons."
"In Islam, we'll be talking about the five pillars," Taylor said to her class.
But in Modesto, the lessons aren't about distant cultures, so much as about the student at the next desk.
"So the only religion that actually requires the wearing of the turban would be what faith?" Taylor asked her students.
"Sikhs," students answered.
Jaskirat Brar, a devout member of Modesto's Sikh community, may stand out at Johansen High. But thanks to the world religions course he also fits in.
"Kids get to learn what I am and clear up misconceptions they have about me," he said.
"Because we have the world religions course, the students are aware of what's happening in our community and that certainly is something to celebrate," Taylor said.
"Probably the best thing that I learned [is] how to respect the cultures and the religions and what they believe," one student said.
"I was really glad that people are learning who I am and what I'm about," said Doria Hohenlavuth, a Buddhist.
The city's religious leaders have embraced the course.
"This is a very good thing in my opinion," said Ahmad Kayello of the Islamic Center of Modesto.
At the city's Sikh temple, Ravinder Singh Brar said: "The more we know about each other, the more friendly we are going to be."
While there are many religions here, the goal is to create one community where everyone is accepted.

Thanks for reading CBS NEWS.
Create your free account or log in
for more features.