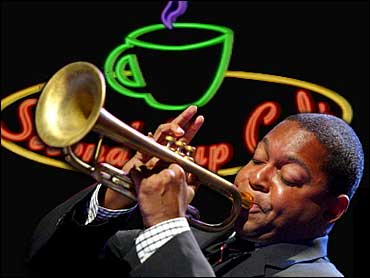 Teaching A Taste For Jazz In A Hip Hop Age
They are young, gifted and surprisingly, just beginning to learn about jazz. Surprising, because this is Harlem, the cradle of jazz.
"You know what's great about a jazz solo," a teacher tells a class of students. "It's yours."
Every Thursday, a Harlem community center becomes a music school for prodigies like 8-year old Jalen Wilson, reports CBS News Correspondent Randall Pinkston.
"I think, well, it's mostly maybe an instinct," Wilson said.
That instinct is something Jalen's teacher, Shamie Roylston knows is rare -- especially in young people today.
"It's kind of tough thing to get kids motivated if they aren't really sure what jazz is like," Royston said. "They really have to be motivated by people around them."
Wynton Marsalis knows that all too well. He is in the middle of the battle for the soul of young black musicians.
"Sometimes you have to question your own values and that is the point we are in as a culture right now, we are in a crucial moment, in our cultural history" Marsalis said.
"You're talking hip hop?" Pinkston asked.
"Man I'm talking any of that trash," Marsalis replied.
But it's a fight jazz seems to be losing. Compared to all musical genres, the market for jazz dropped from 3.4 per cent in 2001 to 1.8 per cent in 2005.
Other signs of waning popularity -- fewer jazz radio stations and clubs and pricier venues instead of low cost neighborhood bars. Most jazz happens in concert halls for well-heeled audiences.
Still, Marsalis is confident that jazz has a future.
When asked how he gets young people interested in jazz, who, given the freedom to purchase what they want, would probably go and buy hip-hop, Marsalis replied, "Man, you know I keep hearing that, but I've been teaching young people for 30 years in this country. The question for us is why do we provide that for them, why is that our national art, why, what is the advantage of it?"
He's raised millions of dollars to fund jazz outreach, like his Essentially Ellington program, an annual competition for young musicians to teach the value of jazz.
That's value the class in Harlem's community center is just beginning to learn, and one that may last a lifetime.
Thanks for reading CBS NEWS.
Create your free account or log in
for more features.