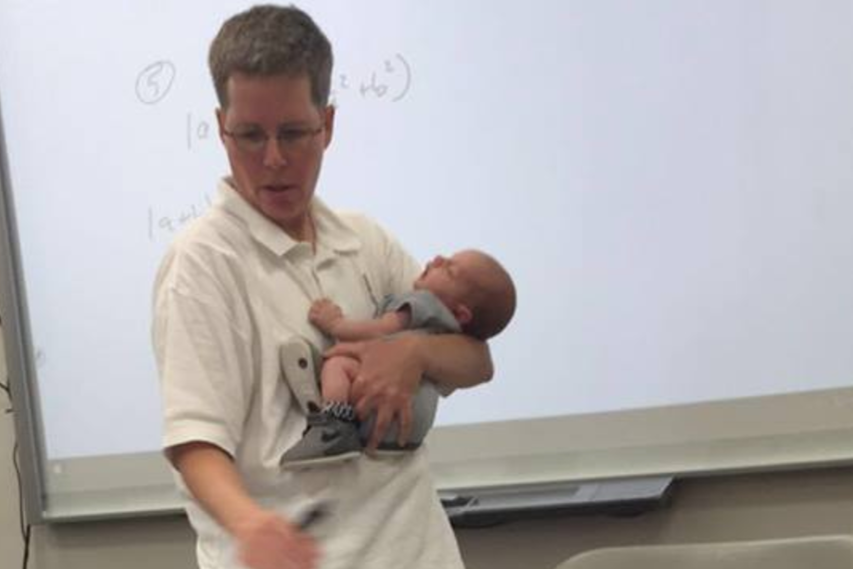 Professor allows young mother to bring newborn baby to class
When college professor Josie Ryan learned one of her students was pregnant, she did everything she could to ensure the young woman wouldn't drop out.
The math professor at Lander University in Greenwood, South Carolina, knew school was important to Sarah Thompson, a mathematics and computer science major. But with a full course load, a job, and a baby on the way, Ryan was afraid she would be overwhelmed.
So, she told Thompson a week before her due date that she was welcome to bring her child to class anytime.
"She knew I'd be overwhelmed so literally begged me to bring Isaiah to class, and even showed me where the breastfeeding room in the health center was," Thompson explained in a Facebook post that has gone viral with 6,000 likes and 1,100 shares.
Thompson took the professor up on her offer, and brought her son, Isaiah, to class several times.
"Women are on the rise going to school and working with children," Thompson said. "And my boyfriend Chris is also in school and working as we learn to be parents and our families are beyond supportive of my decision to graduate within the first year of his birth, and I couldn't do this without them."
And she certainly will never forget the role Ryan played in making her dreams come true.
"She taught like this - holding him - the whole first class I brought him to," Thompson said, noting that her son was just 3 weeks old when the viral photo was taken.
Now, passing the two-month mark, Isaiah is growing in front of her eyes — as well as the rest of the class. She says he's been an "angel" each time she brought him.
"He'll cut the cheese & make the class giggle from time to time but we still get down to some serious math in there," she wrote. "I am in a perfect world when I am learning math in college with my baby right next to me.. or in my teachers arms."
And for that, Thompson is grateful.
"Maybe the world needs more of these teachers!.. scratch [that] - it DEF does! Hopefully this post will encourage other educators or moms or pregnant/working women who are students to ask for help."
Thanks for reading CBS NEWS.
Create your free account or log in
for more features.