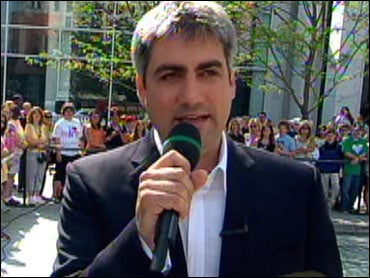 Taylor Hicks: I Won't Change
It's been a whirlwind week for Taylor Hicks since he became the latest "American Idol."
He signed a record deal Wednesday, and he's gearing up to headline a sold-out summer concert tour with the other "Idol" finalists.
But he vows nothing that's happened or in the works will change him.
During the competition, the soulful singer charmed fans with his salt and pepper hair and his funky dance moves, and he defied early critics, including "Idol" judge Simon Cowell, to come out on top in the show's fifth season.
On The Early Show Thursday, Hicks told co-anchor Hannah Storm his win is beginning to sink in.
"I've had a couple of days off, and I rolled over and I think I just jumped up and down and freaked out for a while," he said. "So, it's slowly sinking in, and I'm just very fortunate. And thanks to (the viewers who) voted for me. You know, if it wasn't for the folks at home, then I wouldn't be here."
Hicks racked up 63 million votes.
"It's an amazing show," he said. "And it's allowed people like me to get out there and have my voice heard."
Asked by Storm how the "Soul Patrol" started, Hicks said: "It was a fan sort of thing, you know, from the beginning of the Las Vegas auditions, and it's just kind of, you know, gained steam ever since and, you know, I'm true to who I am as an artist and a musician, and I think that's stuck with me so far."
Hicks says he won't stray from his soulful ways in his first album.
"It's going to be very rootsy, very soulful, and I'm gonna 'Taylor-ize' it," he remarked to Storm."I'm not going to change for anything," he insisted, whether it's his musical style or his salt and pepper hair. "I'm just who I am. I'm the same guy that I am now as when I started the competition."
And when he started, Cowell, the notoriously critical judge, was very critical of Hicks, saying he sounded like a karaoke singer, and putting down his dance moves.
"He said I'd never make it," Hick recalled. "But, thanks to (viewers and fans), I'm here. I'm the 'American Idol.' "
Hicks admits it was gratifying to prove Cowell wrong, but added: "I got to shake hands with Simon. … He was a nice guy, and very cordial. And you know, it was an interesting season, you know, him and I going back and forth. And you know, I'm just very — it's an American TV show, you know, so I'm very grateful for the opportunity."
Storm wondered what it was like during those moments leading up the naming of the winner.
"I was just telling myself not to fall over, you know, and not for my knees to buckle," Hicks said. "You know, here I am. And I'm just very grateful that I'm living this dream."
Hicks says he began to think it was possible that he'd win during the last couple of weeks, which he said "were very comfortable for me, for some reason. You know, I was just very comfortable with the music I was singing."

Thanks for reading CBS NEWS.
Create your free account or log in
for more features.