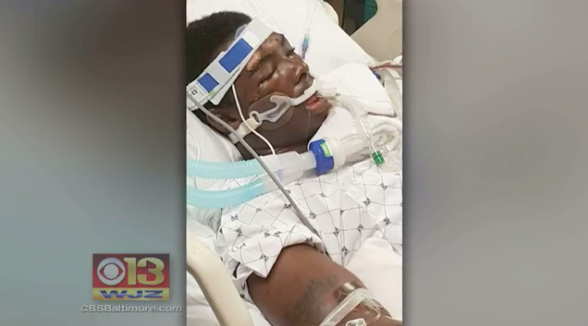 Md. man dies three days after fight with police
MIDDLE RIVER, Md. -- A black man has died, days after fighting with five Baltimore County police officers who were called to his home because he was behaving strangely, and a lawyer for the man's family said it's clear that officers used excessive force.
Tawon Boyd, 21, died Wednesday after spending three days in a hospital following the confrontation with officers on Sunday outside his home in Middle River. Police said in a statement that he became aggressive with officers, who used physical force to subdue him.
"They kept on grabbing on him and holding him down, and he started screaming, 'Grandma, Grandma, they're going to kill me,'" Linda Burch, Boyd's grandmother, told The Associated Press. Burch, 51, had been staying with her grandson and witnessed the confrontation across the street from his home.
An autopsy is being conducted to determine the cause of death. A lawyer for Boyd's family, Latoya Francis-Williams, told The Associated Press that Boyd's kidneys and heart failed. She said it's not clear whether his death resulted from the beating or a medical condition, but she said he hadn't experienced kidney failure previously.
"He didn't have those bruises. He wasn't battered before this. He wasn't unconscious before this," Francis-Williams said Thursday. "All of the physical injuries came from the severe beating he took on Sunday."
Police said Boyd's cause of death hasn't been determined. A medical examiner will conduct an autopsy.
Police and Francis-Williams said Boyd's fiancee called 911 early Sunday morning because he was acting strangely and she thought he needed medical attention. The woman told officers Boyd was acting crazy and was under the influence of marijuana and alcohol, reports CBS Baltimore.
When police responded, the found Boyd and his fiancee screaming at each other, the station reports.
According to a police report obtained by The AP, the confrontation with police began after Boyd repeatedly banged on the door of a neighbor's home and officers tried to pull him away to keep him from going inside.
Police say Boyd appeared "confused and paranoid." They say he also ran to several police cars, trying to get inside.
Police say they tried taking the man in for an emergency evaluation, but he wouldn't comply and began fighting officers. He allegedly refused to obey orders to lie down and put his hands on his back, and began grabbing and kicking officers, injuring three of them, police said.
"The young man in the case is not behaving the way a person would normally behave," Elise Armacost, a Baltimore County Police spokeswoman, told CBS Baltimore. "There were punches thrown by him and also by the officers, that's what a physical struggle is. It's a violent struggle, he's ripping off their badges and ripping off the cords to their radios, and we're talking about a physical struggle involving hands."
But Boyd's family insists police used excessive force that ultimately resulted in his death.
"I think they killed him," Burch told AP. "By them being so many, and they [are] tall and big, and he's small. It didn't take all them police just to try to hold him down."
Boyd was 5-foot-5 and 150 pounds, according to court records.
Francis-Williams said she is still investigating the incident, but she's found no evidence that Boyd was violent before officers started beating him.
"Blows to the head, choking somebody - that's deadly force," Francis-Williams said. "I haven't heard any officer articulate that his or her life was in danger or there was an actual threat of severe bodily injury or death."
One officer punched Boyd twice in the face because Boyd was hanging onto him, according to the police report. The officers restrained Boyd by holding him down with their arms and legs, the report said. The confrontation with police lasted about five minutes, and five officers were involved, the report said.
Boyd's fiancee Deona Styron told the station she saw five police officers on top of him as he lay on the ground.
"One police officer got his arm around his neck like this, punching him, punching him and throughout the whole thing he's like 'I can't breathe, I can't breathe,'" Styron told the station.
According to the report, Boyd screamed at officers that somebody was inside his house. Boyd's uncle, Prinice Thomas, told AP that it was Boyd, not his fianceee, who called 911, because he mistakenly thought there was an intruder in his home. Boyd's statements about someone being in the house appeared to be the reason for rumors spread on social media that Boyd was beaten after calling police for help.
Medics were called during the struggle and gave Boyd something to calm him down, but the name of the medication was redacted from the police report. Police said medical privacy laws prevent them from detailing the treatment.
The report said officers believed Boyd was under the influence of a narcotic. Thomas told AP that he had never known Boyd to use any drug other than marijuana.
Homicide detectives are investigating the incident, which is standard procedure in police-involved deaths. The department did not reveal the races of the officers.
A hashtag of Boyd's name was trending on Twitter, but there were no immediate protests. Boyd died on the same day that Baltimore County prosecutors said no charges would be filed in the death of Korryn Gaines, a 23-year-old black woman who, police and prosecutors said, pointed a shotgun at officers during a standoff at her apartment. Gaines' 5-year-old son was with her at the time and was injured, and she posted video of the standoff on social media.
Activists with the Black Lives Matter movement protested over Gaines' death, and a wrongful-death lawsuit has been filed.
Francis-Williams said she planned to file a notice of intent to sue the county, the police department and the officers involved.
She said the county's police department has problems similar to neighboring Baltimore city, where a Justice Department investigation found a pattern and practice of civil rights violations. The investigation followed the death of Freddie Gray, a black man who died after suffering a spinal injury while riding in a Baltimore police van. Six officers were charged in Gray's death, but none were convicted​.
Armacost said none of the officers were wearing body cameras, a program that's still being rolled out to the department.
Both Baltimore County Police and fire are conducting administrative reviews.
Thanks for reading CBS NEWS.
Create your free account or log in
for more features.