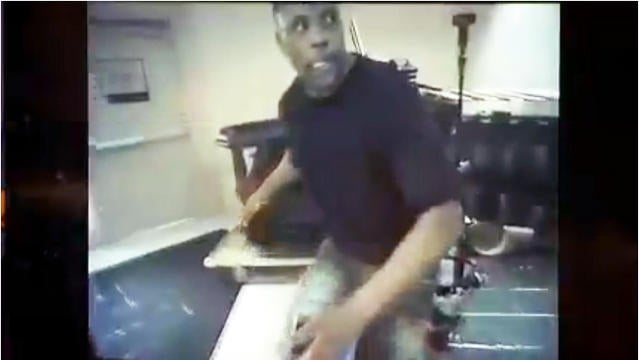 Police used unapproved chokehold on Vegas man who died
LAS VEGAS -- A Las Vegas police officer used a stun gun seven times and a mixed martial arts chokehold to subdue an unarmed man who died after a foot chase through a casino, authorities said.
Officer Kenneth Lopera thought the man had tried to carjack a pickup truck with two people inside before the officer fired the stun gun in a series of staccato bursts and used the chokehold - a tactic that is not approved by the department -- early Sunday at The Venetian resort, Clark County Undersheriff Kevin McMahill said.
McMahill showed video from Lopera's body camera during a news conference on the incident. Police posted video of the news conference including edited body camera and Venetian security footage to the Internet.
"Don't move! Get on your stomach!" Lopera can be heard telling the man who the Clark County coroner identified as Tashii S. Brown. Police have used the name Tashii Farmer. His mother said he sometimes hyphenates his last name, Farmer-Brown.
"I will!" he can be heard saying.
The video then shows Brown on his back with his arms raised before another jolt from the stun gun makes his body stiffen. Brown cries out, "Please! Please!"
Lopera, who is white, and Brown, who is black, then wrestle as the officer attempts to handcuff him. Lopera punches Brown's head and neck from behind as Venetian security guards join the effort and other police officers arrive.
Sheriff Joe Lombardo told The Associated Press there was no indication that race played a role in the incident.
Andre Lagomarsino, an attorney representing Brown's family, told CBS affiliate KLAS-TV that Brown "didn't do anything wrong at all."
"He was very fearful. He didn't run away at his fastest pace. He looked confused," Lagomarsino said.
Brown's cause of death has not been determined and an investigation is ongoing.
McMahill said Lopera was heard saying he used a "rear naked choke," a prominent mixed martial arts chokehold that differs from a department-approved technique that some departments call a "lateral vascular neck restraint" and others refer to as a carotid artery hold.
Department officials said previously that the officer had used the approved technique, which is banned in many other cities.
McMahill said Lopera held Brown's neck for more than a minute -- far longer than the seven to 10 seconds it might take for an approved carotid restraint to render a person unconscious.
The police official said also that the driver of the pickup didn't think Brown was trying to carjack his vehicle, and that Brown was not believed to have committed any crime.
Lopera, 31, has been a Las Vegas police officer for five years, McMahill said. He is on paid leave pending departmental and district attorney reviews of the incident.
Lopera is being represented by the Las Vegas Police Protective Union. Steve Grammas, union executive director, declined to comment, saying he had not seen all the video from the incident.
Lopera has not provided a statement about the incident to department investigators.
McMahill said Brown was sweating and appeared disoriented when he initially approached Lopera and a partner in a casino coffee shop, said people were chasing him, and ran into an employee-only area, down hallways and outside to the parking area.
Brown also used the name Tashi Sebastian Farmer.
He grew up in Hawaii, where records show he was convicted of assaulting his girlfriend and was released from prison in January 2016. He pleaded guilty in February in Las Vegas to misdemeanor driving under the influence.
Brown was a father of two children in Hawaii and lived with his mother in Las Vegas where he had a business selling shoes, hats and clothing, according to Tynisa Braun, a cousin in Honolulu.
Clark County District Attorney Steve Wolfson said there will be a public use-of-force review to air the findings of investigations into Brown's death.
The sheriff said the reviews could take several months and asked for patience from the public.
"We'll be fully transparent and we will look at this event with a very critical eye," Lombardo said.
Brown's mother, Trinita Farmer, said she doesn't want to see the video of the struggle that left her son dead.
"I don't want to look," she said. "I just want to bury my son."
Thanks for reading CBS NEWS.
Create your free account or log in
for more features.