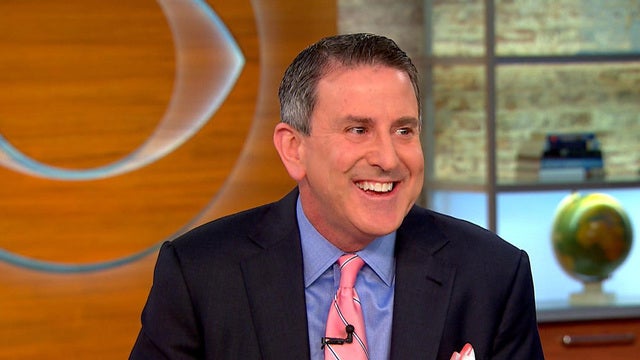 Target hopes online deals push hits holiday bullseye
Target is going "all in" for the holiday season with a blitz of new promotions surrounding Black Friday, which CEO Brian Cornell likens to the "Super Bowl" for retailers.
"It's really the big weekend of the year for us -- it kicks off an exciting holiday season, so I'll be out there with our team, our executive team will be out in stores," Cornell told "CBS This Morning" Wednesday. "It's really an important time to connect with our guests, the consumers."
Cornell said Target -- one of the nation's largest retailers, with $72.6 billion in sales in 2014 -- has been gearing up for the holiday season for a year. The Thanksgiving-through-New Year's Day period accounts for more than 30 percent of Target's business.
The retail giant this year is going especially hard after the online market, with a goal of 40 percent growth in its e-commerce sales. While many retail analysts say they expect less -- between 25 percent and 30 percent online sales growth -- Target aims to outperform with its Cyber Monday deals.
The chain is offering 15 percent off everything on its website, with the promo code CYBER15, marking the first time Target has discounted virtually everything on the site. It will also offer what it calls "e-busters" on Cyber Monday, with discounts of more than 50 percent. All online orders will come with free shipping.
"I certainly want to them to come into our stores but I also recognize some of our shoppers will be at home," Cornell said. "I want to make it really easy throughout the holiday season."
The CEO also noted a new store in New York City where customers can collect their online orders. "Think about this as the ultimate pop-up star where physical and digital comes together," Cornell said.
While some major stores -- notably REI -- will remain closed on Thanksgiving and even Black Friday, Target is among the numerous large retail chains that have moved up the start of their Black Friday weekends with store openings at 6 p.m. Thursday.
"We spent lots and lots of time talking about this but when we surveyed our shoppers, our guests, they're looking forward to coming out on Thanksgiving," Cornell explained.
With intense competition from Amazon and other online giants, Target's network of stores -- nearly 1,800 nationwide-- allows the retailer to "differentiate" itself, Cornell said.
"While consumers are certainly interested in shopping online, 90 percent of the business this holiday season is going be done in traditional stores," Cornell explained. "So while digital is really important and we've got to be prepared from an online standpoint, we also recognize that most of that traffic still comes to stores."
Target suffered a major setback during the holiday season two years ago, after a credit- and debit-card breach led to the theft of personal information -- names, addresses, phone numbers and email addresses -- of as many as 70 million customers. Target agreed in a settlement to pay $10 million to consumers last year.
Asked Wednesday about the massive data theft, Cornell said, "We haven't forgotten how important it is to provide that safety for our shopper. So it's something we think about not just during the holidays, but every single week, 24 hours a day."
Thanks for reading CBS NEWS.
Create your free account or log in
for more features.