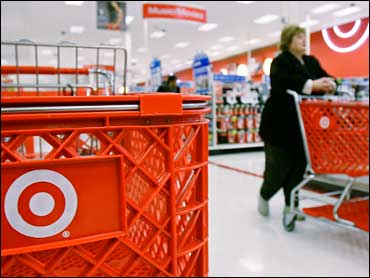 Target Boycott Movement Grows Following Donation to Support "Antigay" Candidate
Revelations that Target Corp. donated $150,000 to a group that is running ads backing conservative Republican gubernatorial candidate Tom Emmer, who opposes same-sex marriage, continue to generate calls to boycott the company.

Groups such as this one - "Boycott Target Until They Cease Funding Anti-Gay Politics" - have spring up on Facebook, where those upset with the donation are encouraged to contact Target to let them know what they think.

Meanwhile, a woman by the name of Randi Reitan, who has a gay son, has posted a video to YouTube showing her cutting up her Target card and returning merchandise in protest. (Watch above.)

"The Target I know was a Target that embraced its gay employees," she says in the video before discussing how she told a store manager about why she returned the items she had purchased.

"I shared with her why I had bought each item, who they were for, and why that person wouldn't want me to have bought them at a Target store," she says. "The items were for my grandchildren, and they love their uncle Jake so much, and Jake is gay, and they wouldn't want to have things coming from a store that contributes to a campaign that would have a governor candidate with the antigay views that Tom Emmer has."

Target, which is based in Minnesota, has defended its donations to the group, called MN Forward, by stating that they were tied to Emmer's positions when it comes to creating a positive environment for businesses, not his stance on social issues.
"Target's support of the GLBT community is unwavering, and inclusiveness remains a core value of our company," Chief Executive Officer Gregg Steinhafel said. The company has also said that its political action committee has split donations evenly between both parties this year. (PAC donations involve money from employees and shareholders, as opposed to the corporate funds used to donate to MN Forward.)
Target is not the only retailer to have donated to MN Forward - electronic retailer Best Buy Co. gave the group $100,000 - but it has been the primary target of anger in large part because it has long been seen as an ally by the gay rights movement.
"A lot of people feel betrayed by this place where everybody goes to shop and you get to see them at Pride and you feel good that you're supporting a corporation that's giving back to the community," Monica Meyer, interim head of the gay rights group OutFront Minnesota, told the Associated Press.
On his website, Emmer writes that "I believe marriage is the union between one man and one woman."
"As a legislator, I have consistently supported the constitutional marriage amendment that protects traditional marriage," he adds.
Target was reportedly able to make the donation because of the Supreme Court's controversial Citizens United decision which greatly expanded corporations and unions' ability to spend unlimited money on campaign advertising. The DISCLOSE Act, which would have brought greater transparency in such advertising, was blocked by Senate Republicans yesterday.
Thanks for reading CBS NEWS.
Create your free account or log in
for more features.