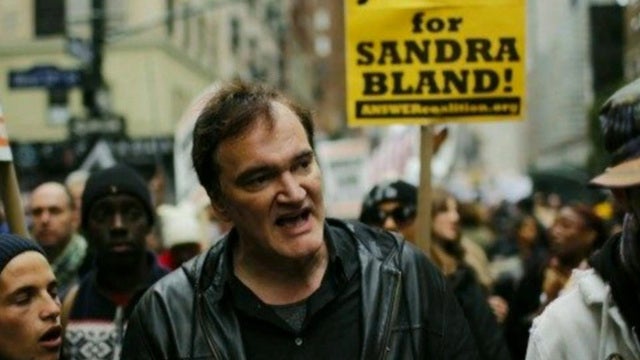 Tarantino stands by "murder" remark despite police groups' threats
NEW YORK -- After a week of backlash from police groups threatening to boycott his upcoming film, Quentin Tarantino stood by his comments about police brutality and said he wouldn't be intimidated from voicing his opinion.
Tarantino told the The Los Angeles Times on Tuesday that law enforcement groups are trying to bully him.
"Instead of dealing with the problem of police brutality in this country, better they single me out," Tarantino told the Times.
"And their message is very clear," he continued. "It's to shut me down. It's to discredit me. It is to intimidate me. It is to shut my mouth, and even more important than that, it is to send a message out to any other prominent person that might feel the need to join that side of the argument."
The director's strong response signaled that he wasn't backing down from what he said last month at an anti-police brutality rally Brooklyn. Tarantino told The Associated Press: "I'm a human being with a conscience. And if you believe there's murder going on then you need to rise up and stand up against it. I'm here to say I'm on the side of the murdered."
His comments provoked outrage from a growing number of police groups that have called for the boycott of Tarantino's December release "The Hateful Eight." They include the National Association of Police Organizations and local groups in New York, New Jersey, Los Angeles, Chicago and Philadelphia.
"Frankly, it feels lousy to have a bunch of police mouthpieces call me a cop hater," Tarantino said. "I'm not a cop hater. That is a misrepresentation. That is slanderous. That is not how I feel."
"But you know, that's their choice to do that to me," the director added to the Times. "What can I do? I'm not taking back what I said. What I said was the truth. I'm used to people misrepresenting me; I'm used to being misunderstood. What I'd like to think is their attack against me is so vicious that they're revealing themselves. They're hiding in plain sight."
Tarantino's father, Tony Tarantino, has even issued a statement through the New York Police Patrolmen's Benevolent Association saying his son is "dead wrong" about police officers. The director has previously said that his father "was never part of my life."
Jamie Foxx, the star of his "Django Unchained," has backed Tarantino. At the Hollywood Film Awards, Foxx said: "Keep telling the truth and don't worry about none of the haters."
On Tuesday, the Weinstein Co., the longtime distributor of Tarantino's films including "Hateful Eight," said it supported Tarantino's right to say what he wants.
"We don't speak for Quentin," the Weinstein Co. said in a statement. "He can and should be allowed to speak for himself."
Harvey Weinstein, co-chairman of the Weinstein Co., has a long history of using media storms to stoke interest in a movie. This time, the fortunes of "The Hateful Eight" -- for better or worse -- risk being altered by a controversy not of his making.
Expectations are high for "The Hateful Eight," which opens Christmas Day exclusively in film projections of 70mm before expanding to nationwide theaters January 8. Starring Samuel L. Jackson and Kurt Russell, it's a wintery Western about a group of bounty hunters holed up together during a blizzard.
Tarantino's last film, 2012's "Django Unchained," earned $425.4 million globally and won two Oscars, including best screenplay for Tarantino.
Thanks for reading CBS NEWS.
Create your free account or log in
for more features.