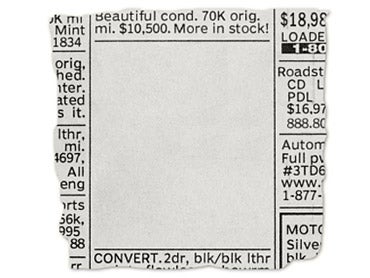 Tapping into the "Hidden" Job Market
If you've been looking for a job and just can't find one, it could be that you're looking in the wrong place.
More than 80 percent of job openings aren't listed anywhere, according to CollegeRecruiter.com>.
But that's not necessarily a bad thing, says career and workplace adviser Ellen Gordon Reeves, author of the book, "Can I Wear My Nose Ring to the Interview?: A Crash Course in Finding, Landing, and Keeping Your Job."
She says you can make it work for you. She says the good news is that 80 percent of jobs landing in the "hidden job market" means they're filled by personal referral. So, job seekers should look for the right people to help them.
"This is why I say stop looking for a job and start looking for the right person to lead you to the right job and the right opportunity," Reeves remarked to CBS News. "I tell people not to pay attention to the unemployment numbers, because you only need one job."
She says the only number that job seekers need to pay attention to is the 80 percent of jobs that come from a personal referral.
"To me, the jobs that are advertised are harder to get, because people are hurdling their resumes into the black void of cyberspace and they are not connecting with real people. Also, the problem with jobs that are advertised is that half of them are already filled. So, those numbers are really not accurate. If you understand how to work the hidden job market, don't be afraid of this number that 80 percent of jobs are filled through a personal referral."
Reeves appeared on "The Early Show" Monday, sharing advice.
Among the tips she often gives:
Be mentally and physically prepared
You've got to really be at your best mentally and physically. If you have been laid off, you have got to get over your grief and anger and get that out with your friends and family. When you are ready to move beyond that, then you have to actually look your physical best because the competition is very stiff in this economy and particularly for older job seekers.
You are not as young as you feel. Unfortunately, you are as young as you look. This means for men and women, dying your hair, fixing your teeth, having flattering clothing and exercising so you feel good. You can't afford not to have a competitive edge because so much of interviewing is based on a positive first impression in a short amount of time. As Mark Twain said, "You never get a second chance to make a first impression." You have to be neat and clean and conservatively dressed. You have to be at your physical best, not only for your own health, but so that you come across as someone who is well groomed and attentive to detail.
Have a business card
"A lot of job hunters don't have a card. I say if you don't have a card, you can't get a job. Keep in mind that you are always job hunting, particularly at holiday parties. Get out there and connect. You have to have a card with a professional email address and one phone number with a professional voice mail message. The only thing I want to hear is hi this is your name, please leave a message and I will get back to you. Everything is an act of self-presentation when you are job hunting and you have got to clean up your act.
If you have an area that you are definitely going into and can justify with previous experience, for example, marketing, you can indicate that on your card. It shows that you are a professional and that you never became unprofessional, even when you stopped working.
Refine your 30-second pitch
You've got to be able to succinctly say to someone what your previous experience has been, what you are looking for and be able to present your previous experience. Tell them exactly what you are looking for and what you can do for an employer.
Use social media
This is the right way to get as many informational and exploratory interviews as possible. Exploratory interviews are when you are trying to figure out what you want to do and you talk to as many people as possible and you use them as sounding boards. Then, you have informational interviews once you have identified a career or a job that you're interested in. Use social media to ask if anyone knows of anyone who works for "The Early Show", for example. Be as specific as you possibly can about where you want to work at a company.
Again, take advantage of the holidays. Right now is the perfect time to tap into the hidden job market. If you are job hunting and you are not sending out holiday cards (e-cards or paper), you are crazy." She recommends saying that you've been thinking of the friend, that you're hoping that you can be in touch in the new year and mention that you're looking for a job.
Thanks for reading CBS NEWS.
Create your free account or log in
for more features.