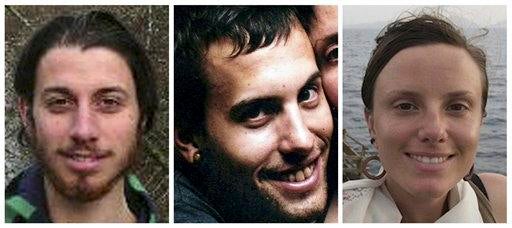 Tapes Play Into Teacher Sex Case
Police have released taped phone conversations between a 24-year-old Florida model-turned-teacher and the 14-year-old student she allegedly had sex with.
Debra Lafave sounds childlike in the conversations. She says, "Ewww, you think I'm weird," when he expresses concern about having sex without a condom. When the student tells her she can come over because his mother is out she says, "Promise... pinky promise."
Lafave's husband has filed for divorce. The story became even more sensational when modeling photos of her as an 18-year-old came to light.
Lafave has pleaded not guilty to four felony counts of lewd and lascivious battery and one count of lewd and lascivious exhibition. Each carries a maximum 15-year prison term, but the sentence could be as little as probation, should she be convicted.
Lafave's attorney, John Fitzgibbons, said in court earlier this week that he would file notice of an insanity defense.
Lafave met the teen while she was chaperoning a school field trip.
Police said that they had sex five times in early June.
"Debbie has some profound emotional issues that are not her fault," Fitzgibbons said after a hearing. Several doctors have examined Lafave in recent months, Fitzgibbons said, and their findings will cast light on what happened in this case.
The defense is expected to point to the April 2001 death of Lafave's older sister, Angela Beasley, who was 24 years old and five months pregnant when an intoxicated Army captain, Joseph Piotrowski, plowed his Jeep into her car. Piotrowski is now serving a 30-year prison term for the crime.
During Piotrowski's court-martial in August 2001, Lafave testified that she had been depressed, angry and ill since her sister's death. "It's hard to concentrate on anything but that," she said.
Her mother, Joyce Beasley, described her as "pretty much a basket case" as a result of her sister's death.
At the request of both sides, Hillsborough Circuit Judge Wayne Timmerman agreed to delay Lafave's trial. The case goes before the judge again on March 22 for a pretrial hearing, with a trial set for April 25.
Hillsborough County prosecutor Mike Sinacore noted on The Early Show Friday that some people don't view women who have sex with boys as predatory in the same way they would view a man doing the same thing. "We also know that boys who are alleged victims are not viewed the same way as girls who are alleged victims. Though that double standard might be wrong; under the law there is no distinction."
He says it will be important to find jurors who will apply the law regardless of the gender of the accused.

Thanks for reading CBS NEWS.
Create your free account or log in
for more features.