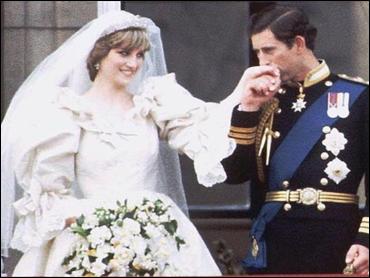 Tapes: Diana Confronts Affair
New insights into Princess Diana's unhappy marriage, gleaned from audiotapes for a book about her, show she was actively trying to help herself, CBS News correspondent Mark Phillips reports.
According to Princess Diana's version of events, she had been told by a therapist that the only way she could confront her misery, and the eating disorder it was causing, was by confronting the cause: her husband's continuing relationship with Camilla Parker-Bowles.
It's a meeting that's been detailed in print before, but is given added drama when heard in her own voice, Phillips reports from London. Excerpts of audiotapes, which Diana made for the book, were aired Thursday by NBC.
Princess Diana chose the birthday party of Camilla Parker Bowles' sister to confront the woman having an affair with her husband, Prince Charles.
At the party, which took place in the winter of 1989, Diana found her husband and another guest alone with Camilla.
"I said to the two men, `OK, boys, I'm just going to have a quick word with Camilla ... and they shot upstairs like chickens with no heads."
Then Diana, admitting to feeling "terrified of her," recalls telling Camilla, "I know what's going on between you and Charles, and I just want you to know that."
Camilla's response: "You've got everything you ever wanted. You've got all the men in the world (to) fall in love with you and you've got two beautiful children, what more do you want?"
"I want my husband," Diana replied.
"And I said to Camilla, `I'm sorry I'm in the way, and it must be hell for both of you. But I do know what's going on. Don't treat me like an idiot.'"
There was one other person in the room, royal bodyguard Ken Wharfe.
He says, "Both of them were in the same room at the same time, Camilla and the Prince Of Wales. And she took control of that. I recall both the prince and Camilla being very embarrassed about this."
Diana had finally confronted her husband, his mistress and her demons.
Wharfe notes, "The car journey on the way back was pretty heated. But I felt she offloaded a great deal of anger and was now much more relaxed about it because, in a sense, it was in the open, this confrontation that had been a long time coming."
In another revealing glimpse Diana is seen taking lessons from a voice coach in an effort to improve her public speaking style. She seemed almost child-like. But it was all part of a process of taking control of her life.
Wharfe says, "Thereafter, there's no doubt in my mind that you saw a positive, stronger Diana moving in the direction, having offloaded, essentially, a problem from day one."
Charles and the rest of the royals have again greeted the Diana tapes with a dignified silence.
With its publication in 1992, the book by Andrew Morton angered Diana's family, friends and the royal family. The couple formally separated that year, and were divorced in 1996, a year before Diana's death.
In 1994, Prince Charles acknowledged in a TV documentary that he had strayed from his marriage vows, but insisted the infidelity happened only after the marriage was "irretrievably broken down, us both having tried."
Thanks for reading CBS NEWS.
Create your free account or log in
for more features.