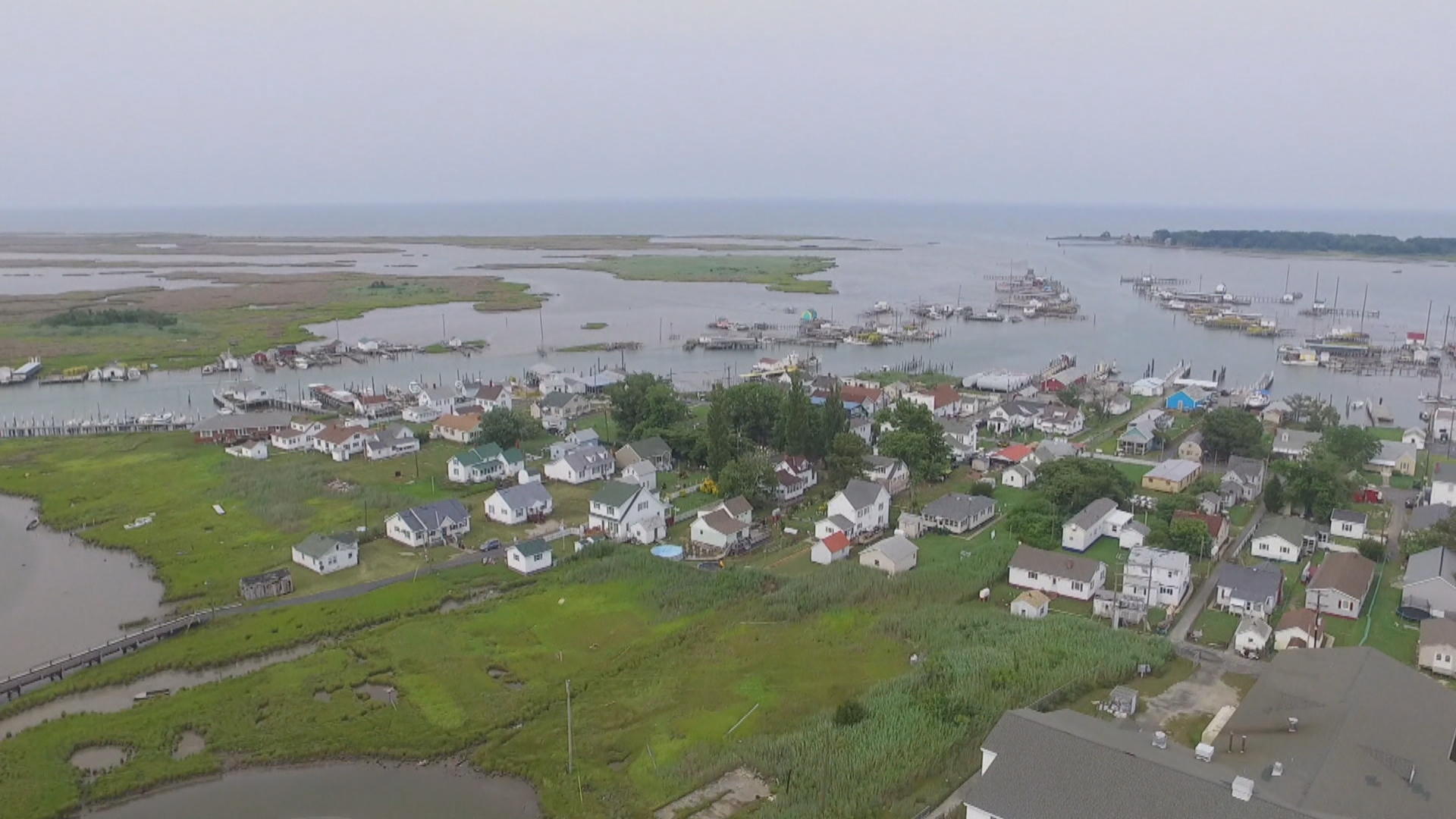 Mayor of disappearing island: "We just need the help to come now"
Climate change is one of the big topics at Friday's G20 summit and researchers say it's one of the reasons a tiny island on the East Coast, Tangier Island, is washing away.
People there say erosion is the biggest problem and want the president's help before it's too late.
Right where Tangier lies there used to be hundreds of islands, but due to natural reasons, the islands have been swallowed by the bay, reports CBS News' Chip Reid.
Tangier Island, in the middle of the Chesapeake Bay, rises only a few feet above the surrounding waves. An hour by boat from the mainland, about 500 people live on Tangier.
Since the 1600s, residents have survived on the bounty of the bay. Tangier produces an estimated 13 percent of the bay's prized blue crabs -- more than any other town in Virginia.
"My father was a crabber. My grandfather before him and great-grandfather," said James "Ooker" Eskridge.
Eskridge is the mayor of Tangier. His family has been here for generations and they've watched it gradually sink under the waves.
"If we get a severe Nor'easter or something, you can make a mark where the shoreline is, and after the storm, you go out there and the mark is well off shore," Eskridge said. "Happening that fast."
Since 1850, the island has lost 66 percent of its land. In about 100 years, it is all expected to be underwater and evacuation of island could begin in the next two decades. Researchers say one cause is rising sea levels due to climate change -- but Tangier's more immediate problem is something called wave-induced erosion.
The island is literally being washed away by the waves and will eventually disappear.
"We need help from the erosion. If it was just sea level rise that we were worried about, we would be in good shape," Eskridge said.
Help looks like a rock wall. One was built on the island's western side in the 1980s and the erosion there stopped. Now, they say their only hope is a wall around the entire island—costing an estimated $20 to $30 million, which they don't have.

They'd like Congress to approve the money and Mayor Eskridge thinks President Trump could help cut through all the red tape.
"He's gonna cut back on the time it takes to do studies for these projects -- we don't have that time to play with," Eskridge said.
He thinks if Mr. Trump told Congress he wanted to save the island, it would be saved.
Eighty-seven percent of the island's residents voted for Mr. Trump. Eskridge says that's in part because of his pledge to cut federal regulations.
In June, the president took notice of the island's support and gave the mayor a call.
"We had been discussing sea level rise. And he said, 'Tangier's been here for hundreds of years and it'll be here for hundreds more,'" Eskridge said.
The president's call triggered other calls to the island - but these were different. Some condemned the people here for seemingly agreeing with the president's controversial view of climate change. He has called it a hoax.
One business received a message that said, "You voted for Donald f***** Trump haha oh god I hope your whole f***** island sinks."
"It was disheartening and it was upsetting," said Laurie Thomas. She works for the town and said one man called to say that she and the people on the island deserved to die.
"I think it lit a fire under everybody again to push and to contact our congressmen," Thomas said. "And to try to save the island."
Thomas says saving Tangier would mean preserving a rare and special way of life – a place where parents let their children roam free to play in the streets and swim at the docks.

Regardless of whether climate change is man-made or not, Eskridge says the island is at the point where they need help immediately.
"We've been studied. And now we're to the point, the island's going down. We just need the help to come now," Eskridge said.

Mayor Eskridge said the last study took 20 years to complete—about the same amount of time the island has left.
Thanks for reading CBS NEWS.
Create your free account or log in
for more features.