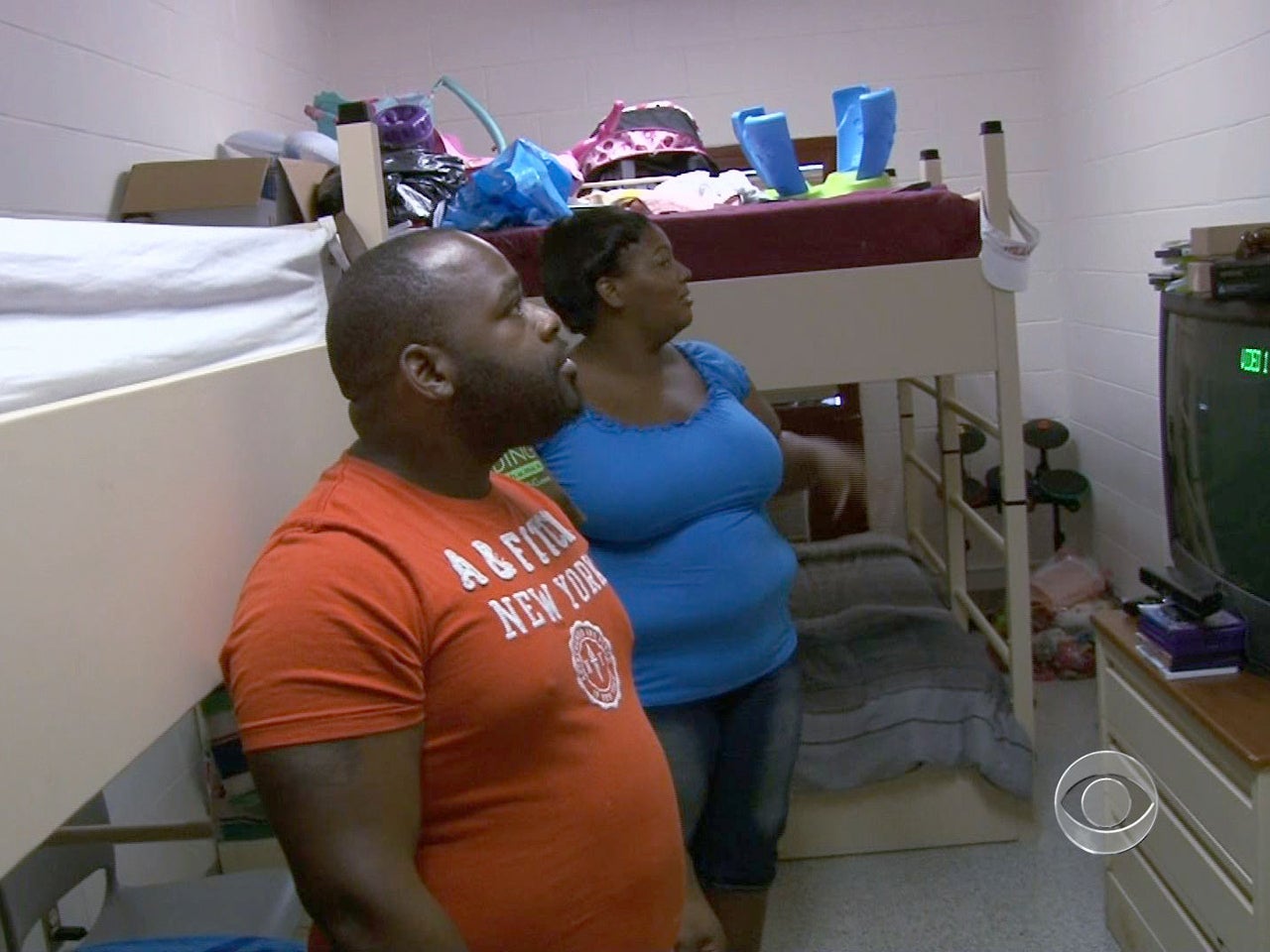 Tampa area has nation's highest homelessness rate
(CBS News)TAMPA BAY, Fla. - As Republicans gather for their national party convention in Tampa, they will be aware of the stormy weather but may not see another issue clouding the city.
The Tampa-St. Petersburg metropolitan area has the highest rate of homelessness in the nation, according to the National Alliance to End Homelessness in a report issued earlier this year - 57 homeless for every 10,000 residents.
There are about 16,000 homeless people in the Tampa area, and one in five of them are children. But public-private partnerships are doing something to help homeless families stay intact and homeless adults stay out of in jail.
The economic slowdown of recent years, including the housing bust and long-term unemployment, are driving up the homeless numbers, according to the National Alliance report.
Ken and Trenesha Ross, who moved from Fort Worth, Texas, to Tampa two years ago for Ken's sales job, are among the new homeless. After months of joblessness, the couple and their three young children lost their apartment and were one day away from being evicted from a motel.
Ken said: "Because a man is supposed to provide for his family, and I felt that I wasn't doing that, and it hurt me more not to care of my kids, to see their faces every day, for them not to know what was going to happen the next day," he said.
"I was embarrassed to tell people that we had nowhere to sleep," Trenesha said. "I didn't want people to know that I couldn't take care of my kids. I didn't want people to feel sorry for us."
The Ross were saved from sleeping on the street by Metropolitan Ministries, a 40-year-old, privately-funded organization with temporary housing for 50 families. A new building under construction will double capacity.
"Our goal is to go from homelessness and a crisis to self-sufficiency in a six month window," said Tim Marks, the group's president. "We want to build them back up, give them confidence, give them the skills to go back out and find a job, and get back on their own."
The group provides residents job counseling, donated clothes, communal meals, school classes for kids, and modest apartments. The Ross family shares a 260-square-foot room and a bathroom.
"This is our starting ground. This is what's going to get us back on our feet," Ken said.
Metropolitan Ministries also prepares 2,500 hot meals every day for the homeless throughout the Tampa-St. Petersburg area.
The biggest daily delivery is to a homeless shelter for adult men and women called "Safe Harbor." The building is an old bus depot turned county jail that Pinellas County Sheriff Bob Gualtieri converted to a shelter in January 2011, in part to prevent the homeless from being arrested for minor crimes.
"The criminal justice system should not be a dumping ground for a social problem," Gualtieri said. "They can come here, diverted from the jail, and they can get services that will help them break the cycle of homelessness, whether it's anything and everything from mental health services and alcohol and substance abuse to job training and literacy and those things that will help them become a productive members of our community."
While the shelter costs $1.6 million a year to operate, Gualtieri says it actually saves taxpayer money, because it costs $13 per day to keep a person in the shelter, compared to $106 per day in jail, where the annual budget exceeds $100 million.
Gualtieri said one homeless man was arrested 76 times in five years by St. Petersburg police, and served a total of 560 days jail, costing the county $80,000.
Safe Harbor's 400 bunk beds are almost always full - with three cavernous rooms for men and one for women.
Latoya Mosley slept in a cardboard box on the street before a police officer brought her there. She lost her nursing job a year ago and had been unable to find work.
"My goal is to get out of here real soon, like in the next couple of weeks," Mosley said. "There's a lot us in here -- we've had everything, and everything got taken away from us. It's not promised to you to make money all the time. The economy is bad. You can lose your job in a second, and be right here we're at."
Angie Landis, a recovering crack addict, has been living at the shelter for three weeks. Her habit cost her a dog grooming business, her family, and her home. Neither her parents nor her son, who went to live with them, will talk to her.
"You have to sometimes hit the bottom, and I think this is my bottom," Landis said. "I had many, many things in my life, and I've lost everything. But that stuff comes back. That's easy - just things, buy them. It's family that matters -- when you lose your family, that's a bad feeling."
With a part time job at a local dog groomer and a safe place to stay, Landis has hope.
She said, "We need help. We're not bad people. I'm not a bad person. I just need help."
Tampa's mayor and police department said there is no plan to remove homeless people from the streets during the Republican National Convention.
Thanks for reading CBS NEWS.
Create your free account or log in
for more features.