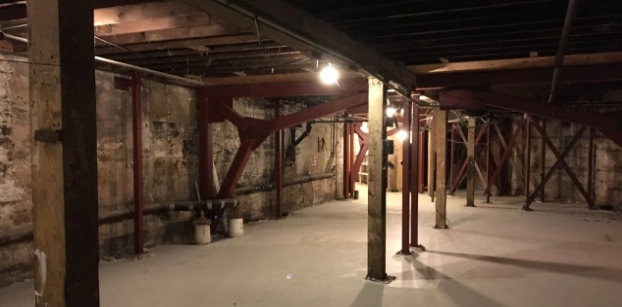 Reports of "escape" tunnels under former SF gay bars could block construction
SAN FRANCISCO -- Reports of an extensive network of underground escape tunnels beneath former gay bars threaten to delay a major development project in San Francisco. But tales about the tunnel system appear to be unfounded, CBS SF Bay Area reported.
A property that sits in the heart of San Francisco on a major thoroughfare called Market Street has long been ramshackle. Developers plan to demolish it soon and build a 12-story condo and hotel complex, providing about 1,000 jobs during construction and 200 more when the hotel is finished. Renderings of the proposed project show floor to ceiling glass windows and a sleek, modern exterior.
Some local activists, however, have asked the planning commission to stall the project, claiming they found evidence of historical significance to the LGBT community.
The Bay Area Reporter has detailed some of the former LGBT bars that once occupied that block, such as the Old Crow Bar and the Silver Rail.
Nate Allbee, a former aide for San Francisco Supervisor David Campos, provided CBS SF Bay Area with photos that allegedly showed an extensive network of tunnels under some former gay bars that were once outlawed in the city.
"Police would come and raid LGBT bars and be very violent and take people away to prison," Allbee said. "So if they heard a raid was about to happen, they could have used these tunnels to escape the raids."
Allbee did not snap the photos himself. He said he could not say where he got them, but insisted there is a network of tunnels.
According to SFist, which reported on Allbee's photos, activists argue that a "previous study conducted by preservationist architecture firm Page & Turnbull failed to adequately address the cultural significance of the sites."
But the developer says it never heard of any tunnel.
"This is the first time we've heard that there is a tunnel..." said Joy Ou, president and CEO of real estate development company Group I. "As far as we're concerned, there is no tunnel."
To settle the matter, CBS SF Bay Area asked the property owner to let the station inside. It found an extensive basement leading from the front of the building on Market Street to the back exit. But the basement had walls on all sides and did not appear to connect to any other property. The station found no evidence of any network of underground tunnels.
It may, however, turn out that somebody finds tunnels under other properties, and that the area could still be deemed important in LGBT history.
The San Francisco Planning Commission approved the project, without delay.
Still, Albee said he plans to appeal to the Board of Supervisors, and that the appeal could stall construction.
Thanks for reading CBS NEWS.
Create your free account or log in
for more features.