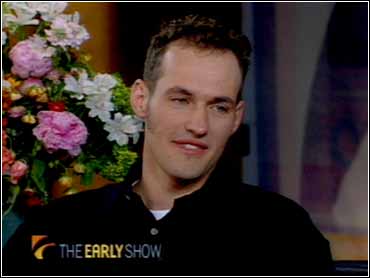 Tagi Tribe To Dirk: Adios
Dirk Been, 24, the religious dairy farmer and substitute teacher from Wisconsin, is the latest Survivor contestant to be booted off the island. Dressed in a sarong and tennis shoes, he visited The Early Show and, among other things, revealed that the first thing he did after he got booted was to eat a pizza.
On the program Thursday, he also expressed affection of all of his tribe, perhaps favoring Kelly and not favoring Susan.
Who got on his nerves the most?
"While I was on the island, definitely Sue," he said, adding, "I'm not saying I don't like Sue. But we're just different people, and we have a different way of looking at things."
With Kelly, it was a very different story, although Been insists he did not have a crush on her.
"No, no! I love and respect Kelly. She's a very impressive woman to me," he said.
Been said he went on every water-run in the 15 days he was on the island.
"They don't mention the things like that," he observed. "They needed…to make it look like there was a reason for me to be voted off."
So why does he think he was bounced?
"I feel like I was too much of a threat," Been explained. "The best thing they could have done for themselves was vote me out."
Many of his Tagi tribe mates complained Been and buddy Sean were of no use to the team.
"Me and Sean, we were just two peas in a pod, and we enjoyed each other," Been said. "We are very similar people, so we hung out. It was like two guys living in a college dorm room."
But his religious views set him apart in the tribe. He even brought a Bible as his one allowable luxury item. Rudy kicked up something of a controversy by saying:
"It's funny to me that a guy would read the Bible out here. The only reason I'd bring a Bible is if -- I'm religious, too -- if I needed toilet paper."
Early Show Co-Anchor Jane Clayson exclaimed, "Oh, my goodness. I was offended. Were you?"
Replied Been, "Yeah. I mean…you're talking about the word of God. Talk about using it to wipe your -- that's very -- an interesting statement. So I don't know. I guess I wouldn't have expected that from Rudy."
And, although much was made of his his weight loss, Been said he had only lost 10 or 15 pounds.
"Rich is losing 40, 50 pounds, and no one says anything about him," noted Been, referring to his heftier teammate.
Been said he fully expected Richard and Susan to vote him off the island. But he was "really shocked" to find out that Kelly and Rudy also had cast their votes against him.
Thanks for reading CBS NEWS.
Create your free account or log in
for more features.