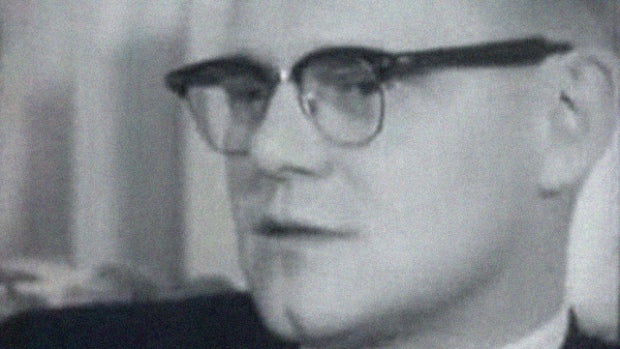 T. Eugene Thompson, convicted in infamous murder case, dies
MINNEAPOLIS -- T. Eugene Thompson - the lawyer convicted in one of Minnesota's most notorious murder cases - has died, his son confirmed Wednesday.
His son, District Judge Jeffrey Thompson, told The Associated Press that his father died on his 88th birthday Aug. 7 at his home in Roseville, apparently of natural causes. The family held a private memorial service Saturday in Edina. The son first made the announcement with a paid obituary in Wednesday's Star Tribune and St. Paul Pioneer Press newspapers.
Tilmer Eugene Thompson was a successful St. Paul attorney who was convicted of hiring a hit man in 1963 to kill his 34-year-old wife, Carol Thompson, the mother of their four children, so he could collect more than $1 million in life insurance and be free to carry on an affair with his mistress. The sheer brutality of her slaying in the upper middle class Highland Park neighborhood of St. Paul shook the Twin Cities and attracted national attention. He served over 19 years in prison before he was paroled.
Intruder Dick W.C. Anderson surprised Carol Thompson on the morning of March 6, 1962, in her bedroom. He had intended to fake a bathtub drowning. When that didn't work, and his pistol wouldn't fire, he beat her repeatedly and stabbed her in the throat with a paring knife. She regained consciousness while he was washing up. She stumbled to a neighbor's house to seek help, so bloody that the neighbor didn't recognize her. She died at a hospital four hours later.
"A murder so sensational it rocked St. Paul to its roots," is how the Pioneer Press described it a year later.
Police were suspicious of T. Eugene Thompson from the beginning. The case broke open when Anderson, a petty thief, confessed he killed Carol Thompson for $2,300. He fingered as the middleman Norman Mastrian, a former boxer and small-time criminal who had been a client of Thompson's. A jury convicted Thompson and his associates Dec. 6, 1963. They all served about 19 years in prison.
Jeffrey Thompson, a former prosecutor who now serves in Winona as the chief judge for the judicial district that covers southeastern Minnesota, said his father never admitted his guilt and that they had a contentious relationship. He said the last time he spoke to his father was a couple years ago when the family gathered at his condo in Roseville. He said he didn't know much about how his father died.
"We were told that he was fading and that we needed to get up and see him if we were going to. Before I knew it he was gone," Thompson said.
The paid newspaper obituary, which Jeffrey Thompson said he wrote, didn't mention the murder and closed simply: "T. Eugene was a multi-faceted person. Oscar Wilde said, 'Every saint has a past and every sinner has a future.' Amen."
The judge said he has long had that quote posted in his courtroom, but it applied to his father as well.
"I think he did a horrible thing, but that was not the whole person," he said.
Thanks for reading CBS NEWS.
Create your free account or log in
for more features.