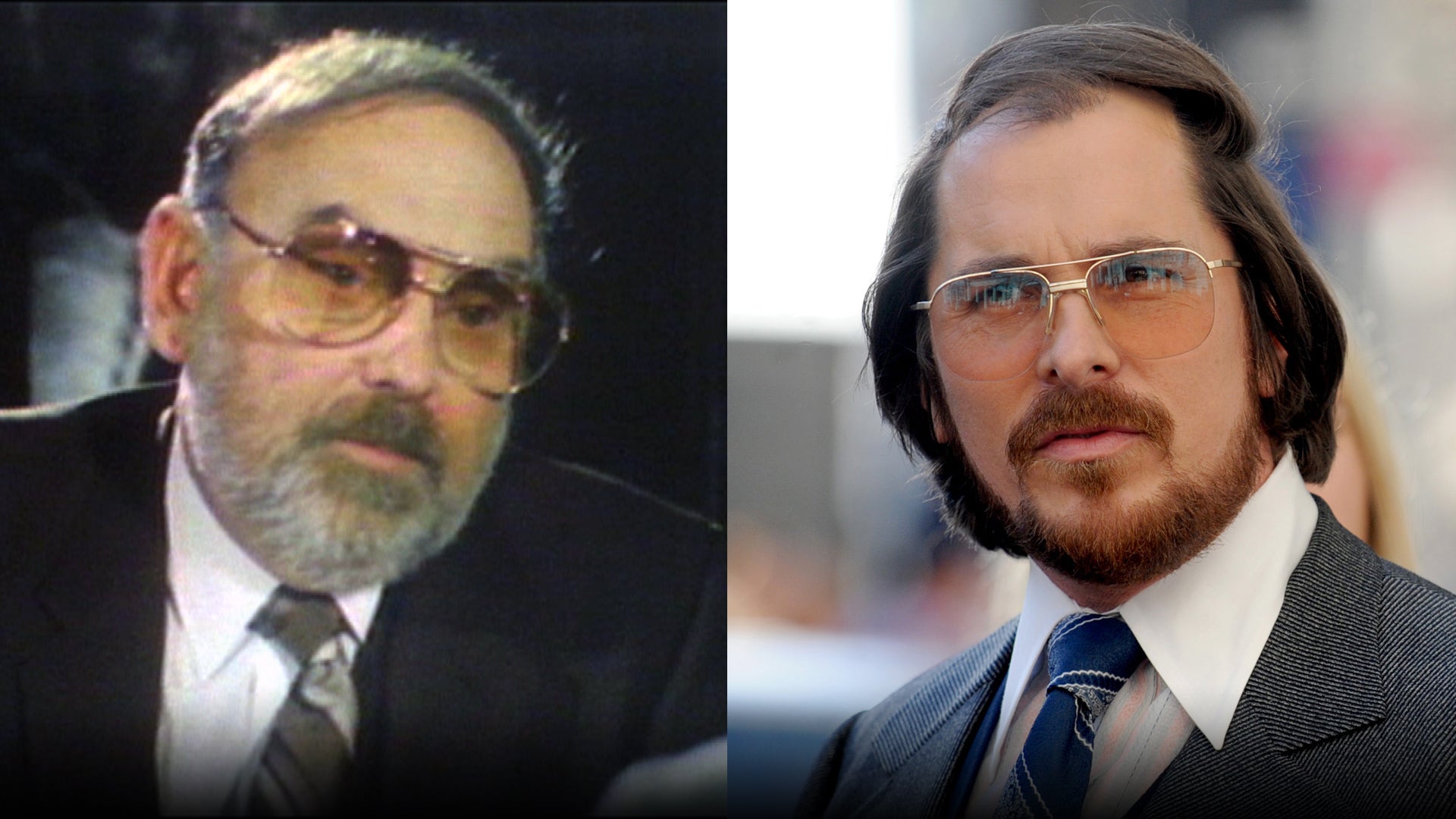 Meet the real Mel Weinberg
By Evie Salomon
How accurate was Christian Bale's portrayal of Mel Weinberg in his Oscar-nominated role in "American Hustle"? Take a look at the real Mel Weinberg, the con man at the heart of the so-called "Abscam" FBI sting operation in the 1970s.
Weinberg gave an unforgettable 60 Minutes interview to Mike Wallace in 1981 (watch it in the video player above) about the Abscam operation. Retold in the film "American Hustle," the story of Abscam was, perhaps, one of the most bizarre chapters in FBI history.
"Set a crook to catch a crook"-- that's what Weinberg told Wallace Abscam was all about. A self-confessed swindler, Weinberg helped the FBI convict politicians on charges of bribery and conspiracy. At the time of the 60 Minutes interview, six congressmen and a mayor had been convicted.
"American Hustle" racked up 10 Academy Award nominations, including a best picture nomination and a best actor nomination for Christian Bale's portrayal of Weinberg.

Bale prepared for the role, in part, by spending time with the original con artist. 60 Minutes Overtime caught up with Weinberg on the phone and he says that the film's production paid him $250,000 for the story rights and flew him to Los Angeles for three days to let Bale pick his brain on the art of the hustle.

"He studied me," Weinberg says. "The guy tries to get into your skin."
Weinberg was impressed by Bale, but he says the actor asked him "stupid questions" and tried to test his temper to see how he would react. At one point, Bale noted that Weinberg always maintained a steady tone of voice throughout his post-Abscam interviews, even when faced with challenging questions.

"I said, 'You're right, you have to control yourself,'" says Weinberg. "That's the way I am. I don't let things bother me."

After the film's release, Weinberg says he received calls from old acquaintances around the country. "People I haven't seen in years called me up and said, 'Mel, I went to see the movie, I swore I was looking at you. The guy sounds like you, acts like you.'"

Now 89 and living in Florida, Weinberg came to New York last year to attend the premiere of "American Hustle." Weinberg is partially blind, so he didn't recognize Bale when the actor came barreling up to him for a hug on the red carpet.

Weinberg also couldn't see the movie very well during the screening, but he says he was able to make out one detail that the filmmakers got wrong: "Green jacket," says Weinberg. "I wouldn't be seen dead in a green jacket. I hung out with mostly Italians, mob guys. You dress in grey or black. You wouldn't wear green around the Italians. Green is Irish."

Weinberg lives alone now and when asked about his three failed marriages, he responded, "I had three loves in my life-- I tell people they were my three dogs." His wife at the time of Abscam, played by Jennifer Lawrence in the film, committed suicide in 1982. He would later tie the knot with his girlfriend Eve, played by Amy Adams.

Though Weinberg divorced Eve in 1998, it's a relationship he still finds difficult to discuss: "See men are stupid, especially guys like me," Weinberg says. "We hide our emotions because the only way you can hurt me is by hurting someone I love. After a while you just don't show your emotions. Your life is completely distant; you live a life by yourself. That's why you have dogs that you love."

Weinberg has three children, including a son who went on to become a detective in Florida, and more grandchildren and great grandchildren than he says he can keep track of.

Although it's been nearly 40 years since Abscam ended, Weinberg remembers every detail of the operation. He can even tell you where he got the inspiration for name of the front organization the FBI created, Abdul Enterprises, Ltd.

He says the word "Abdul" came from Karim Abdul Rahman, a real person he met while flying first class on a Pan Am flight from Europe. "He was a legit guy, we never told him," Weinberg says.

When the phony offices of Abdul Enterprises finally opened for business, Weinberg and the FBI agents posed as representatives of wealthy Arab sheikhs who needed a place to invest their money, and one by one, greedy politicians fell into the trap. Weinberg says he still can't believe they pulled it off.

"If you knew the goof-ups that we had, and the way the government tried to run it...it was ridiculous," Weinberg says. He recalls that an inexperienced young woman was installed as secretary. "You know how she answered the phone one day?" says Weinberg. "FBI."

He also complained that the FBI was too cheap, setting up what looked like "a poor man's office." Once, when Weinberg requested lavish hors d'oeuvres to be offered to the politicians who had come to meet "the sheikh," Weinberg had to settle for a cheaper platter from the local deli -- corn beef, pastrami and cole slaw -- and he remembers one lawyer's reaction when the food was presented: "Since when do Arabs eat Kosher food?"

Even the FBI agent hired to play the sheikh "was a laugh" according to Weinberg because he couldn't speak a word of Arabic.

To make matters worse, a tape recorder taped to the bottom of a coffee table fell to the floor during one of their first meetings. "I spotted it and kicked it underneath the couch. How we ever got away with the first one was beyond me," Weinberg says.

After Abscam, Weinberg says he never worried for his safety.

"I'm always careful," he says. "I always made a lot of left turns-- if anyone's tailing you, you can always find them by making left turns."

When asked if he has any regrets about working on the Abscam operation, Weinberg says: "For what? For putting them in jail? The only guilt I have was that I didn't get the rest of them. We could have gotten half of Congress."
---
"The Sting Man," Mike Wallace's interview with Mel Weinberg was produced by Ira Rosen and aired on 60 Minutes on April 12, 1981.
Thanks for reading CBS NEWS.
Create your free account or log in
for more features.