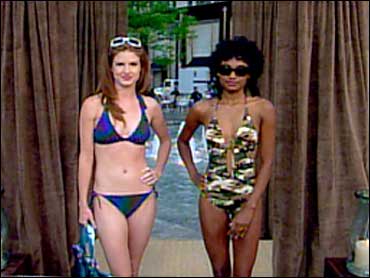 Love it or dread it, swimsuit season is here, and with it the search for the best swimsuits for your body type.
Style expert Rachel Zalis visited The Early Show Wednesday to show women what to look for.
Zalis is hosting We TV's (www.wetv.com) upcoming Memorial Day special, "More Swimsuit Secrets Revealed."
She says you really can find the perfect swimsuit to flatter your figure if you understand your body and realize there are very few perfect bodies out there!
The number on the tag isn't important, Zalis continues. What is important is how the swimsuit looks and feels on your particular shape. Everyone has a body issue to deal with, so learning to accentuate your best assets and have confidence is the biggest hurdle to surviving swimsuit season.
ZALIS' STYLE TIPS
Let the activity dictate the swimsuit. Wear a style best suited for posing by the pool, swimming in the ocean, playing volleyball, etc.
Create a balance between tried-and-true and adventurous. Go ahead and try on some new brands, colors and styles. You may be surprised to find that a style you thought would never work for you is actually quite flattering.
Be realistic with your support needs. The suit should hold you in comfortably without being confining. Many swimsuits offer built-in support in flirty styles, so you can stay supported without losing sex appeal. The top of the swimsuit should be as flattering as your best bra.
Remember to stay in your color wheel. Black is slimming, but if you have a pale skin tone, it won't look good. Just because you wear a small size doesn't mean you can work any color. For instance, neon and bright colors look better on tan skin. In fact, a light tan slenderizes everyone, so get a little color (safely) with sunless tanning products.
Divert eyes to your assets. Bold colors, large patterns, shiny metallic accents, ruffles, embroidery and gathers are great embellishments to draw the eye where you want and create the illusion of a fuller, curvier bust or hip. Cutouts and motifs also help create a focal point.
Use fabric design to your advantage. Dark colors, vertically-lined swimsuits and delicate prints are slimming, while light colors and shiny fabrics add dimension.

BODY TYPES

Boyish Figure: To create the illusion of curves, opt for a one-piece swimsuit either belted or with side cutouts, or a two-piece swimsuit with adornment and cleavage-enhancing halter style on the bikini top, along with bikini bottoms that sport flirty ruffles or string ties or that are high-cut on the hips.

Avoid: Dark colors, boy shorts and bandeau tops. They won't create curves.

Featured on The Early Show:
Swimwear: www.billabong.com
Footwear: www.dianesbeachwear.com
Accessories: Sunglasses by SALT; Metallic Thong Sandals by Report

Note: A one-piece cut-out is not only hot style right now, but gives more of a feminine shape, instead of the one-piece Speedo-like suit that gives a straight silhouette with no waist, hips or bust.

"Plus" Size: Seek out one pieces with ultra-lycra and built-in support. Darker colors such as black and navy, shirred suiting, chevron stripes, and color-blocking all help to create a slender center. If you love a patterned fabric, make sure it's an all-over delicate pattern rather than a bold and busy print. Go for thicker straps that won't dig in at the shoulder.

Avoid: Swimsuits without lycra or support, big/loud prints, pastel colors, thin straps, ruffles, bikinis or tankinis (unless the tankini top is on the longer side).

Featured:
Swimwear: www.vixswimwear.com
Footwear available at www.dianesbeachwear.com
Accessories: www.expressfashion.com
Tunic: www.incagirl.com

Note: A black one-piece is neither youthful nor offers good support. A sexier one-piece option in brown with flowers is made of super-lycra for the extra support she needs. It's also an example of the many options out there for plus-size woman, even ones with pattern that flatter.

Small Bust: Accentuate and highlight the bust with padding, underwire, and bright prints such as floral or stripes paired with a dark/neutral bottom. Embroidered, sequined, ruffled or otherwise embellished tops also are great for added silhouette. Halter ties around the neck help create more cleavage.

Avoid: Bandeau tops or triangles without pads.

Featured:
Swimwear: www.roxy.com
Footwear: www.dianesbeachwear.com
Bag: www.expressfashion.com

Note: A bandeau bikini top does nothing for a small bust line, but a polka dot swimsuit with a halter style top and push up padding give a fuller look.

"Pear" Shape: Big Hips, Thighs and Butt: First and foremost, you want to draw attention away from your hips and thigh area. Accentuate your bust and shoulders with a light-colored or brightly-colored, embellished (ruffles, shells, etc.) swimsuit top paired with a darker, solid, more neutral swimsuit bottom. A halter-style top will help balance your shoulders with your hips. Do not try to cover too much on the bottom — that can be unforgiving. The fit here is the most important thing. Find a higher cut bottom for a leg-lengthening effect. Adjustable bottom straps will keep from digging in to sides and creating unsightly "spillover." A tankini will also work here. If the tankini top comes halfway past your rear, it will visually cut it in half and make it look smaller. A sheer sarong provides coverage without bulk.

Avoid: Too skimpy bottoms, bottoms that dig into skin, brightly colored or heavy print bottoms, bottoms with ruffles or skirts, bottoms that cut too low on the leg.

Featured:
Swimwear & Accessories: www.dianesbeachwear.com

Notes: A busy two-piece, a triangle top and boy-cut bottom, do exactly the opposite of what they should, highlighting a woman's bottom half. By switching the focus with darker bottoms and a sequenced top, she now accentuates her upper half, drawing the eye up. A hat continues to draw the eye up, as well.

Large Bust: Built-in support is key with either an underwire or inner-shelf lining. Try a swimsuit that cuts straight across the top or a bandeau-style with halter strings for a minimizing effect. Draw attention down with more adornment on the bottom portion of the swimsuit (for instance, belts or side strings) and a more neutral top.

Avoid: Swimsuits without built-in support, deep-scoop or V-necklines, skinny straps, and lots of adornment on the bodice.

Short-waisted: Look for a bikini bottom that rides lower on the waist to lengthen the torso. Vertical stripes will create length as well. A one-piece with empire waist will also elongate the midsection.

Avoid: Bikinis with bottoms cut too high on tummy, and horizontal lines.
Thanks for reading CBS NEWS.
Create your free account or log in
for more features.