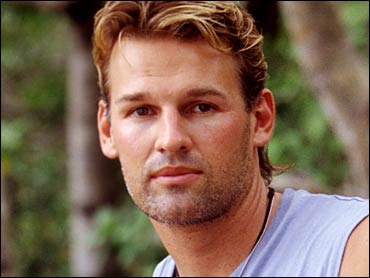 'Survivor' Stud Has Porn Past
New "Survivor" cast member Brian Heidik is getting lots of exposure now that snoops have uncovered his past as a porn stud.
The 34-year-old, who is part of the upcoming "Survivor: Thailand" series on CBS, identified himself in his official bio as a used car salesman and part-time actor with appearances on shows such as "Baywatch Nights," "Doogie Howser, M.D." and the soap opera "Days of Our Lives."
But since his introduction last week on The Early Show, his other movie credits have come to light. Some Web sites even have posted stills from the soft-core adult movies he made, such as "The Virgins of Sherwood Forest" (2000) and "Sinful Obsession" (1999).
The photos feature Heidik simulating sex acts with various women, sometimes two at a time. The distinctive tattoo of a tiger on his right shoulder is visible in both his CBS publicity photo and the movie sex scenes.
CBS issued a statement Tuesday saying the network was aware of his past credits and allowed him to decide how to describe himself in his official public biography.
"Brian Heidik is certainly not the first actor to omit certain credits from his biography," the statement read. "While this is a part of his past, he is now a successful used car salesman raising a family in the suburbs, and we feel he definitely brings something to the show."
The "Survivor: Thailand" contest is already complete after taping in June and July. The first episode is set to debut Sept. 19.
Thanks for reading CBS NEWS.
Create your free account or log in
for more features.