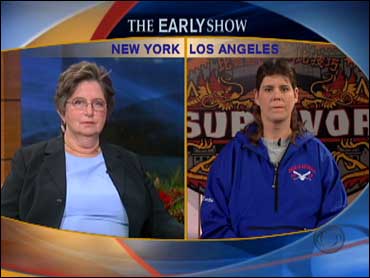 In the season finale of "Survivor: China" Sunday night, Denise Martin, a former school lunch room worker who finished fourth in the competition, told everyone that, when she returned home after the taping of "Survivor," she had lost her job.
"I went back and I talked to the food service director, and they didn't give me my job back," Martin said, "so I ended up having to go -- I'm a janitor now. I clean the toilets, I wash the floors of the bathrooms, I vacuum the kids' rugs. I miss dinner with my family. I haven't been to a field hockey game yet. I'm missing out on a lot more than I originally had planned on doing."
Near the end of the show, host Jeff Probst announced a surprise for Martin -- a spontaneous one, at that.
---

Photos: "Survivor: China" Finale

---
"This is very much a live show, and our boss and the creator of this show, Mark Burnett, was backstage listening to Denise's story. And, I'm not kidding: Just now on a break, he said to let Denise know that Mark Burnett is going to give Denise $50,000!"

The next day, school officials where Martin works received thousands of e-mails accusing them of treating her unfairly.

But it turns out, the lunch lady's story may be out to lunch.

Nancy Lane, the superintendent of Douglas Public Schools in Massachusetts, says Martin didn't portray what happened accurately -- and had in fact been promoted, at her own request, to the new position, which pays better and has better benefits.

The two of them faced off on The Early Show Tuesday -- with Lane in New York, and Martin in Los Angeles.

To watch the video of their confrontation,
Thanks for reading CBS NEWS.
Create your free account or log in
for more features.