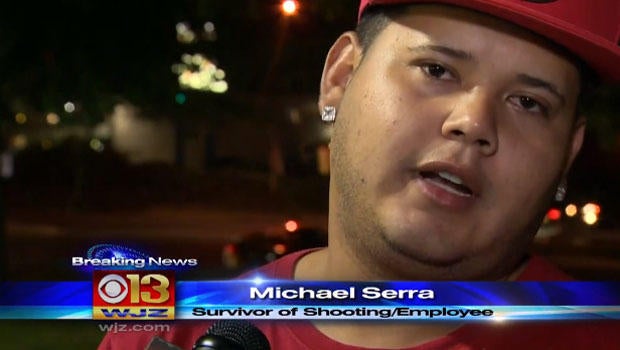 Survivor of deadly Edgewood, Maryland workplace shooting speaks out
EDGEWOOD, Md. -- A survivor of a workplace shooting rampage at a Maryland business that left three dead and two wounded Wednesday is speaking out to CBS Baltimore.
Police say suspect Radee Labeeb Prince, 37, walked into Advanced Granite Solutions in Edgewood, where he worked, just before 9 a.m. Wednesday and opened fire with a handgun.
Prince was captured late Wednesday after a 10-hour manhunt during which he also allegedly shot and wounded an acquaintance in Wilmington, Delaware. He was ordered held on $2.1 million cash bond on attempted murder charges in that shooting during his arraignment in a Delaware court early Thursday.
Michael Serra, an employee of the Maryland business, told CBS Baltimore that before the shooting, Prince had punched a co-worker.
"He hit a friend of mine, and then my friend told him, 'What happened?'" Serra told the station in Spanish. "And then later, the guy pulled out a gun and started shooting at anyone he could find."
Serra said he started to scream at his co-workers to run. He also ran and he said the shooter fired shots at him, but missed.
"Sadly, I saw my friend fall, and then the second," Serra told the station. "I came back and saw it was five – three dead, two wounded."
Serra said Prince unleashed "continuous" fire and that he was "very agile, very fast."
He said he saw Prince shoot three of his friends "in seconds," saying one of his friends was shot while making coffee. Then, he said, Prince got in his car and fled.
Prince had been a machine operator at Advanced Granite Solutions, which designs and installs granite countertops, for four months, owner Barak Caba told The Associated Press in a phone interview.
Harford County, Maryland, Sheriff Jeffrey Gahler said Wednesday that Prince was scheduled to work on the day of the massacre and didn't think anyone at the business "anticipated an issue here today when he came to work."
Gahler said there were people inside the building when Prince allegedly opened fire.
"My suspicion is, if he could have shot more individuals, this incident would have resulted in a greater loss of life," Gahler said.
The Harford County Sheriff's Office has identified the slain victims as Jose Hidalgo Romero, 34, of Aberdeen, Maryland; Enis Mrvoljak, 48, of Dundalk, Maryland; and Bayarsaikhan Tudev, 53, of Arlington, Va.
Gahler couldn't speak to a possible motive, but said he believed the victims were "targeted."
Disturbing details have since emerged about Prince's history of alleged workplace violence and run-ins with the law. Prince is a felon with 42 arrests in Delaware. He also faced charges of being a felon in possession of a gun. He was repeatedly cited for traffic violations and was ordered to undergo drug and alcohol counseling in recent years.
Prince was fired from another job earlier this year after he attacked a co-worker, according to a petition for a restraining order filed by his former boss and obtained by CBS News. That business, JPS Marble & Granite, is also in Edgewood and located about four miles away from Advanced Granite Solutions.
The ex-boss said Prince returned to the business on Feb. 27 and threatened, cursed and yelled at him.
The man wrote: "I felt very threatened because he is a big guy and very aggressive on me."
The man said Prince did not get physical with him, but wrote: "I do not want to wait until he will. Plus, he already punched a co-worker. He can also do it to me."
A Harford County District Court judge denied the order, saying the petitioner "could not meet the required burden of proof."
Concerns arose at Advanced Granite Solutions before the massacre, as well. Gerelmaa Dolgorsuren, the widow of victim Bayarsaikhan Tudev, said that her husband was so concerned about the gunman's explosive temper that he brought it up in church prayer sessions.
Dolgorsuren told The Associated Press that her husband had described Prince's volatile temper several times.
"He was always angry," she said her husband told her.
Speaking at a press conference Thursday, a friend of several of the victims, Lauren Arikan, announced at a press conference that donations for the victims and their families would be accepted through the website www.edgewooddonations.com.
Arikan said she couldn't speak to reports that the company had received complaints about Prince in the past.
She said her first reaction to news of the shooting was "horror." She said she had spoken with several of the victims' families.
"They are exactly how you can imagine – they are struggling, everybody's struggling," Arikan said.
Thanks for reading CBS NEWS.
Create your free account or log in
for more features.