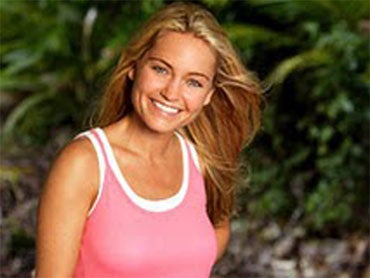 "Survivor" Contestant Jennifer Lyon Dies
"Survivor: Palau" contestant Jennifer Lyon has died at the age of 37.
Lyon, who placed fourth on the 2005 edition of the CBS reality show, was diagnosed with stage-three breast cancer shortly after appearing on the show.
"In the summer of 2004, I felt something in my right breast that didn't feel normal," Lyon told People magazine in October 2005. "I thought it was probably scar tissue related to my breast implants. So I let it go - for a long time."
"This has really rocked the 'Survivor' community," "Survivor: Panama" castaway Austin Carty told Us Weekly magazine. He and Lyon briefly dated. "It's just so sad. She was engaged in the greatest fight of her life, but she had every intention to fight and spread her positive messages."
Another "Survivor" alum, Johnny Fairplay, told the magazine, "Jen was such a beautiful person. I wish life was as simple as "Survivor" because I know for a fact there are 300 of us that would use every immunity idol and jury vote in the world to have her back."
Lyon entered the competition as a graduate student from Encino, Calif. After being diagnosed with cancer, she underwent a bilateral mastectomy and chemotherapy treatments and became an advocate for breast cancer awareness. She hosted many fundraisers for breast cancer research and most recently opened a Christmas tree lot with proceeds going to the cause.
According to People, "Survivor" host Jeff Probst said that he and Lyon spoke "near the end" about "the idea that death is such a hard subject and so many of us don't know what is appropriate to say, so we end up saying the wrong thing for all the right reasons."
"If I learned anything from Jenn it is this: Don't be afraid to ask someone how they are truly feeling about dying," Probst continued. "Don't shy away from the scary parts of death. They need someone to talk to about what is going on inside their head."
After her diagnosis, Lyon told the magazine that her experiences on "Survivor" had given her strength that helped her battle her disease.
"'Survivor' taught me there's an end in sight," she said. "As hard as it is, it will be over, and you have to appreciate every day."
Thanks for reading CBS NEWS.
Create your free account or log in
for more features.