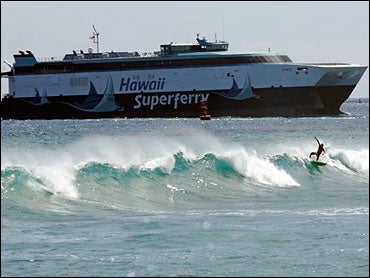 Surfing Demonstrators Protest Hawaii Ferry
The Hawaii Superferry faces rough seas after jumping ahead of its launch schedule with two sold-out voyages at radically discounted $5 fares - one temporarily blocked by surfing protesters at the harbor entrance on Kauai.
Environmentalists are going to a Maui judge Monday to try to halt the first giant passenger and car ferry which is the first alternative to air travel among the islands where 1.2 million people live and tens of thousands of tourists arrive each day.
Coast Guard patrol boats shooed away a dozen surfers who blocked the ferry on Kauai for more than an hour and escorted it to the dock. Hundreds more protesters onshore beat drums and chanted in support of the surfers. They object to the ferry's failure to conduct an environmental impact study, saying its plan to ply 400 miles of Hawaii waters each day endangers whales, threatens to spread invasive species and will worsen traffic and pollution around island docks.
Hawaii Superferry Inc., in a statement late Sunday, said it was disappointed in the delay on Kauai.
"We are sorry to see that minority dissident groups have chosen to oppose a service that the people of Hawaii have overwhelmingly embraced," the statement said, noting it had sold 22,000 tickets.
Loaded with people attracted by the $5 fare for the 100-mile voyage past scenic island shores, the first Hawaii Superferry, completed its maiden run to Maui and arrived back in Honolulu on time earlier Sunday. The ship named Alakai was built specially for Hawaiian waters by Austal USA at its Mobile, Ala., shipyard.
Sunday's rushed voyages were moved up two days with fares that are less than one-tenth of those to take effect after Sept. 5. The stepped-up schedule and discounts were prompted by a Hawaii Supreme Court ruling last week that the state should have required an environmental report.
The state said that since there was no injunction against the service, it wouldn't be stopped.
Riders on the maiden voyage to Maui lauded the air-conditioned ship equipped with snack bars and high-definition TV screens for its luxury and convenience.
On both of the round trips, the $95 million ship was loaded with more than 500 people and 150 cars. That's the limit placed on initial voyages. It's built to carry more than 800 passengers and 200 cars.
The environmentalists' attorney, Isaac Hall, said he will seek an injunction to prevent the Superferry from doing business until environmental studies are completed. Such reviews typically are required for projects that use state money and land, such as harbors, and they can take months or even years to complete.
Superferry supporters say the ferry is being treated unfairly because other harbor users such as cruise ships didn't have to go through extensive environmental reviews.
"These standards should apply to all players, not just the newest, the smallest and the most popular," said David Cole, the chairman, president and CEO of Maui Land & Pineapple Co., which invested $1 million in the ferry.
Superferry officials say the ship's water jet propulsion system means there are no exposed propellers to strike aquatic animals.
Before Sunday, the only way to travel among the Hawaiian Islands was with highly competitive local airlines now engaged in a fare war. After Sept. 5, the current $5 fare for people or cars will go up ten times or more: Round trips to Maui or Kauai, with taxes and a fuel surcharge, will cost more than $240 for one passenger and a car.
Sunday's dramatic voyages began when the blue-and-white vessel emblazoned with manta rays pulled away from the dock in Honolulu to a chorus of cheers from passengers and onlookers.
Passengers browsed the gift shop, played cards and ordered breakfast while watching live NFL football games on the TV screens.
Alan and Terry Kahanu, of Kailua, arrived to board the ferry at 4:20 a.m. They and their four children sat in the first-class cabin, eating doughnuts and sushi.
"It's spectacular," said Alan Kahanu. "It's so nice to be able to walk around instead of having to be buckled in."
Superferry sold out its first voyage in 30 minutes Saturday. More than 400 of the 500 passengers of the first voyage got back on the Alakai for the return voyage.
Superferry Chief Executive John Garibaldi, who mingled with passengers, said one reason for the service was to avoid a repeat of the effect of the nation's grounded airplanes after the Sept. 11, 2001, terrorist attacks. Then, island residents and tourists dependent on air travel were stranded for several days.
Garibaldi said the voyage "went very, very well and the response was phenomenal from passengers."
Austal USA is building a second ferry in Alabama to serve the Big Island starting in 2009.
Thanks for reading CBS NEWS.
Create your free account or log in
for more features.